Three indicted in Aspen carbon monoxide leak that killed family of four in 2008
The owner of Roaring Fork Plumbing & Heating, a now-retired city of Aspen building inspector, and a Pitkin County building inspector were indicted by a grand jury last week for the carbon monoxide poisonings that killed a family of four from Denver vacationing in Aspen over Thanksgiving 2008.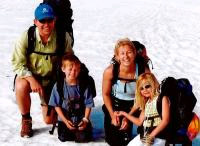 The indictments of Glenwood Springs resident Marlin Brown, Basalt resident Erik Peltonen and Basalt resident Brian Pawl, the county employee, were filed in open court Friday, Chief Deputy District Attorney Arnold Mordkin said. Brown and Peltonen were indicted on four felony charges of criminally negligent homicide, and four counts of reckless endangerment, a misdemeanor; Pawl was indicted on four counts of misdemeanor reckless endangerment.
Pitkin County Commissioner Michael Owsley on Sunday told Real Vail sister site Real Aspen, which broke the news of the indictments two days earlier, that hanging criminal chargers on government inspectors is "absurd."
"It's overreaching on the part of the DA to come up with criminal charges against our building inspectors for doing their job. It's bullshit," Owsley said. "It was a great tragedy for that family and all their friends and acquaintances. But this is a worse tragedy as far as I'm concerned."
Informed of Owsley's remarks, Mordkin declined comment.
Over the weekend, County Commissioner George Newman said he was aware of the indictments but that he was reserving comment until he learned more. County Commissioner Rachel Richards declined comment. Messages left for County Commissioners Patti Clapper and Jack Hatfield were not returned.
Relatives and friends of the Lofgren family supported the grand jury's findings.

"The Lofgren, Rittenour and Feuerbach families sincerely thank the grand jury and Chief Deputy District Attorney Arnold Mordkin for their extensive time and tireless efforts over the past year," they said in a press release. "While the filing of criminal charges in the deaths ... will not relieve our families' sorrow, it will hopefully assist in identifying and exposing some of those responsible for their deaths and holding them fully accountable. As importantly, we hope that these criminal proceedings, as well as the imminent civil proceedings and the ongoing efforts by the Consumer Product Safety Commission, will send a clear message to contractors, building inspectors and also manufacturers of heating equipment to ensure that such senseless carbon monoxide deaths are prevented in the future."

Meanwhile, Pitkin County sheriff's candidate Rick Leonard blasted law enforcement's handling of the investigation into the deaths of Parker Lofgren, 39, Caroline Lofgren, 42, and their children, 10-year-old Owen and 8-year-old Sophie.
Pitkin County sheriff's investigators concluded the source of the gas leak was caused by a dislodged piece of pipe connected to the home's hot water and driveway snowmelt system. In January 2009, Sheriff Bob Braudis said he didn't believe the tragedy warranted any criminal charges. But Leonard, who has 22 years of law enforcement experience, said he read the sheriff's office report and, in his view, the investigation was "very poorly conducted."
"It's unlike any death investigation report I've ever read," Leonard said Monday morning. "We have a crime scene that comes and goes. We have investigators who think it's OK to open and close a crime scene like you open and close a business. They begin processing the crime scene, it gets late in the day, they lock the door, leave and come back. The crime scene is unprotected and unsecured."
"Just the notion that you would outsource a criminal investigation to a private engineering firm is extremely troublesome," he continued. "I had at least 100 unanswered questions when I read the report. It wasn't conducted from the standpoint that the investigators wanted to get at the bottom of exactly what happened and when it happened. The investigation was conducted with prejudice from the outset.
They did some of the worst things you could do and that is make up your mind about certain things before you have all the facts. They approached it from the standpoint that it was due to a carbon monoxide poisoning and they were much less concerned with all of the facts leading up tot he discovery. My approach would've been to start a the start and they began preparing more of a civil case than a criminal case. So I think they're in for a very tough road to hoe with this prosecution."
Sheriff Bob Braudis and Undersheriff Joe DiSalvo could not be reached for immediate comment.
The Lofgren family won a weekend vacation at a Popcorn Lane home just outside of Aspen. Their friends found their bodies over the Thanksgiving holiday in 2008. When authorities arrived, they detected a high level of carbon monoxide in the Morningstar subdivision home, just outside of Aspen.
A grand jury was put in place to review the Lofgren case in July 2009. Because grand juries have unusual powers that allow prosecutors to present evidence from any case they desire, the jury in Aspen issued indictments in other cases — namely alleged sexual assaults involving juveniles — before deciding on the Lofgren case.
The grand jury's session is set to expire July 30.
Carbon monoxide is a poisonous but colorless and odorless gas. After the tragedy, lawmakers across the country — Aspen, Snowmass Village and Pitkin County included — introduced and overhauled legislation requiring homes to install carbon monoxide detectors, which are inexpensive and similar in look and function to smoke detectors.
As many as 500 people are killed each year from carbon monoxide poisoning, according to the U.S. Center for Disease Control.
A message left for Brown, the owner of Roaring Fork Plumbing & Heating, was not returned. Peltonen, the former city building inspector, and Pawl, the county inspector, also could not be reached. The men are due in court Aug. 16.
---

39 Comments on "Three indicted in Aspen carbon monoxide leak that killed family of four in 2008"