Ski and Snowboard Club Vail's Gregorak, Ghent shine at U.S. Alpine Championships in Aspen
Ski and Snowboard Club Vail's Will Gregorak, of Longmont, was crowned the American downhill champion at the U.S. Alpine Championships in Aspen today, although he was edged by a scant two-hundredths of a second by Canadian Dustin Cook on a wind-shortened course.
Julia Ford, of Plymouth, N.H., won the women's race by nearly a second over Kiley Staples, of Park City, Utah. Ski and Snowboard Club Vail's Abby Ghent, of Edwards, was third.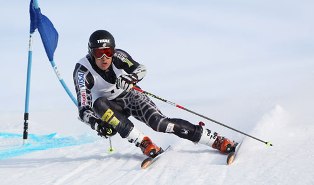 The first-time champions follow in the footsteps of U.S. greats like five-time Olympic medalist Bode Miller, Franconia, N.H., and four-time World Championships medalist Julia Mancuso, Squaw Valley, Calif.
Defending champions Travis Ganong, Squaw Valley, and Leanne Smith, Conway, N.H., did not compete after racing both super G and downhill at the 2011 World Alpine Ski Championships last week in Garmisch-Partenkirchen, Germany.
Gusting winds lowered the start to create an incredibly tight men's race with only three-hundredths separating the top three and .57 separating the top 10. Third place finisher Erik Fisher, Middleton, Idaho, was just one-hundredth behind Gregorak.
Ford, however, ran away with the women's title, .88 in front of Staples, with U.S. Development Team member Ghent .34 back in third to win the junior title. Top men's junior was Brennan Rubie, Salt Lake City, also a member of the development squad, who finished 12th.
"When we first got up there to inspect the wind was blowing really hard, so I kind of guessed that it was going to be moved down," said Ford, a three-time winner of the Eastern Ski Association's Golden Ski Award for top juniors. "If they didn't move it down, we would have went flying off the second jump."
With the long flat no longer a factor, the Aztec pitch proved to be a critical section, and on a shortened course it ran much different than Tuesday's NorAm downhill prelude, also won by Ford.
"I had a lot of confidence after yesterday. I knew what I needed to do. It was more about executing than anything else," said Ford, who leads the NorAm downhill standings over Staples.
"The more you shorten the course, the tighter it's going to be," said Gregorak, who earned his first Audi FIS Alpine World Cup start earlier this season. "We've had four runs on this course already and I've struggled on the difficult section. Finally I got it together through there and skied really well."
The NorAm Cup resumes Thursday and Aspen and continue through Feb. 18. The remaining U.S. Alpine Championship events including super G, giant slalom and slalom will be held March 31- April 3 in Crested Butte, just one weekend after the Nature Valley NASTAR National Championships.
OFFICIAL RESULTS
U.S. Alpine Championships
Aspen, CO – Feb. 16, 2011
Downhill
Men
1. Dustin Cook, Canada, 1:12.40
2. Will Gregorak, Longmont, CO, 1:12.42
3. Erik Fisher, Middleton, ID, 1:12.43
-
5. Wiley Maple, Aspen, CO, 1:12.74
6. Steven Nyman, Sundance, UT, 1:12.80
7. Colby Granstrom, Lake Stevens, WA, 1:12.84
12. Brennan Rubie, Salt Lake City, 1:13.29
12. Chris Frank, Windham, NY, 1:13.29
14. Tommy Biesemeyer, Keene, NY, 1:13.40
Women
1. Julia Ford, Plymouth, NH, 1:14.15
2. Kiley Staples, Park City, UT, 1:15.03
3. Abby Ghent, Edwards, CO, 1:15.37
-
4. Lauren Samuels, Minneapolis, 1:15.84
7. Noah Duff, Mammoth Lakes, CA, 1:16.19
10. Brooke Wales, Sammamish, WA, 1:16.41
12. Jacqueline Wiles, Aurora, OR, 1:16.96
14. Sydney Staples, Bountiful, UT, 1:17.28

---

108 Comments on "Ski and Snowboard Club Vail's Gregorak, Ghent shine at U.S. Alpine Championships in Aspen"