Vail's Vonn says 'head not in it,' skis to 7th in World Championships super G in Garmisch
GARMISCH-PARTENKIRCHEN, Germany – Admitting her "head wasn't in it" after suffering a concussion in training last week and doubts about the course, Vail's Lindsey Vonn wound up seventh in today's super G to kick off the 2011 FIS Alpine World Ski Championships.
Her teammate, ultimate big-event skier Julia Mancuso, of Squaw Valley, Calif. (1:23.87), continued to add to her hardware collection with a silver medal, just .05 seconds behind winner Elisabeth Goergl, of Austria (1:23.82). Vonn's friend and rival Maria Riesch, of Germany, claimed the bronze in 1:24.03.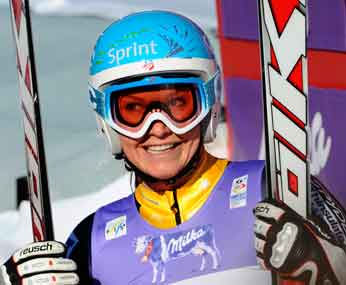 "It's not hard to see who the best was today," Vonn said. "They really deserved it and I'm just disappointed I wasn't quite with it. My head wasn't in it. I didn't get the chance to give my best and that was the biggest disappointment for me. But that's the way it is and Lizzy, Jules and Maria skied great."
Vonn, who criticized the icy, bumpy super G course on Monday and considered not competing today, was nearly a second off the pace at 1:24.66. Mancuso, who now has four World Championship medals to go with an American record three Olympic medals, said the difficulty of the course and the snow made her strategy that much more clear.
"I was inspired to have a great run today. After looking at the course, it was simple. There weren't any big tricks with the set; it was just about having a good run on some really difficult snow conditions," Mancuso said.

"The conditions were definitely different than what we've seen on the World Cup, but in ski racing you have to be fast on everything. You have to be fast in the gliding and you have to be fast in when it's bumpy. It's always a challenge for me and any challenge is good."
Mancuso wasn't too disappointed with missing her first World Championships gold by such a slim margin.

"The win was decided by a really small margin, but I'm definitely psyched with the silver," she said. "I knew I was slow on top and I had to fight my way back onto the podium. Who knows, if I was a little faster in one part, I would have had it. It just gives me more motivation to one day get my gold."
She said the reason she always ups her game in big events like the Olympics and Worlds is just how much fun it is to race under such circumstances.

"I always love being out there. I love to ski and have fun, whether it's a big event or not, it's still all about skiing," Mancuso said. "I come from Squaw Valley and there's a lot of different terrain there, so just to think back to those days where I was out free skiing in every type of condition and bring that into my racing."
Women's head coach Alex Hoedlmoser said Mancuso seems to thrive on adversity and tough conditions.
"It almost seemed like Julia knew she over skied the top and had to make up some time," he said. "It was pretty impressive and should give her a huge confidence boost. The conditions were pretty much made for her. It was very challenging and she likes that."
Hoedlmoser said it was clear Vonn, the 2009 super G World Champion, was not at the top of her game.

"This is definitely very disappointing for Lindsey," he said. "She realizes that you have to be 100 percent to be on the podium. She did a good job skiing the line, but it wasn't the full-on all-out attack that she's capable of. Hopefully she gets better through the downhill training runs because she has the potential to be right in there again."
Next up is the men's super G Wednesday.
OFFICIAL RESULTS
2011 FIS Alpine World Ski Championships
Garmisch-Partenkirchen, Germany – February 8, 2011
Super G
1. Elisabeth Goergl, Austria, 1:23.82
2. Julia Mancuso, Squaw Valley, CA, 1:23.87
3. Maria Riesch, Germany, 1:24.03
-
7. Lindsey Vonn, Vail, CO, 1:24.66
16. Laurenne Ross, Klamath Falls, OR, 1:25.65
19. Leanne Smith, Conway, NH, 1:25.96
-
Did not finish
Stacey Cook, Mammoth Mountain, CA
---

227 Comments on "Vail's Vonn says 'head not in it,' skis to 7th in World Championships super G in Garmisch"