New CSU study finds Aspen bears aren't garbage junkies
Much like humans, some bears eat better than others, according to a new Colorado State University study, which found that, even so, Aspen bears prefer acorns and berries over human garbage.


"What we found is that bears are just being bears in urban environments. When natural food sources were bountiful, bears rarely came into town," said co-principal investigator Ken Wilson, a professor in the Department of Fish, Wildlife, and Conservation Biology at CSU in Fort Collins.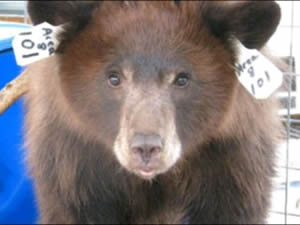 "When natural food sources were lean, bears were creative and resourceful enough to track down more easily attainable human food. Perhaps more interesting, we found that bears did not become addicted to trash and, in fact, the patterns of seeking human food reversed when more natural food was available in subsequent years."
CSU issued a press release Tuesday with the headline "Study shows bears in Aspen don't necessarily have preference for trash" to highlight the results of a five-year study, conducted by ecology doctoral candidate Sharon Baruch-Mordo, who tracked bear behavior in the Aspen area. Researchers gathered data from about 50 black bears, mapping out where and when the animals roamed while also experimenting with different ways to educate residents about locking up their trash.
One of the more surprising revelations for Wilson was the amount of variation in bear habits.
"We all have friends who eat at McDonalds every other day and friends who say they won't ever eat at McDonalds," he said in an interview. "Well, there are bears who come to town looking for food and other bears who would prefer to stay away from humans and their towns, whether out of fear or some other reason."
When natural food is scarce, bears inevitably do begin to hone in on urban areas where half-eaten sandwiches, fruit, candy and other delicious scraps can be found piling up in garbage bins. The study concluded that Aspen's problems with bears can be ameliorated, but people must change their own behaviors — securing garbage and better locking up their property — to make a meaningful impact.
"An essential key to reduce the number of bear-related conflicts for the residents of Aspen and surrounding areas is to make sure garbage is secure at all times. Over the course of our study, we have seen that when natural food sources are poor, as they were in 2007 and 2009, bears will venture into Aspen and during those years we saw high incidents of human-bear conflicts," Wilson said.
Despite trying various methods to educate the public about how to minimize the potential for bad bear encounters, the researchers reported that education was largely ineffective in making a difference. Enforcement, specifically the issuing of citations and fines, made the biggest impact, the study stated.
Aspen police recently responded to the study saying that it will continue its educational efforts. APD spokeswoman Stephanie Dasaro reportedly said that the department considers the educational findings in the CSU study "out of date" because police have improved their outreach the past couple of years.
"To say that the methods have changed, I'm not sure that would pertain to what we found," Wilson responded. "That said, nowhere did we say: 'don't educate the public as well.' They're taking the extreme stance that education is effective. Our study didn't support that. It did find, however, that proactive law enforcement techniques were somewhat effective in getting residents up there to secure their trash."
The Colorado Division of Wildlife euthanized 20 bears in 2009, which, like in 2007, was a particularly problematic year for bear-human conflicts: bruins injured three local residents in different episodes. In 2008, when natural food was more plentiful, there were far fewer human-bear encounters.
Bear sightings are so commonplace in Aspen that many of the animals acquire nicknames. There was "Fat Albert" — a beast of a bear who took a fondness to the Aspen area and one resident's chocolate stash — and "Midnight," a malnourished young bear that weighed just 16 pounds when it was found near Aspen Highlands.
The bear was nursed back to health with special yogurt and antibiotics at Pauline S. Schneegas Wildlife Foundation's rehabilitation center near Silt. Now weighing about 65 pounds, "Midnight" was recently released back into the mountains between Boulder and Estes Park.
The CSU study should help dispel any myth that bears accustomed to urban environments prefer them over nature, Wilson said, when in fact the majority of bears prefer the high country over the high life.
"Over the past five years, we learned a lot about bears and people and how they interact in the urban environment. There haven't been many long-term studies of black bears in urban settings, and we need to understand whether similar results are found in other regions of Colorado," he said. "We also need to continue to develop and evaluate education and enforcement efforts to better affect change in human behavior."
---

52 Comments on "New CSU study finds Aspen bears aren't garbage junkies"