Vail native Johnston introduces bill to allow undocumented students to pay in-state college tuition
Vail native and ardent education reformer Michael Johnston, a Democratic state senator from Denver, is not shying away from controversy again in his second state legislative session. After successfully passing a hotly debated teacher-tenure bill last session, Johnston is now taking on the issue of in-state college tuition for illegal immigrants.
On Wednesday, Johnston and Sen. Angela Giron, D-Pueblo, introduced a bill that would allow undocumented students to pay in-state tuition at Colorado colleges and universities. Johnston, a former principal of a inner-city expeditionary school, served as an education adviser to the Obama administration. He's the son of former Vail mayor and hotelier Paul Johnston.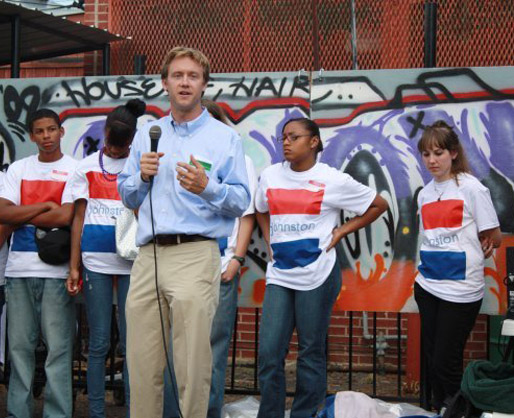 Dubbed ASSET (Advancing Students for a Stronger Economy Tomorrow), the Johnston-Giron legislation is similar to a failed 2009 bill. Eleven other states have similar laws on the books, including nearby and neighboring Utah, Nebraska and Texas.
The two lawmakers emphasized the economic benefits of such legislation, estimating it will allow 900 students to attend state schools and bring in an additional $1.75 million to $4.2 million a year to Colorado higher-education institutions. In a press release, Johnston and Giron pointed out businesses decide where to locate based on the level of education of the local workforce.
The students have to have attended a Colorado high school for three or more years; graduated from a Colorado high school or obtained an equivalent GED; gained admission to a Colorado accredited institute of higher education within a year of graduation; be a minor (23 years or younger) at the time of application for in-state status; and filed an affidavit stating they've either filed for legal immigration status or will file an application as soon as they're eligible.
Giron issued the following statement Wednesday:
"This bill has always been the right thing to do, but now it is the economically smart thing to do. It will bring much needed revenue into our state colleges and universities at a time when they need it most. These students live in our community and we should help and encourage them to lead productive lives. We must ensure that Colorado's economy is built on the foundation of a talented, educated, innovative and diverse workforce."
"In-state tuition is not free tuition. Students pay their own way to go to college.No taxpayer dollars will go toward paying their tuition. These students will not receive the $2,000 Colorado Opportunity Fund voucher that is given to other in-state tuition students. "
Johnston issued this statement:
"We have invested in these kids over the course of their education from kindergarten through high school. Their families are here, and their futures are here. We should realize this investment by letting these kids pay for their own education at our state's colleges and universities so they will be prepared to contribute to Colorado's communities and Colorado's economy.
"Our state's higher education budget has been cut year after year. This program improves our dire budget situation because students who aren't attending college because it's too expensive will now pay millions of additional dollars to our universities."
Senate Minority Leader Mike Kopp told Adam Schrager of 9News (see below video) that
Republicans oppose the bill because they need to "stand up for the constitution and hard working families
."
"It is a heartstring issue; there's no doubt about it," Kopp said. "We have an equal protection clause in the constitution. We cannot allow somebody who is here illegally to be preferred over somebody that is a resident of the United States, and that is the bottom line."
---

78 Comments on "Vail native Johnston introduces bill to allow undocumented students to pay in-state college tuition"