Eagle-Vail's Del Bosco leads Winter X Games qualifying by nearly 2 full seconds
Americans Yater-Wallace, Dumont grab silver, bronze in halfpipe skiing
ASPEN -- Canada dominated ski cross qualifying at the Winter X Games Friday, as Eagle-Vail's Chris Del Bosco and Kelsey Serwa finished first in men's and women's time trials.
Del Bosco, who grew up in the Vail Valley but lists his hometown as Sudbury, Ont., because of his dual citizenship, was almost two seconds ahead of his nearest rival in the men's event, which featured 27 racers, with a time of 1 minute, 22.52 seconds.
On the women's side Serwa, of Kelowna, B.C., was the fastest of nine racers in 1:31.29, followed by Fanny Smith, of Switzerland (1:31.68) and Whistler's Julia Murray (1:31.75).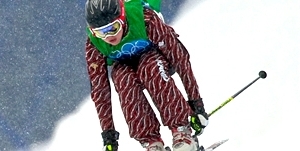 "I was feeling really good in training and today I skied really fast. Just nailed everything," said Del Bosco, the defending champion. "There was one little feature I was thinking I could triple in training and with the speed of the race skis I did it."
Serwa, who is leading the World Cup standings and has been the woman to beat this season, praised the work of the team's ski technicians.
"The course sped up quite a bit but the technicians did an awesome job," said Serwa. "I kind of overshot a double at one point but it was so much fun. I can't wait to race against everyone on Sunday. It will totally change the track."
Serwa, who was feeling sore after overshooting her jump in qualification, plans to rest up Saturday ahead of Sunday's final. She said she felt for her teammate Murray, who got big air near the bottom of the course and had a painful landing.
"She landed on the finish line and had a few stitches in her chin," said Serwa.
Canada swept the podium in last year's men's final and the women finished second and third. Whistler's Ashleigh McIvor, who was second in 2010 and went on to win Olympic gold, cheered on her teammates after suffering a season-ending knee injury during training earlier this week.
The format at X Games is slightly different to World Cup, with six competitors battling it out in races instead of four. The Aspen course is also bigger and more challenging than most of the tracks racers are used to competing on.
Head coach Eric Archer was pleased with Friday's results and would love to see another sweep Sunday.
"All the athletes skied well today, particularly the girls," said Archer. "For the qualifying runs, they all stepped up and pulled it off.
"There's no advantage out of the start on this course so it's going to be a free for all. They are all excited."
Sunday's races go at 11:15 a.m. MT and will be broadcast on ESPN.
WINTER X GAMES - JANUARY 28 - SKI CROSS QUALIFYING - MEN
Top 5:
1. Chris del Bosco - Sudbury, Ont. (1:22.52); 2. Casey Puckett (1:24.48); 3. Jouni Pellinen - Finland (1:24.59); 4. John Teller - USA (1:24.84); 5. Errol Kerr - USA/Jamaica (1:24.95)
WINTER X GAMES - JANUARY 28 - SKI CROSS QUALIFYING - WOMEN
Top 5
1. Kelsey Serwa - Kelowna, B.C. (1:31.29); 2. Fanny Smith (1:31.68); 3. Julia Murray - Whistler, B.C. (1:31.75); 4. Ophelie David - France (1:32.41); 5. Danielle Poleschuk - Calgary, Alta. (1:32.70)
Americans grab silver, bronze in halfpipe skiing
Yater-Wallace, Dumont X Games Medalists
Frenchman Kevin Rolland relied on some last run heroics to edge out Americans Torin Yater-Wallace (Aspen) and Simon Dumont (Bethel, Maine) Friday night in Aspen to win Winter X Games gold in halfpipe skiing.
On the final run of the entire competition, Rolland threw down a nearly impeccable display of amplitude and style to spoil Yater-Wallace's X Games debut. Rolland's last run went double cork 1080, alley-oop flat spin 360, switch 1080, switch 540, to double cork 1260, securing him the gold.
The real surprise of the night was Aspen's own Yater-Wallace. Just 15 years of age, the young skier electrified the home crowd with a stellar third run that put him in first ahead of halfpipe-skiing legend Dumont with only three riders to go. The freshman at Aspen High School punched his ticket to Winter X after a fifth at the Dew Tour on Dec. 10, becoming the third youngest male to ever compete at Winter X and the youngest competitor in the event this year.
A visibly disappointed Dumont took home the bronze, increasing his total medal count to nine at Winter X. Dumont had control of the lead after two runs, but was unable to improve upon his score in his third run.
Both Yater-Wallace and Dumont are anticipated to represent the U.S. in next week's FIS Freestyle World Ski Championships. The U.S. representatives will look to capture the first American gold in men's halfpipe skiing since the events inception into World Championships in 2005.
The World Championship halfpipe competition will be held at Park City Mountain Resort in Park City, UT on Feb. 5.
OFFICIAL RESULTS
Winter X Games 15
Aspen, CO – Jan. 28, 2011
Superpipe
1. Kevin Rolland, France, 93.66
2. Torin Yater-Wallace, Aspen, CO, 92.66
3. Simon Dumont, Bethel, ME, 90.33
---

60 Comments on "Eagle-Vail's Del Bosco leads Winter X Games qualifying by nearly 2 full seconds"