Vail-area Rep. Polis joins GOP in aggressively seeking congressional reform
Sen. Udall sees ideas incorporated in U.S. Senate rules changes
Maybe it's something in the water, but Colorado lawmakers, including Vail-area U.S. Rep. Jared Polis, are increasingly leading the charge on the wave of bipartisanship that's sweeping Washington. Whether it will continue – or result in any substantial change in what many deem a badly broken system – remains to be seen.
Fresh off of his successful co-mingling effort at Tuesday's State of the Union speech by President Obama,
Democratic Sen. Mark Udall
Thursday saw his ideas incorporated into a bipartisan agreement to rewrite the rules of engagement for the U.S. Senate.
Udall says a resolution he authored back in September was incorporated into Thursday's agreement between Senate Majority Leader Harry Reid, D-Nev., and Minority Leader Mitch McConnell, R-Ky., will speed up how the Senate works and "reform the broken ways in Washington, D.C."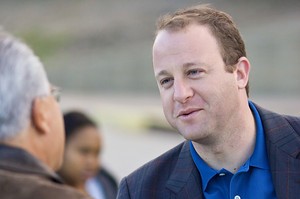 "In my two years in the Senate, I've witnessed the rules being abused for needless delays that prevent us from doing the work the American people elected us to do. When this rule has been invoked, the effect has been to tie the Senate in knots, requiring the Senate clerks to stand and read amendments – sometimes for hours – to an empty chamber," Udall said in release."I think we can agree on ways to work together to help speed up the business of the Senate without shifting power away from the minority party," he added.
The Udall resolution encourages senators to allow enough time for their colleagues to read proposed amendments on their own in order to end the practice of delaying a vote by requiring a forced reading. The deal also reduces the use of filibusters on a motion to proceed to a bill, prevents the majority leader from blocking all amendments by the minority party, and eliminates "secret holds" that allow senators to block a bill anonymously.
Democratic
Sen. Michael Bennet, also an outspoken critic of Senate gridlock
, had some of his ideas incorporated in the reform agreement as well.
Seen as the
most sweeping changes in Senate rules in the last 35 years
, the agreement also cuts by one-third the number of federal positions that require Senate confirmation.
On the House side this week, Polis, a Boulder Democrat whose sprawling mountain district includes Vail and surrounding Eagle County, joined forces with Republican Colorado representatives Doug Lamborn, Cory Gardner and Scott Tipton to introduce a "single-subject" resolution similar to one in place in both chambers of the Colorado Legislature.
It would limit bills to a single subject and block unrelated amendments or the "cobbling together" of multiple, sometimes completely unrelated subjects into one bill, which the bipartisan Colorado delegation argues can lead to hidden costs. The practice also can lead to issues being voted on without any sort of public hearing.
Polis and Lamborn unsuccessfully introduced a similar resolution in the last congressional session.
"This resolution would ensure that all House bills are transparent," Lamborn said. "This means lawmakers must put forward bills that address a single issue, not this cobbling together of unrelated items. If something is important enough to warrant legislative action, it deserves to be fully and openly debated and voted on, not shoved into an unrelated bill and pushed through without a separate hearing."
Polis said he's tired of having to vote for bills that often contain amendments he opposes.
"One of the most frustrating things I face in representing the people of Colorado in Congress is voting on enormous 'Christmas tree' bills with unrelated measures, some of which I support, some of which I oppose," Polis said. "The Colorado Legislature gets their work done in a straightforward and transparent way thanks to the 'single-subject rule.'"
---

122 Comments on "Vail-area Rep. Polis joins GOP in aggressively seeking congressional reform"