Former Sen. Hart's Presidential Climate Action Project calls on Obama to bolster climate change legacy
The Presidential Climate Action Project (PCAP), a group co-chaired by former Democratic Colorado Sen. Gary Hart, issued the last of four reports on Monday outlining what President Barack Obama can do on the climate change and energy policy fronts after the failure by Congress to act in any meaningful way last session.
"As important as President Obama's achievements have been for health care and the economy, for example, he will be remembered most for what he did about global climate change," PCAP Executive Director William Becker said in a release. "If the United States and the rest of the international community don't act aggressively, climate change will undo many of the accomplishments on which the president spent so much time and political capital during his first two years in office."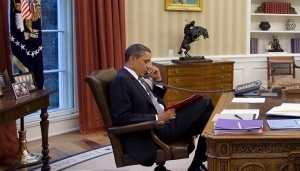 Administered by Colorado-based Natural Capitalism Solutions, PCAP is a bipartisan nonprofit launched in 2007. Becker served in the U.S. Department of Energy during the administrations of Presidents George H.W. Bush, Bill Clinton and George W. Bush. Hart, a former presidential candidate, is currently a Wirth Chair professor at the University of Colorado-Denver.
Hart and PCAP in August urged Obama to use his executive order powers ahead of November's United Nations global climate change summit in Cancun, Mexico, after the U.S. Senate last session failed to pass any significant energy bills or even consider the cap-and-trade bill passed by the House.
"Even though Congress has decided not to take action on this matter in this calendar year, the president is going to have to represent the United States of America before the court of public opinion," Hart said at the time. "We believe these actions in the form of executive orders and proclamations can demonstrate not only to Americans but to the world what leadership is."
The group Monday underscored the national security and health benefits of building a "low-carbon economy," which it maintains will help stabilize areas of the world that national security experts and former military analysts say will only become more volatile and deadly for Americans as the planet warms.
PCAP Monday did highlight some of the Obama administration's accomplishments on climate change, but the group's latest report outlines a laundry list of other actions the White House can take independent of what it terms congressional paralysis on the topic. Here's that list as outlined in a PCAP press release on Monday:
• Convene the nation's best minds to create policy roadmaps to a clean energy economy. Becker noted that although current law requires presidents to send Congress detailed national energy policy plans every two years, none has been done since 1998;
• Find new ways for the federal government to support climate action by states and local governments. Effective climate action will require active cooperation between all levels of government, Becker said;
• Continue using federal procurement, including the defense budget, to bolster markets for low-carbon goods and services;
• Take additional steps — for example, better management of land-based pollutants — to protect America's limited supplies of fresh water and the health of its ocean and coastal resources;
• Accelerate efforts to create a national climate adaptation plan. According to the PCAP report, many of the natural disasters occurring worldwide now are recognized by scientists, heads of state and leaders in the insurance industry as proof that climate disruption already is underway;
• Take the case for climate action directly to the American people and communicate a compelling vision of the nation's future.
---

56 Comments on "Former Sen. Hart's Presidential Climate Action Project calls on Obama to bolster climate change legacy"