Ski Country, Vail Resorts report 10 percent jump in skier visits as snow keeps pounding Colorado
With national economic optimism surging, hope in Colorado's high country – and to some degree the state's overall economy – has been literally falling from the heavens.

The ski industry lobbying group Colorado Ski Country USA (CSCUSA) recently reported its 22 member resorts saw a 10 percent increase in skier visits for the first part of the ski season (October to the end of December), largely because of abundant early snowfall.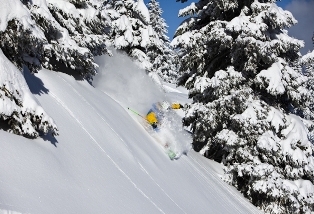 "Consistent snow and reliable conditions contributed to a very positive start to the season," CSCUSA president and CEO Melanie Mills said in a release. "There is a lot of ski season left, but we've set a good pace, have great snow conditions and hope the momentum continues."
The success of the state's multi-billion-dollar ski and winter tourism industry is tied directly to the amount of snowfall and public perception in key domestic destination markets such as New York, Texas and Illinois, as well as overseas markets in Europe and Latin America.
The 10-percent statewide increase also tracks with Vail Resorts, the state's largest ski company and owner of Vail, Beaver Creek, Breckenridge and Keystone. Those resorts are not members of CSCUSA, but earlier this month reported a similar 10-percent jump in business.
Vail Resorts CEO Rob Katz said in a news release that not only are skier visits up, but people are spending more once they get to Colorado.
"Importantly, we observed strong ancillary spending, yielding gains in all categories that outpaced lift ticket revenue growth and marked a continuation of the improving consumer spending trends we first reported in the spring of 2010," Katz said in a release.
International destinations like Vail and Aspen have seen sustained business from traditional markets like Mexico and South America, and European visitation has been solid as well – particularly among Russian snow riders.
Long-range weather forecasts are calling for continued above-average snowfall throughout January. Vail has had almost three feet of new snow since Martin Luther King Day, and Breckenridge -- in Summit County – has had well over three feet of new snow, with 26 inches reported on Tuesday alone.
Denver is getting in on the economic action with Mile High Snow Week next week, featuring a Big Air Challenge freestyle competition on 100-foot-high snow ramp in downtown Civic Center Park. Sponsored by Denver Sports, the international competition features top pros Tuesday and Wednesday on a massive structure that's 300 feet long and 80 feet wide.
Natural snow fell in abundance during rush hour Wednesday in Denver, but event organizers still cranked up snow guns in downtown Denver as the massive SnowSports Industries America Snow Show kicks off next week in the Denver Convention Center.
---

101 Comments on "Ski Country, Vail Resorts report 10 percent jump in skier visits as snow keeps pounding Colorado "