Vail's Vonn claims Austrian downhill for fourth World Cup win of the season
ZAUCHENSEE, Austria – Olympic champion Lindsey Vonn (Vail, CO) nearly skied into the fence Saturday, but reeled it back in to win the women's Audi FIS Alpine World Cup downhill in Zauchensee, her fourth win of the season. Vonn gained 50 points on overall leader Maria Reisch of Germany, who finished fourth.

In the tiny mountain village nestled above Altenmarkt, just south of Salzburg, Vonn charged out of the gate to beat the women's downhill field by .43, marking her second career World Cup win and fourth podium in Zauchensee.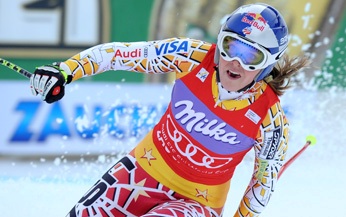 "I don't know what's gotten into me this year. I seem to be making big mistakes in almost every downhill that I race in and still have a good result," Vonn said. "For me, it's just a matter of keeping my cool. It's just belief and the cool factor – just staying cool even though you make mistakes."
Despite warm temperatures and taking a wide turn on Lechwald or the "Milka Turn" as it's known to U.S. coaches, Vonn proved once again she is the queen of speed making up time at the bottom of the course.
"It definitely got wild. I came into the last section with a lot of speed. I had a good line coming in, but I must have hit some soft snow," explained Vonn. "It cost me a lot of speed. I knew if I could carry my speed on the next left footed turn I could make some time up on the last couple of turns. I guess I did that, but it was tough."
Teammate and fellow Olympic champion Julia Mancuso (Squaw Valley, CA) experienced trouble on the same section as Vonn finishing 16th.
Sweden's Anja Paerson finished behind Vonn in second with Austria's Anna Fenninger in third. Despite gaining 50 points on overall World Cup leader Riesch, Vonn remains 136 points behind heading into Sunday's super G.
"It was a difficult race, but I'm happy to get the win today," Vonn said.
Vonn is seeking her U.S. record fourth straight overall World Cup title. The win puts Vonn, a Ski and Snowboard Club Vail product, all alone into fifth on the all-time women's victory list with 37 career wins. She now only trails Paerson, winless this season, by four career wins for fourth on the all-time list.
The women will push out of the Zauchensee start house again on Sunday for a super G race.
OFFICIAL RESULTS
Audi FIS Alpine World Cup
Zauchensee, Austria – Jan. 8, 2011
Downhill
1. Lindsey Vonn, Vail, CO, 1:46.39
2. Anja Paerson, Sweden, 1:46.82
3. Anna Fenninger, Austria, 1:47.37
-
16. Julia Mancuso, Squaw Valley, CA, 1:48.50
-
34. Stacey Cook, Mammoth Mountain, CA, 1:49.87
37. Leanne Smith, Conway, NH, 1:49.91
40. Laurenne Ross, Klamath Falls, OR, 1:50.27
46. Chelsea Marshall, Pittsfield, VT, 1:51.03
For complete results: www.fis-ski.com
---

173 Comments on "Vail's Vonn claims Austrian downhill for fourth World Cup win of the season"