Miller 3rd, Vail's Vonn gains on Riesch in unique World Cup event in Munich
MUNICH, Germany – Over 25,000 fans were on hand to see five-time Olympic medalist Bode Miller (Franconia, NH) finish third ahead of local favorite Felix Neureuther in the Audi FIS Alpine World Cup city event. Croatian Ivica Kostelic knifed the late rounds for the men's victory while Swede Maria Pietilae-Holmer took the women's crown.
"I could hear all 25,000 people because they were so close," Miller told reporters after the race. "But then again, 25,000 people hated the one who beat Felix. It was cool to hear them cheer for him."
Miller earned 60 points towards the World Cup overall chase and a cool $21,000. Julien Lizeroux of France was second after bumping good friend Ted Ligety (Park City, UT) in the opening round. Tina Maze of Sovenia and Austrian Elisabeth Goergl finished 2-3 for the women.
Universal Sports TV will carry the groundbreaking event at 7 p.m. ET. A highlight package of Miller is now available at www.UniversalSports.com.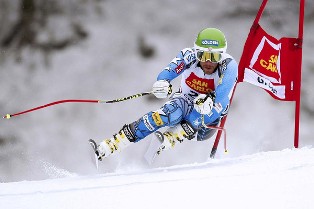 After starting the evening with a .31 deficit in the opening round to Austrian downhiller Michael Walchhofer, Miller found his rhythm to oust both Walchhofer and eventually Benjamin Raich in the quarterfinal. His fist run deficit to Raich was a full half second after straddling a gate in their first duel.
"I hit the start every time, but not making mistakes is the most important," said Miller, who was also third in the 2009 exhibition parallel slalom in Moscow. "With a short course, you've also got to be fast out of the start. Then it helps to have good tempo have to be really balanced - it's mostly timing."
"Bode was fired up and as it went on he started to find some gas," said U.S. Ski Team men's Head Coach Sasha Rearick. "He was destroying people out of the start then he made up his whole deficit in one gate to Raich."
The top 15 men and women in the World Cup starting list points earned the invitation to compete in Munich with the host country earning another two starts to round out the field with 16 racers per gender.
All qualifiers earned World Cup overall points with 15 points going to athletes with first-round loses, 30 points were given to athletes who made the quarterfinals and 50, 60, 80 and 100 points being awarded to the 4th-1st place finishers in that order.
With colored lights swirling and DJs pulsating music throughout the Munich Olympic Park, the enormous crowd boomed for each duel, showing that German fans are charged for the 2011 FIS Alpine World Ski Championships set for next month in nearby Garmisch-Partenkirchen. Munich is also a finalist for the 2018 Olympic Winter Games bid, which will be announced in July.
"It was really fun, the atmosphere was amazing," said Lindsey Vonn (Vail, CO), whose handprints were immortalized Saturday night in the Munich Olympic Park Walk of Fame. "There were so many people and I've never seen an event like this before, it was definitely a fun night."
Vonn gained ground in the women's overall chase by advancing to the quarterfinal with a stunning first round win over German Susanne Riesch before falling short to the eventual winner Pietilae-Holmer. Vonn's 30-point day cut 15 points on her deficit to Susanne's older sister Maria, who made a first round exit.
"Suzy was a really tough competitor to have in the first round and I was happy to get past her," said Vonn. "Maria Pietilae was also a tough competitor and it was hard to face her in an early round."
Julia Mancuso (Squaw Valley, CA) and Ligety also missed out on advancing past the first round as a young Anna Fenninger from Austria had her starts nailed.
"This is a tremendous promotion for the sport," added Rearick. "The athletes enjoyed doing it and it's good to see that we're bringing the World Cup to large cities. There are definitely some things we're working on with the FIS to make this an even better event, but hopefully we got some new fans today.
The White Circus now rolls to Zagreb, Croatia for slalom races. Women will race on Tuesday, Jan. 4 with men set for Jan. 6.
OFFICIAL RESULTS
Audi FIS Alpine World Cup
Munich, Germany – Jan. 2, 2011
Parallel Slalom
Men
1. Ivica Kostelic, Croatia
2. Julienn Lizeroux, France
3. Bode Miller, Franconia, NH
4. Felix Neureuther, Germany
-
Women
1. Maria Pietilae-Holmner, Sweden
2. Tina Maze, Slovenia
3. Elisabeth Goergl, Austria
4. Daniella Merighetti, Italy
---

167 Comments on "Miller 3rd, Vail's Vonn gains on Riesch in unique World Cup event in Munich"