Riesch pads overall lead over Vonn with second in Semmering slalom
Germany's Maria Riesch finished second to Austria's Marlies Schild in today's World Cup slalom in Semmering, Austria, padding her overall World Cup lead over Vail's Lindsey Vonn by a margin of 738 points to 617.
Riesch, who edged out Vonn for the overall lead in Tuesday's giant slalom, stood 17th after the first run Monday and charged hard for second place and the 80 points. Vonn skied out in the first run and earned no points. Vail's Sarah Schleper appeared headed for the podium but made a mistake near the bottom of her second run and wound up 28th. She had a great second run going after finishing 9th in the first run, and was bounced offline near the finish.
"It's very disappointing because she [Schleper] would have been on the podium easily today," said Head Coach Alex Hoedlmoser. "She was here to race and to be on the podium and not just to be top 30 and that's how she skied. She shouldn't be disappointed at all because she knows she has the speed."
Twenty-year-old German Christina Geiger finished third for the first podium of her young career, .54 behind Schild, who now leads the slalom standings. Vonn was looped off course in the opening run.
"I honestly wish I knew what happened," said Vonn, who leads the downhill, super G and super combined standings. "My skis just hooked up with the snow and I was launched off course."
"Usually what happens when Lindsey is not in the race anymore is that Maria goes for it because she has nothing to lose," added Hoedlmoser of Riesch's lightning fast second run which nearly eclipsed Schild's 1.2 second advantage.
Universal Sports TV will air the race at 3 p.m. ET with streaming also available on www.UniversalSports.com.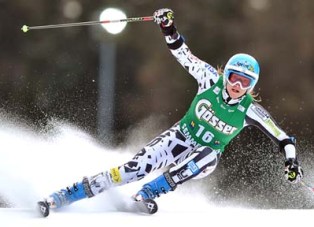 Schleper transferred the energy from her signature pre-start roar to her Rossignol's producing the fastest second run time behind Riesch before hooking a tip 10 gates above the finish. The four-time Olympian arrested her slide and immediately began hiking back up to make the gate as the over flowing Austrian crowd echoed her roar.
"I started doing a different shout at the start of my run because we thought that would be better for going faster," said Schleper after finishing 15th in Tuesday's giant slalom. "I am shouting when I go out rather than shouting before so I take the energy more into the run.
"I have been skiing really fast with my two fastest teammates," she said. "I am one of the oldest and as long as I can keep going I am happy because I love what I do."
Julia Mancuso (Squaw Valley, CA), Resi Stiegler (Jackson Hole, WY) and Hailey Duke (Boise, ID) missed qualifying for the second run. Mancuso and Vonn will now head to Munich, Germany for a Jan. 2 parallel slalom at the Munich Olympic Park, home of the 1972 Olympic Summer Games.
"It's going to be a great show," said Hoedlmoser. "It's good for the sport to have city events – it's good to promote the sport with a big city crowd and the girls have a great chance there to be on the podium."
World Cup points and over $100,000 in prize money is up for grabs as the top 15 men and women in the overall standings go head-to-head in a single elimination battle. World Cup giant slalom leader Ted Ligety (Park City, UT) will represent the men as Universal Sports streams the event live online at 10:30 a.m. ET on Sunday.
OFFICIAL RESULTS
Audi FIS Alpine World Cup
Semmering, Austria – Dec. 29, 2010
Slalom
1. Marlies Schild, Austria, 1:42.06
2. Maria Riesch, Germany, 1:42.38
3. Christina Geiger, Germany, 1:42.58
4.Tanja Poutianen, Finland, 1:42.69
5. Therese Borssen, Sweden, 1:42.89
-
28. Sarah Schleper, Vail, CO, 2:06.24
-
Did not qualify first run: Julia Mancuso (Squaw Valley, CA), Resi Stiegler (Jackson Hole, WY), Hailey Duke (Boise, ID)
---

188 Comments on "Riesch pads overall lead over Vonn with second in Semmering slalom"