Vonn, Ligety take over World Cup overall leads with wins at Val d'Isere, Alta Badia
Vail's Lindsey Vonn won her third World Cup ski race of the season today – a super combined in Val d'Isere, France – and took over the overall World Cup lead with the 36th win of her storied career.
And for the second time this season (since doing it two weeks ago at Beaver Creek and Lake Louise) Vonn joined Ted Ligety of Park City, Utah, in a double-win day for American ski racers. Prior to this season, the rare American double hadn't happened since 2006.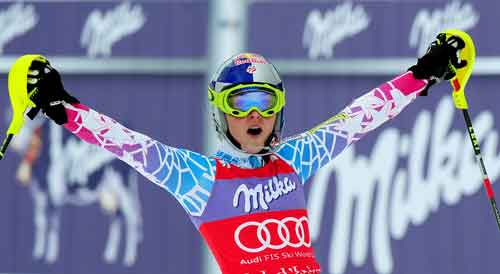 Ligety won the third straight World Cup giant slalom of the season by claiming the GS today in Alta Badia, Italy. The eighth World Cup victory of 2006 Olympic gold medalist's career put him into the overall lead by six points (321 to 315) over Switzerland's Silvan Zurbriggen.
"This is a dream come true," Ligety said in the finish area. "This is the best GS hill on the World Cup circuit and to win today is super special, especially with three in a row."
Sitting in second by .15 to Frenchman Cyprien Richard after a clean opening run, Ligety went to full attack in the second run, skipping multiple times over the icy track, yet maintaining his balance into the rowdy Italian finish. Richard finished second, .14 behind Ligety after an enormously costly mistake midway down.
"I just feel really lucky, Cyprien was I think the best skier today, but he made the mistake and I think I just got luck," Ligety said. "When things get rolling like they have been for me, you get lucky in that sense. This hill is crazy, crazy icy and it's just tough to make it down. The second run I was attacking hard and made some small mistakes here and there. But I couldn't be more happy."
Two weeks ago at Beaver Creek, Vonn, a Ski and Snowboard Club Vail product from Minnesota, took a super-G at Lake Louise, Alberta, Canada, and then made a phone call to Beaver Creek to cheer on Ligety over the Birds of Prey stadium speakers. He won the race. Today, Ligety provided a spark for Vonn.
"I watched Ted's run before I raced and it definitely motivated me," Vonn said. "He skied amazingly well. He's on an incredible roll right now and I'm really excited for him. It's a great day for the U.S. Ski Team."
Vonn, with the most World Cup wins ever for an American ski racer, is now tied with German great Katja Seizinger for the fifth most careers victories for a woman ski racer. The only active racer still ahead of Vonn is Swedish legend Anja Paerson, in fourth place all-time with 41 wins.
Paerson hasn't won this season, and Vonn could realistically catch and surpass her this season. Vonn is vying for her fourth straight overall title. She now leads Germany's Maria Riesch, her friend and rival, by a scant three points (581 to 578).
Saturday, Vonn was named Associated Press Female Athlete of the Year, adding to her decorated resume of accomplishments. Also this year she won an Olympic gold medal and a bronze at Whistler Creekside in the 2010 Vancouver Winter Olympics.
---

193 Comments on "Vonn, Ligety take over World Cup overall leads with wins at Val d'Isere, Alta Badia"