Hasan Foundation insists on McInnis repayment, denies $300,000 a political contribution
In the wake of the Hasan Family Foundation concluding its internal probe of the Scott McInnis plagiarism scandal Friday and demanding repayment of his fellowship funds, questions continue to swirl about whether the $300,000 was in fact some form of a political contribution.
"All those rumors and allegations are completely false," Hasan Family Foundation spokesman Drew Dougherty told Real Vail. "Mr. McInnis was retired from Congress when these [water articles] happened. All of this occurred in '05 and '06, and in '06 the board chose to not renew his fellowship for an additional year or two years."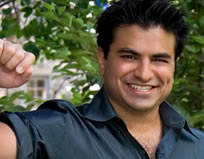 McInnis, the former six-term Republican congressman and current gubernatorial candidate, is still listed as one of three fellows on the Hasan Family Foundation website. The nonprofit founded by Beaver Creek residents Malik and Seeme Hasan paid McInnis $300,000 in 2005 and 2006 to write about water issues (pdf) and provide other services for the Foundation. McInnis left Congress in 2004.
The Denver Post revealed on Monday that parts of some of McInnis's water articles were taken from the writings of current Colorado Supreme Court Justice Gregory Hobbs. McInnis has admitted to what he deems a mistake, but put the blame on former Colorado River Water Conservation District head Roland "Rolly" Fischer of Glenwood Springs, whom McInnis said was his paid researcher on the project. Fischer says McInnis is lying.
The Foundation Friday issued this statement:
"It is the finding of the Hasan Family Foundation Board that the work Congressman Scott McInnis performed under the Senior Fellowship was only a fraction of the work he was obligated to perform under the terms of his Fellowship.
"Of the little work that he did, he has admitted it was neither fully completed by him, nor fully original. In view of the public disclosure by Mr. McInnis as well as by Mr. Rolly Fischer, it is clear that Mr. McInnis has not fulfilled the terms of our agreement, and there is no need for any further investigation by the Foundation.
"The Foundation demands [McInnis] repay all monies paid to him under the Fellowship. The Foundation shall be making no further comment on the matter and will immediately return its full attention to the worthy causes it proudly funds and oversees."
McInnis then issued this statement in response:
"I have said since this matter was brought to my attention that the articles provided as part of the Hasan Family Foundation fellowship were faulty. I explained how this problem arose, and I accepted responsibility.
"I apologized to the Hasans for this mistake, and I expressed my determination to make it right with my dear friends. I will be in contact with the Hasan family to make full payment arrangements. I agree with the Foundation that this brings this matter to a close, and I look forward to continuing to speak on the campaign trail about the critical issues facing all of Colorado, including jobs and economic recovery."
McInnis is in a Republican primary race with Evergreen businessman Dan Maes. The winner of the Aug. 10 primary will take on Democratic Denver Mayor John Hickenlooper.
The Hasan Foundation's Dougherty told Real Vail Thursday that the organization was conducting a full internal investigation of the McInnis matter, including consulting a plagiarism expert. "We're very dedicated to doing [the investigation] independently and also not letting the current political scene affect any of the internal organization or operations," Dougherty said.
Malik Hasan, a doctor and managed health-care pioneer, told the Denver Post on Friday that "there was never any type of deal of expectation of receiving something from [McInnis]."
The paper reported the Hasans gave McInnis $14,000 in campaign contributions during his 12 years in Congress and that McInnis twice on the floor of the U.S. House acknowledged Malik Hasan for his work. But McInnis did not endorse the Hasan's son, Ali, in his unsuccessful run for state treasurer this year.
"I was upset that he did not endorse my son, and I was upset that (McInnis) did not do what he promised to do [for the Foundation]," Hasan told the Post. "The two things are not related."
Ali Hasan, who in 2008 also unsuccessfully ran for the state House of Representatives for the mountain district including Vail and Beaver Creek, told Real Vail Thursday he could not comment until after the Foundation's internal investigation of the McInnis matter.
"Normally, I'd be happy to chat, but this is a Foundation matter and I'm waiting to chat until after their internal investigation is wrapped up," said Ali Hasan, who is listed as one of the three fellows, along with McInnis, on the Foundation website. He did not respond to follow-up requests to comment now that the Foundation has concluded its investigation.
---

423 Comments on "Hasan Foundation insists on McInnis repayment, denies $300,000 a political contribution"