A week after son's suicide, 'Bernie Madoff Art Auction' set for Saturday at Vail's Sonnenalp Resort
Infamous Ponzi schemer victimized several wealthy Vail, Aspen residents
Vail's Sonnenalp Hotel on Saturday will host a "Bernie Madoff Auction of fine art, jewelry, rugs, bronzes and more due to losses causes by" the infamous Ponzi schemer now serving 150 years in prison. Several wealthy Vail and Aspen residents were among Madoff's victims.
Last Saturday, Bernie Madoff's son Mark, 46, a father of four, reportedly hung himself with a dog leash outside his sleeping toddler's room in his family's SoHo apartment, two years to the day after his reviled dad's arrest in 2008.
The New York Post
speculates he was despondent about "the fallout of his dad's scam — and the possibility authorities were going to go after him and his brother, Andrew."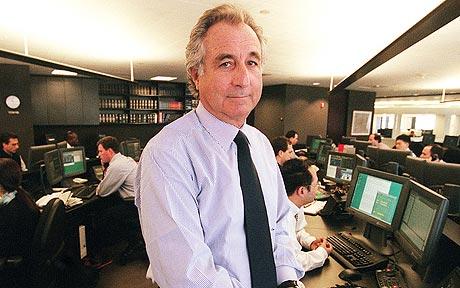 The New York tabloid also reported Mark Madoff's family won't hold a funeral service and that Bernie Madoff, also despised by his remaining family for his multi-billion-dollar swindle, would not have attended anyway.
Saturday's auction in Vail will feature paintings by Marc Chagall, Henry Matisse, Norman Rockwell, Salvador Dali, Pablo Picasso and Peter Max, according to a mailer sent to Vail residents. It also promises "armed security on site."
The mailer indicates the artwork, jewelry and sculptures include "Bernie Madoff personal property purchased at Madoff auctions together with merchandise bought directly from victims of the Ponzi scheme, general order merchandise which constitutes the majority and seized assets obtained from various government auctions."
Madoff victimized dozens of wealthy Coloradans, reportedly including Josh Lautenberg, a Vail real estate agent and ski instructor who's the son of New Jersey Sen. Frank Lautenberg. Josh Lautenberg is a co-owner of Sonnenalp Real Estate.
Vail developer Peter Knobel, who recently completed the ultra-luxe Solaris at Vail project, also is among Madoff's victims, as are 30 foundations and individuals in Aspen.
More prominently, former Republican congressman turned American Constitution Party gubernatorial candidate Tom Tancredo lost a reported $1 million in Madoff's scam and last year said an appropriate punishment would be publicly beating Madoff with a baseball bat and selling tickets.
"I think I probably would've sold tickets and let the highest bidder come beat him up with a baseball bat and then divide up the money among all the people that he stung," Tancredo said "with a laugh," according to 9News.
Conservative talk radio host Mike Rosen, another Colorado victim of Madoff, had another idea.
"I would have handled the sentence a little differently, such as waterboarding him in order to have him divulge where the money's hidden. In exchange for that, they cut his sentence from 150 years to 100 years," Rosen said.
The "Bernie Madoff Auction" at the Sonnenalp Resort in Vail will be held at 11 a.m. Saturday, with a preview at 10:30 a.m. Call (800) 431-7948 for more information.

---

234 Comments on "A week after son's suicide, 'Bernie Madoff Art Auction' set for Saturday at Vail's Sonnenalp Resort"