Body of missing Snowmass man positively identified; police don't suspect foul play
The body of George Aldrich was recovered in a snowy depression beneath the Maroon Creek Bridge on Monday afternoon, two weeks after he was reported missing.
Three volunteers for Mountain Rescue Aspen made the discovery just days after the Pitkin County Sheriff's Office called off official field operations in the Aldrich case. The searchers did not give up looking, however, due to a commitment they made to the 28-year-old man's family in Rhode Island.
The area's terrain — full of rocks, depressions and a good deal of snow — complicated the search. So did Aldrich's clothing, which, authorities noted, camouflaged him amid the natural surroundings.
"It was not obvious at all," said Mountain Rescue Aspen's Doug Paley, confirming that search crews had previously scoured the immediate area where he was found on the first day they searched, Nov. 30.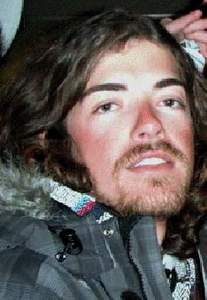 Aspen Police Chief Richard Pryor said it was hard to see the body from a distance farther than six feet.
George Aldrich
"I firmly believe we did all we could under the circumstances," Pryor said. "We were actually very fortunate to discover him."
How the young man ended up under the bridge has not been answered.
There are two bridges spanning Maroon Creek: a historic trestle originally constructed in 1888 that no longer supports cars, and the newer one that finished in spring 2008 and now carries Highway 82.
Sheriff's Deputy Alex Burchetta said Aldrich was found underneath the new bridge's center section. His body was partially covered in snow by the time searchers found him at about 2:30 p.m., Monday.
Bill Linn, the assistant chief at the Aspen Police Department, said there was "nothing at the scene that indicates anything other than an accident" but that authorities will treat it as a homicide investigation.
Aldrich did have his wallet on him, police said, and there were no discernible tracks near his body.
An autopsy is under way and will help direct the police investigation, they said.
Aldrich disappeared the night of Nov. 27, about a month after he had moved to Snowmass Village. He worked a shift as a lift operator on that Saturday before going to his apartment in Club Commons and heading to Aspen for the free Blind Melon concert in gondola plaza. He later went to Eric's Bar.
A video taken on a Roaring Fork Transportation Authority bus shows him getting off at the Truscott stop shortly before 10:30 p.m. A witness said that Aldrich told her he had gotten off at the wrong stop. He indicated to her that he was going to try to catch a bus, walk or possibly try to hitchike home.
At a press conference on Tuesday, Linn told reporters that it was "bitterly cold" the night Aldrich went missing and that he found a report online that said the temperature at Tiehack was 12 degrees below zero. The National Weather Service in Grand Junction, however, told Real Aspen that the temperature at the Aspen airport on Nov. 27 was six degrees above zero and on Nov. 28 it was 10 degrees.
When Aldrich failed to show up for work, a missing persons report was filed on Nov. 29. A search utilizing dogs, helicopter and planes began Nov. 30. Local residents went out searching on their own. Missing persons flyers were posted up and down the valley in both English and Spanish.
A large amount of media attention followed, including a segment on CNN. After yesterday's tragic discovery, the family canceled a scheduled appearance on this morning's "Today" show on NBC.
Aldrich's family members are flying to Aspen this afternoon to recover his body.
"These things rarely happen [in Aspen]. … We live in a very safe place," said Pryor, the chief of police. "It comes as a shock for all of us to have a young man coming here for a good time … to have his life end like this. It is an absolute tragedy and I think everyone in the community feels that."
---

292 Comments on "Body of missing Snowmass man positively identified; police don't suspect foul play"