Birds of Prey men's downhill scrapped by wind, but Vail's Vonn earns another podium at Lake Louise
BEAVER CREEK – The Audi Birds of Prey men's downhill was canceled Friday due to high winds. The original 11 a.m. start had been delayed twice before the jury made the decision to call the race at 1:30 p.m. The super G is scheduled for Saturday at 11 a.m. as originally planned, with a giant slalom on Sunday.
Meanwhile, the women managed to get in a World Cup downhill at Lake Louise, Canada, and Vail's Lindsey Vonn came in second to Germany's Maria Riesch, who padded her overall lead by a few more points. In Colorado, however, wind cost the men their race.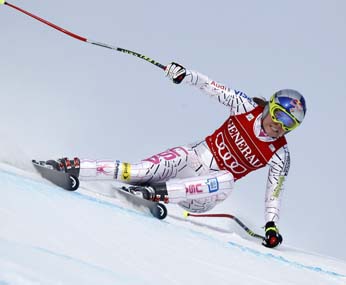 "It's howling pretty hard up there. Unfortunately Mother Nature took control," said Head Coach Sasha Rearick. "It's a big disappointment because the effort that went into putting this race on was absolutely perfect - the work the race crew did and the events department did to put this on was amazing. It almost makes me want to cry because you don't get to run it. The track was awesome."
The U.S. Ski Team will start an impressive group of nine athletes in tomorrow's super G led by Olympic medalists Bode Miller (Franconia, NH), Ted Ligety (Park City, UT) and Andrew Weibrecht (Lake Placid, NY). Also in the gate are Steven Nyman (Sundance, UT), Marco Sullivan (Squaw Valley, CA), Erik Fisher (Middleton, ID), Travis Ganong (Squaw Valley, CA), Tommy Ford (Bend, OR) and NorAm super G champion Chris Frank (Windham, NY).
In Canada, Olympic champion Vonn kept her success streak at Lake Louise alive finishing second in the opening downhill of the 2011 Audi FIS Alpine World Cup season as seven Americans stormed the top 30. Surging Julia Mancuso, an Olympic champion from Squaw Valley, Calif., was just shy of the podium in fourth.
Both Vonn and Mancuso debuted personally designed Spyder speed suits during the women's downhill opener. For the third season Vonn will wear a new Spyder design for each speed weekend this winter.
"I thought I skied really well and unfortunately it wasn't enough for the win today, but I'm really happy with second place," said a sniffling Vonn who is fighting a head cold. "It's just a cold. I've raced through a lot worse things than a cold so I didn't even consider not racing today."
Vonn has a career 12 podium finishes in Lake Louise since earning the first World Cup victory there in 2004. She had carried a record streak of five consecutive downhill wins into today's race.
With clear skies and a hard track, Friday's downhill was a tight race with the top three all within two tenths. Riesch (1:28.96) bumped friend and rival Vonn (1:29.08) out of the hot seat by a mere .12, while Austria's Elisabeth Goergl closed out the podium.
"The whole U.S. team did a great job," added Vonn. "We had seven girls in the top 30 and that just shows that we are skiing really well as a team. We've shown in training that we can be fast and I'm glad we stepped it up for the race."
Mancuso said she was skiing while thinking of best friend Chemmy Alcott of Great Brittan, who suffered a severely broken leg in the final training run Thursday.
"I skied solid, but there's definitely room to go faster," said Mancuso, who was on her way to visit Alcott at the hospital in nearby Banff. "I had a long day yesterday just worrying about my friend and going to the hospital just waiting her for her to get done with surgery, so it's nice to have a solid race run under my belt."
Alice McKennis (Glenwood Springs, CO) ran first and spent a good portion of time in the leader box before slipping to 11th. Leanne Smith (Conway, NH), Laurenne Ross (Klamath Falls, OR), Stacey Cook (Mammoth, CA) and Chelsea Marshall (Pittsfield, VT) all scored World Cup points by landing inside the top 30.
"Conditions were awesome, hard, icy and very challenging for the girls – It was a very good race," said Head Coach Alex Hoedlmoser. "Pretty much the whole downhill team is producing results and that's good to see. Everyone is really fired up for tomorrow to have a better result than today. The girls aren't even satisfied with their rankings, so it's good for them all."
"Everyone skied really well," added Mancuso. "A couple people had higher expectations because of the training runs, but in general this was pretty cool."
The women will be in the start house again on Saturday for a second Audi FIS Alpine World Cup downhill in Lake Louise.
Universal Sports will air the race live on both www.UniversalSports.com and its 24-hour TV network.
OFFICIAL RESULTS
Audi FIS Alpine World Cup
Lake Louise, ALB
December 3, 2010
Downhill
1. Maria Riesch, Germany, 1:28.96
2. Lindsey Vonn, Vail, CO, 1:29.08
3. Elisabeth Goergl, Austria, 1:29.17
4. Julia Mancuso, Squaw Valley, CA, 1:29.95
5. Anna Fenninger, Austria, 1:30.15
-
11. Alice McKennis, Glenwood Springs, CO, 1:30.76
20. Leanne Smith, Conway, NH, 1:31.23
22. Laurenne Ross, Klamath Falls, OR, 1:31.29
25. Stacey Cook, Mammoth, CA, 1:31.39
27. Chelsea Marshall, Pittsfield, VT, 1:31.48
-
47. Julia Ford, Plymouth, NH, 1:32.78
---

266 Comments on "Birds of Prey men's downhill scrapped by wind, but Vail's Vonn earns another podium at Lake Louise"