Miller, 4th in training, reveals real reason he didn't retire after Vancouver Olympics
All-time American record-holder says he came back to stay out of jail
BEAVER CREEK, Colo. – When Bode Miller, America's greatest male ski racer of all time, exorcised his demons from the 2006 Winter Olympics and won three medals at the 2010 Games in Whistler, no one really expected him to return to the World Cup circuit.
The 33-year-old from Franconia, N.H., for more than a decade famously expressed his disdain for the grueling "White Circus," with its attendant media hordes (mostly in Europe), uncomfortable hotels, bad food, and the demands of a fickle public – particularly results-obsessed Americans, who only care about Olympic hardware.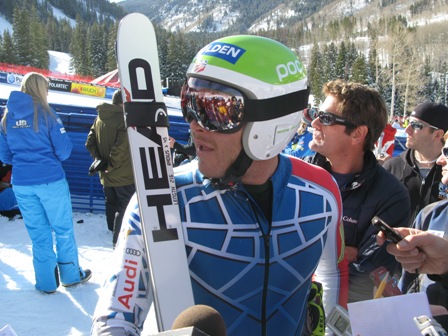 The owner of more World Cup wins than any other American man (32) and two overall World Cup titles, was shut out in Italy, winning no medals despite being a heavy favorite, and infamously saying he partied "at an Olympic level." A gold (super combined), silver (super G) and bronze (downhill) at the Vancouver Games changed all that.
Combined with his two silvers from Salt Lake City in 2002 (combined and giant slalom), Miller has won more Olympic hardware than any American ski racer ever has. So what does he have to race for now at the age of 33, which is getting up there for an alpine racer?
Today at Beaver Creek, where he led the U.S. Ski Team by finishing fourth in a training run for Friday's downhill race (11 a.m. start, free and open to the public), Miller said he came back mostly for the chance to let it loose on a course as demanding as the famed Birds of Prey track.
"That's probably 85, 90 percent of why I'm still racing is I wouldn't have an opportunity to run on a track like that in any other way," Miller told reporters. "I'd get arrested or locked up or whatever. If I could do it on my own, I probably wouldn't be here talking to you guys.
Miller won every interval except the top to finish fourth in the final training run before the real thing on Friday. Austrian Hans Grugger turned in the top time in a run that only counts in terms of preparation, coming down in 1 minute, 45.37 seconds.
"This is where we hope to be at this time of the week," said Miller, who has won two downhills on the Birds of Prey course. "You can't afford to give away any time on this course if you want to win here. I'm never that confident on these hills, but I know I have the speed to win."
Miller said the highly turny course set made the run difficult and put a premium on technical ability.
"This hill is technical, you have to be able to move dynamically, which is certainly one of my strengths," he said. "If I can stay on edge and not make any mistakes, I can be right in there. It's running fast right now. Coming out of Talon turn, it's as difficult as I've ever seen it and that sets you up for the next four turns. If you screw it up, it's almost impossible to ski it well."
Travis Ganong of Squaw Valley, Calif., was the next best American in 30th.
"The more times you get up on this hill, the better," said Ganong, who was trying different skis and a different line today. "It's not as same as it was before, but I like turny. I like those high speed turns and being really active. It links really well if you ski it right."
The races are free and open to the public. Prime race viewing is available at the Red Tail finish stadium after a short, free shuttle ride from Beaver Creek Village.
OFFICIAL RESULTS
Audi FIS Alpine World Cup
Beaver Creek, CO
December 2, 2010
Downhill Training
1.Hans Grugger, Austria, 1:45.37
2.Christof Innerhofer, Italy, 1:45.55
3.Mario Scheiber, Austria, 1:45.59
4.Bode Miller, Franconia, NH, 1:45.60
5. Didier Cuche, Switzerland, 1:45.68
30. Travis Ganong, Squaw Valley, CA, 1:47.43
41. Marco Sullivan, Squaw Valley, CA, 1:48.31
49. Erik Fisher, Middleton, ID, 1:49.28
64. Tommy Ford, Bend, OR, 1:50.73
68. Tim Jitloff, Reno, NV, 1:52.74
71. Andrew Weibrecht, Lake Placid, NY, 1:56.75
---

126 Comments on "Miller, 4th in training, reveals real reason he didn't retire after Vancouver Olympics"