Skiing icon Dorworth reflects on 1963 record of 110 mph in new book 'Perfect Turn'
Going down hill on skis at just under 110 mph might not seem like much to a World Cup downhiller, but consider the fact that Dick Dorworth was skiing with 1963-era skis and bindings, then throw in 1963 grooming and safety equipment and that number starts to come into focus, however blurry, given the 1963 goggles.
Dorworth was the fastest skier in the world. Now, 47 years later, you can read all about it in Dorworth's second book, "The Perfect Turn and other tales of skiing and skiers."
I first met Dick in August of 1983, the day I moved to Ketchum, Idaho. He remains my hero -- one of the best people I know. His book would be compelling even if he wasn't.
The Perfect Turn contains 19 essays and one piece of short fiction. It chronicles a life spent skiing.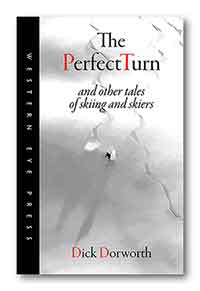 He writes about the mental commitment needed to ski like there is no tomorrow. He writes about the pure terror of knowing he is about to crash at more than 100 mph. He writes about a friend and fellow speed demon who was not quite so lucky as himself.
This book is for three kinds of people: Those who race on skis or who are fans of those who do, those who climb serious mountains or would like to think they have while sitting in a nice chair, those who enjoy the occasional month-long back-country ski schlep in some of the world's most rugged terrain or at least might enjoy it from the comfort of home. You know who you are.
In addition to skiing really fast, Dorworth has been director of skiing at Aspen, U.S. Ski Team coach, world-class mountaineer and a pretty fair writer. His writing has appeared in virtually all the major ski, outdoors, and manly type magazines, including Ski, Skiing, Powder, Men's Journal and Backpacker.
He's been a fixture at the Sun Valley Ski School for decades.
He knows virtually everyone who's anyone in the worlds of skiing and mountain climbing, and writes about many of them here.
Those friends include the likes of Royal Robbins, Yvon Chouinard, Dick Barrymore, Steve McKinney, Ted Kennedy, Ed Scott, Dick Durrance, Warren Miller, Zach Crist, Reggie Crist, Danielle Crist and Daron Rahlves. I could go on, but you get the point.
One of the striking things about this book comes in Dorworth's tales of the backcountry, wherein he and several friends take off on week- and month-long trips carrying 60-pound packs while wearing mountaineering skis. The fact that some of his mates on these trips are famous racers took me by surprise. When you read about someone who, to you, should be on a stand waving a medal but is instead dealing with blisters and frostbite and cranky backpacking stoves it puts them in a whole new light.
A few quotes from the essay "In Pursuit of Pure Speed:"
"I found in myself the ability to give everything, to lay the whole show on the line. In that ability is hidden happiness, and all men have it, lurking somewhere..."
"Nothing was so important to my progress as a man than getting my body down a mountain on a pair of skis, just as fast as I could go. I don't know why, but I know it was so."
"...there can be no abstract thoughts like records or the game. Your attention must be total."
About crashing:
"Now I know that strange things happen to your body when it meets the snow at 100 mph, no matter what the position. In the twinkling of hitting the snow I regained a proper respect for speed. If you are inattentive, as well as somewhat stupid, you may breed a contempt for big speeds, forgetting respect through the grace of being atop your skis each run. No one on his back at 100 mph will ever after have contempt for speed."
The Perfect Turn and other tales of skiing and skiers, Dick Dorworth, 240 pages, Western Eye Press, Sedona, AZ www.WesternEyePress.com. $15.95 paperback, $9.95 eBook, Available at Amazon.
---

318 Comments on "Skiing icon Dorworth reflects on 1963 record of 110 mph in new book 'Perfect Turn'"