Vail to open Blue Sky Basin on Friday
Resort surpasses 100 inches of total snowfall -- 7 weeks earlier than last season
After surpassing the 100-inch mark for season-to-date snowfall this morning – nearly seven weeks earlier than last season – Vail announced today that it will open Blue Sky Basin Friday, bringing the resort's open skiable terrain to 4,308 acres so far this season.
Beginning at 10 a.m. on Friday, Dec. 3, skiers and snowboarders will have access for the first time this season to the Skyline Express Lift (#37) and Pete's Express Lift (#39) in Blue Sky Basin in addition to the following lifts and portions of terrain in these areas that are currently open on Vail Mountain: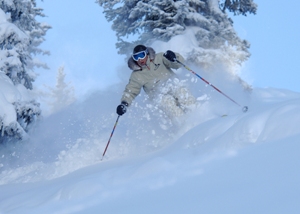 • Avanti Express Lift (#2)
• Wildwood Express Lift (#3)
• Mountaintop Express Lift (#4)
• Riva Bahn Express Lift (#6)
• Game Creek Express Lift (#7)
• Born Free Express Lift (#8)
• Northwoods Express Lift (#11)
• Gopher Hill Lift (#12)
• Sourdough Express Lift (#14)
• Little Eagle Lift (#15)
• Vista Bahn Express Lift (#16)
• Sun Up Lift (#17)
• Eagle Bahn Gondola (#19)
• Cascade Village Lift (#20)
• Orient Express Lift (#21)
• Mongolia Lift (#22)
• Tea Cup Express Lift (#36)
The expanded Bwana Terrain Park on the western end of Vail's Front Side will also be open on Friday, offering a series of boxes, rails and other features designed for freestyle progression with a combination of small and medium hits. The park has been expanded this season to include more small-sized features for kids and novice park riders.
"The snow continues to fall and we continue to open up more terrain for our guests," said Chris Jarnot, chief operating officer of Vail Mountain. "The beginning of this season has been fantastic! We surpassed 100" of cumulative snowfall at mid-mountain today, nearly seven weeks earlier than last season, and we're thrilled to be opening Blue Sky Basin on Friday. It will be another great weekend to blow off Christmas shopping and come to Vail!"
Two Elk, Buffalo's, Wildwood, Mid-Vail and Eagle's Nest are open for on-mountain dining. Express Lift at Mountain Plaza is also open and the Golden Peak Grill will open on Friday, Dec. 3.
The remaining portions of Vail's 5,289 skiable acres and terrain parks will open to the public as soon as conditions and weather permit. Ticket offices in the Lionshead, Vail Village and Golden Peak base areas are open. The Lionshead Adult and Children's Snowsports School is open for all private and group lessons.
The Vail Village Adult Snowsports School is currently open for private lessons and the Adventure Sessions. Adult afternoon workshops are offered daily from Mid-Vail for intermediate and advanced skiers. In Golden Peak, the Small World Nursery and Children's Snowsports School are open and the Golden Peak Adult Snowsports School will open Friday, Dec. 3.
As usual in the early season, Vail Mountain lifts will open beginning at 9 a.m. to accommodate early-morning operations and operating hours are posted at the base of all open lifts. Skiers and riders are asked to observe all posted signs and closures, especially during the early season. Closed trails may contain hazards due to early snow coverage. Crossing an on-mountain closure is a violation of the Colorado Ski Safety Act and will result in the loss of skiing privileges and could involve prosecution and a fine of up to $1,000.
For more information about Vail Mountain, including opening day, terrain updates, snow reports, events and lodging and vacation values, visit www.vail.com or contact the Mountain Information Center at (970) SKI-VAIL (754-8425).
---

208 Comments on "Vail to open Blue Sky Basin on Friday"