Vail's Vonn 8th in Aspen World Cup slalom; Schleper fails to qualify for second run
American superstar Lindsey Vonn just can't figure out Aspen Mountain.
She and her teammates come here every year but never reach the podium. Kristina Koznick was the last American to do it when she won the bronze in slalom at the Aspen Winternational held in 2004. The last American woman to win gold on Aspen Mountain was Tamara McKinney in giant slalom in 1981.
"It's just a hard hill you know. For me I feel like no matter how many times I ski on it, it's always just as challenging as the last time," she told Real Vail's sister site, Real Aspen, on Sunday after coming up short in the slalom. "It's a hill that never quits. You have to attack it from top to bottom. For me slalom and giant slalom are my weakest events, so I wasn't coming here trying to win. It's the nature of the beast. This hill is tough."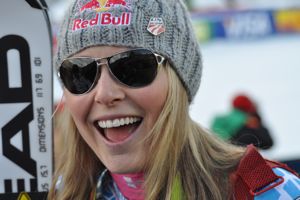 Even so, Vonn, a Ski and Snowboard Club Vail product and defending three-time overall World Cup champion, finished eighth and scored some points in the overall FIS World Cup standings. That's better than she can say about Saturday when she skied off course and failed to reach the final in the giant slalom -- her weakest event.
"I'm really happy with today," she said. "You know it was pretty disappointing yesterday. I just wanted to come out and have two solid runs. Yesterday I was expecting too much. I was too excited. And I just tried to go too aggressive. Today I finally just relaxed and had two solid runs. It may not have been the fastest skiing that I've ever done but I'm in the top 10. It's really good points so I'm really happy."
Vail's Sarah Schleper, 18th Saturday, didn't qualify for a second run in the slalom on Sunday.
The Europeans continued their domination in Aspen — a phenomenon that Vonn attributes to the low expectations and anonymity that several of the women World Cup winners in Aspen seem to share.
"There are different faces you see coming to the podium in Aspen. It's great to see the new faces. … It's good for the sport. The Euros come here with no pressure and they just attack and have good results."
Maria Pietilae-Holmner of Sweden distanced herself from the competition with a combined time of 1:46:19. Current overall World Cup leader Maria Riesch of Germany secured silver. Tanja Poutiainen of Finland procured the bronze.
Vonn thanked all of the fans that came to Aspen to support her and her teammates.
"It was a really great crowd and great race. Unfortunately we didn't finally get a win here but there's always hope for next year."
Resi Stiegler, of Jackson Hole, Wyo., who missed much of the last three seasons with a string of injuries, proved to fans and herself that she can still charge.
"I've tried the last three years to be in Aspen and I finally made it!" said Stiegler, who earned some World Cup points by finishing 25th. "I love Aspen, it's one of my favorite hills. It's like being home. Today is the most racing I've done in three years. It's time to just start racing."
Stiegler looked strong on the top and was ahead of the pace, before losing some time on the tricky lower section. However, she was all smiles in the finish, raising her poles to the roar of the Aspen crowd.
"I was pretty tired after the first run so I was a little worried that I was going to be that tired on the bottom but it wasn't as bad as the first run. It's been a long long road to get back to this point, but wow does it feel good to be here," said Stiegler.
Following Sunday's race the women's U.S. Ski Team will be splitting up with the speed group heading to Lake Louise for the first speed races of the season, while the technical team heads to Loveland for the opening women's NorAm races.
"I'm just going to get the ball really rolling in Lake Louise and get some confidence for the rest of the season," said Vonn, who has won five consecutive downhill races in Lake Louise. "I feel really comfortable on that hill. It was where I won my first World Cup and I've consistently had success there ever since."
OFFICIAL RESULTS
Audi FIS Alpine World Cup
Aspen, CO
November 28, 2010
Slalom
1. Marie Pietilae-Holmner, Sweden, 1:46.19
2. Maria Riesch, Germany, 1:46.87
3. Tanja Poutiainen, Finland, 1:47.12
4. Veronika Zuzulova, Slovakia, 1:47.20
5. Nicole Hosp, Austria, 1:47.25
-
8. Lindsey Vonn, Vail, CO, 1:47.63
25. Resi Stiegler, Jackson Hole, WY, 1:50.67
DNQ: Sarah Schleper (Vail, CO), Hailey Duke (Boise, ID)
DNF: Megan McJames (Park City, UT), Laurenne Ross (Klamath Falls, OR), Julia Mancuso (Squaw Valley, CA)
Miller's 12th top American result at Lake Louise super-G
Real Vail staff report
LAKE LOUISE, Alberta, Canada – Two-time World Cup overall champion Bode Miller, Franconia, N.H., led the U.S. once again in Lake Louise with 12th in the super-G.
Tobias Gruenenfelder nabbed the victory for the first win of his career in 1:32.31. Double U.S. champion Travis Ganong, Squaw Valley, Calif., posted the best result of his young career with 20th, while 2006 Olympic champ Ted Ligety, Park City, Utah, continued to show improvement in speed events with 23rd.
"It is nice to finally get a race under my belt," said Ligety, who was sitting second in the season opening giant slalom before the race was called due to fog. "I felt like I skied well but just didn't have the speed. For the whole U.S. team in general, it's been a lack of volume. Normally we get the bulk of our speed training in Chile and this year we didn't have the opportunity and then we went to New Zealand and had bad weather."
With a consistent track and clear weather, Miller posted another solid finish, just over a half a second behind Gruenenfelder. Rounding out the podium was Switzerland's Carlo Janka and Austria's Romed Baumann in a race decided by a mere .07 seconds.
For Ganong, who captured both the U.S. downhill and super G title last season, it was all about pushing out the noise to find focus.
"Marco [Sullivan, Squaw Valley, Calif.] radioed up saying it was in good shape and that was just perfect," said Ganong, who climbed 26 spots in the race. "I changed my game plan to charge all the way, and it worked. In the start I was like, calm down, look at this view and let's just have fun. That put me in a peaceful content light. Maybe that's the new thing."
Following Sunday's race the men will head to Beaver Creek for the Audi Birds of Prey World Cup Dec. 3-5. With weather reports pointing to snow throughout the week, organizers have bumped the first downhill training run to Tuesday in order to maximize training opportunities. The Birds of Prey downhill, where Miller and other Americans have had great success, is scheduled for Friday.
"We're looking forward to getting back to Beaver Creek -- our home," said U.S. men's Sasha Rearick. "It's a hill we know how to charge."
OFFICIAL RESULTS
Audi FIS Alpine World Cup
Lake Louise, ALB
November 28, 2010
Super G
1. Tobias Gruenenfelder, Switzerland 1:32.31
2. Carlo Janka, Switzerland, 1:32.38
3. Romed Baumann, Austria, 1:32.58
4. Mario Scheiber, Austria, 1:32.60
5. Didier Cuche, Switzerland, 1:32.67
-
12. Bode Miller, Franconia, NH, 1:33.12
20. Travis Ganong, Squaw Valley, CA, 1:33.65
23. Ted Ligety, Park City, UT, 1:33.79
-
35. Andrew Weibrecht, Lake Placid, NY, 1:34.47
44. Steven Nyman, Sundance, UT, 1:34.84
46. Marco Sullivan, Squaw Valley, CA, 1:34.91
47. Tommy Biesemeyer, Keene, NY, 1:35.01
49. Erik Fisher, Middleton, ID, 1:35.17
63. Chris Frank, Rhinelander, WI, 1:37.09
---

125 Comments on "Vail's Vonn 8th in Aspen World Cup slalom; Schleper fails to qualify for second run"