Wolf Creek ski patroller death underscores 'high' avalanche danger in Colorado mountains
The 2010-11 ski season's first avalanche fatality – a ski patroller death that shut down Wolf Creek ski area Monday – highlights the high avalanche danger created by Sunday's snowstorm and Monday's high winds across Colorado.
Wolf Creek Ski Patrol director Scott Kay, a 41-year-old U.S. Marine Gulf War veteran and father of two young boys, died in a slide in an in-bounds avalanche chute while doing routine avalanche control work Monday, according to the
Durango Herald
.
According the
Colorado Avalanche Information Center
, the avalanche danger will only increase with a blizzard warning for tonight into Wednesday.
"A large winter storm on Sunday created high avalanche danger in many mountain areas. A second storm will increase the avalanche danger on Tuesday night," said Ethan Greene, director of the Colorado Avalanche Information Center (CAIC).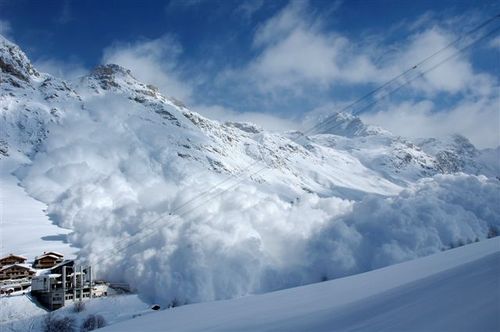 Real Vail's
Powder Predictor blog
is calling for high winds and 6-12 inches of new snow tonight into Wednesday in the Vail Valley.
Forecasters are warning backcountry travelers that "weather conditions this holiday week could bring more deadly slides" after heavy early season snow followed by periods warming, and more heavy snow and extreme cold and wind coming in tonight and lasting well into Wednesday.
On Monday, the CAIC updated its Colorado forecast, describing avalanche danger as "high" or "considerable" many parts of Colorado's north, central and southern mountains. A "high" rating means both natural and human-triggered avalanches are likely, and the CAIC began issuing daily forecasts last week.
In a CAIC release, avalanche experts advise "backcountry travelers to always travel in teams of two or more and carry rescue equipment such as a shovel, probe pole, rescue beacon and
Recco [avalanche safety] device
.
"Since 1950, avalanches have killed more people in Colorado than in any other state. Colorado accounts for one-third of all avalanche deaths in the United States. However the number of deaths per 100,000 backcountry users is lower in Colorado than in neighboring Rocky Mountain states in part because of the CAIC's public education efforts."
Anyone traveling in the backcountry should go to the
CAIC
website for the latest weather and avalanche danger ratings.
The CAIC, a program of the Colorado Geological Survey, also provides avalanche safety training and information to search and rescue groups and backcountry users. To get a free copy of the CAIC's brochure, First Track, call 303-866-2611 ext 0, or email
pubscgs@state.co
.us.
---

196 Comments on "Wolf Creek ski patroller death underscores 'high' avalanche danger in Colorado mountains"