Colorado's incoming secretary of state accused of 'striking at heart of democracy'
Aspen-area state Senator considering formal complaint againt GOP attorney Gessler
State Sen. Gail Schwartz and a campaign watchdog group are weighing a formal complaint against a 527 political group linked to Secretary of State-elect Scott Gessler, alleging the group failed to properly disclose a mailer deemed the "most tasteless" of this month's election.
Schwartz, a Democrat, said late last week she still hasn't determined whether to file a formal complaint with current Secretary of State Bernie Buescher's office regarding the mailers
sent out by Western Tradition Partnership (WTP
) depicting her as Donald Trump. But she said she will pursue tougher disclosure laws in the next legislative session.
"We absolutely need to do everything we can at the state level," Schwartz said. "It's probably one of my top priorities to go and see how we can put in place some controls, and then the irony is to have Scott Gessler come in and be in office when he is apparently part of the problem."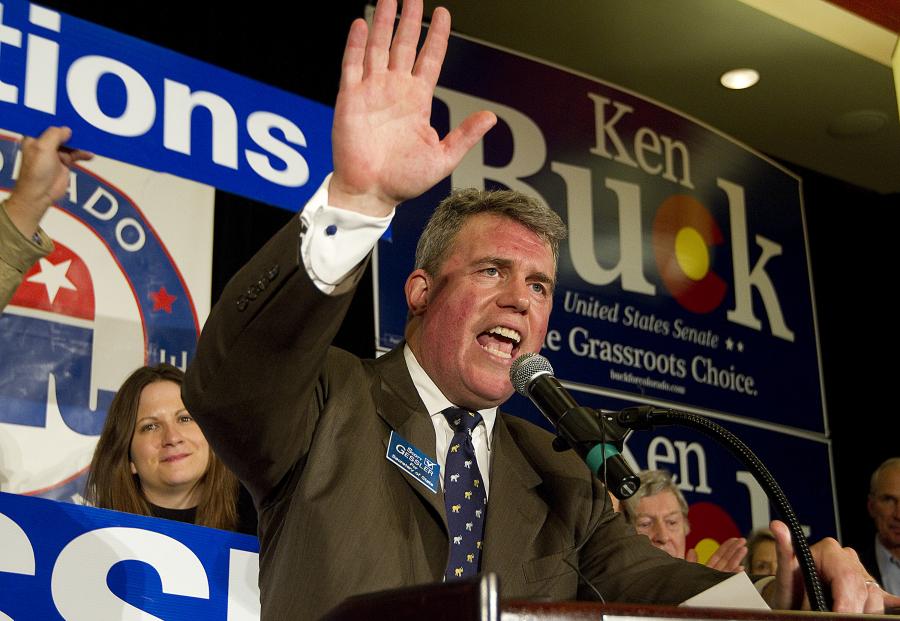 The
Western Tradition Partnership Education Fund
was registered on Oct. 13 by Mario Daniel Nicolais II of the Hackstaff Gessler law firm in Denver. No electioneering communication report in Schwartz's successful state Senate bid was filed, and the group lists no contributions or expenditures during that time period.
Western Tradition Partnership sent out the mailers, with Schwartz's face on Donald Trumps body and the tagline "You're Fired!" in late September or early October, and then commented on her reaction
on their website on Oct. 4
. By Colorado law, anyone spending more than $1,000 to do any electioneering communication within 60 days of a general election must report it to the secretary of state's office.
Buescher spokesman Rich Coolidge confirmed no such report comes up under Schwartz's name, which also is required.
"I didn't see any Western Tradition Partnership come up as a result of that search," Coolidge said. "If you do any independent expenditures or electioneering communications, you need to flag that box either on your reports or just come into our system and do that."
The secretary of state's office is not empowered to file its own enforcement actions, needing a candidate or an outside group to file a formal complaint. Coolidge said late last week no such complaint had been filed. If one is, it will be forwarded to an administrative law judge for a ruling.
Luis Toro, director of Colorado Ethics Watch, said his organization also is weighing whether to file a complaint in the case. He declined to discuss the specifics of the Schwartz case, but did say Gessler's connection to it is not surprising.
"His career [as a Republican attorney for conservative political groups] has been chipping away at these disclosure laws and chipping away at campaign finance laws and arguing that the First Amendment means that corporations can spend unlimited money to influence elections without disclosure," Toro said.
Gessler defended Republican operative Scott Shires — who first registered Western Tradition Partnership as a Colorado nonprofit in 2008 — in a case in which Shires failed to file electioneering communications reports for a group called the Colorado League of Taxpayers.
That group campaigned on behalf of pro-oil and gas Republicans in the 2008 Garfield County commissioner's race. A judge fined the Colorado League of Taxpayers more than $7,000 in that case, and the fine –
still unpaid
– now tallies more than $8,000.
Toro says that unpaid fine is more significant than a
much-publicized $528,500 tab
for a Gessler-registered group called the Colorado Independent Auto Dealers Association, which was fined for failing to file required reports for nearly three years.
"When you put it in comparison to the Colorado League of Taxpayers, where they just didn't register at all and they just jumped in with both feet and were influencing the election and got fined $7,100, that's actually a pretty big fine in a litigated campaign finance case," Toro said.
For instance, the record fine for a litigated campaign finance case is the $17,500 levied against Republican Dan Maes in the recent gubernatorial race.
Gessler would not comment specifically on his connections to Western Tradition Partnership, the Schwartz case or the Colorado League of Taxpayers and its unpaid fine.
"I generally do not comment on client matters, past or present," Gessler said in an email. "You'll have to keep trying those respective organizations."
Western Tradition Partnership Executive Director Donald Ferguson did not return a call requesting comment. Shires hasn't returned numerous calls and emails requesting comment on his unpaid fine.
"With respect to me being 'linked' to 527's, you may be aware that I am an attorney," Gessler added. "As such, I represent clients. Some of my clients are occasionally accused of violating Colorado's reporting requirements. I represent them in those matters. Ergo, a 'link'"
Schwartz said outside corporate influence and lack of disclosure "strikes at the heart of our democracy."
"That whole thing, 'all politics are local,' well, maybe that's not the case anymore since the Supreme Court [Citizens United] decision came in," Schwartz said. "Maybe it's 'all politics are who has the biggest war chest.' You can come in and impact races that typically weren't played in. The commissioner's race in Garfield County was a perfect example. It just totally blew away the competition in terms of basic resources."
Schwartz added she'll do everything in her power to increase the consequences for scofflaw groups like the ones connected to Gessler.
"I don't care what office you hold," she said. "You need to be held to the same standard everyone else in the state is, and if the penalties are not stiff enough or the consequences are not stiff enough, then we need to go after that."
---

248 Comments on "Colorado's incoming secretary of state accused of 'striking at heart of democracy'"