Vail's 'Dumb and Dumber' bank robbery victim outraged by new book
Former WestStar teller questions motives of snowboarding bandit turned author
A former bank teller robbed at gunpoint by a pair of Australian snowboarders here five years ago told Real Vail she feels violated all over again by a book written by one of the so-called "Dumb and Dumber" bank robbers.
"It made me feel incredibly violated and disrespected," Jessica Gunther said of Anthony Prince's new book, Bank Robbery for Beginners. "I feel almost like I did the day it happened … as if my own progress has been undone."
The robbery instantly became a global punch line as Prince and accomplice Luke Carroll, on a working ski holiday in Vail, decided to cap it off by robbing the WestStar Bank in Vail Village. They escaped with $132,000 in cash via chairlift on their snowboards, but left a trail of clues so extensive that police identified them within eight minutes.
Prince and Carroll were later captured at Denver International Airport after tipping a cabdriver $20,000, posing for photos holding up bundles of cash and buying one-way tickets to Mexico. They each spent more than four and half years in federal prison.
"As soon as I saw Jessica, the bank teller … saw her face melt into this horrified shock [during the robbery], that's what brought home to me that this wasn't a joke, that there's gonna be a huge ripple effect on many people," Prince said in a television interview (see video below).
His Australian literary agent did not return an email requesting an interview with Prince.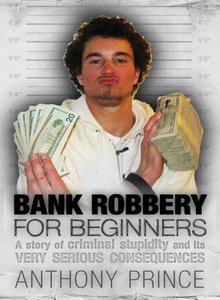 Because Prince seemed sincere in his regret, and because she felt genuinely sorry for how much he had to pay for one youthful mistake, Gunther said she reached out to Prince and conveyed her forgiveness when he was released from prison last year. Now she says that sense of closure has been shattered."For him to publish such personal details about my horrifying experience in his words — without any warning or my permission — and to share it with the world, is a huge slap in the face for someone who reached out to him and stood up for him," Gunther said.
She left Vail in 2007, got out of banking and returned to her home state to earn her master's degree. Having accomplished that last summer, Gunther said she is now "underemployed," which colors how she feels about Prince continuing to further his dubious global celebrity and possibly profit from
the book
.
"If he could make money off of his crimes, I think that's pretty disgusting," Gunther said on a
YouTube video
she posted to express her feelings about the book (see below). "You can imagine my concern about Anthony's profits when I look at my own situation and [the other teller's] and how all of this has been handled."
Gunther said the other teller suffered lasting injuries when she was pushed down during the robbery. She added neither of the tellers had any idea Carroll and Prince were only brandishing BB guns.
Gunther had been working in banks since she was 17 but in eight years had never been robbed until that day in 2005. It was "far worse than anything I ever imagined. I can't even describe the physical manifestations of the fear on my body. I just hope it is something I never have to experience again."
Gunther said the book's co-author contacted her recently to say "Prince would be using the money to help pay his parents back for what all of this cost them."
So-called "
Son of Sam" laws
in 40 U.S. states, including Colorado, prohibit convicted felons from profiting from their crimes in book or movie deals. The laws are named after
David Berkowitz
, New York City's "Son of Sam" serial killer in the 1970s. Australian publisher Rupert Murdoch's sensational coverage of the crimes in the New York Post helped save that paper from bankruptcy.
A publicist for Prince's publisher,
Pan Macmillan Australia
, did not return an email requesting comment.
Prince, who is 25 and living in Byron Bay, New South Wales, is finishing up a business degree,
according to his publishers
. He said he was forced to join white supremacist gangs inside federal prison in order to stay alive.
"There's a huge amount of racial segregation and prison politics and gang mentality," Prince said in a TV interview. "You just need to do what you need to do to survive."
---

239 Comments on "Vail's 'Dumb and Dumber' bank robbery victim outraged by new book"