USA's Brandenburg just misses top 10 in Levi slalom; Ligety top American in 18th
LEVI, Finland – Olympian Will Brandenburg (Spokane, WA) was 8th after the first run today and well on his way to his first Audi FIS Alpine World Cup top 10 when he was disqualified after straddling a gate on the steep part of the course.
Ted Ligety (Park City, UT) climbed eight slots in the second run to top the Americans with 18th. Jean-Baptiste Grange of France, who missed most of last season with an ACL tear, earned the wire-to-wire slalom victory.
On-demand streaming of the race is now available at www.UniversalSports.com. Additionally Universal Sports carries same-day coverage of the entire World Cup tour on its 24-hour TV network
"I know I can compete with the best in the world now," said Brandenburg, who was 10th in the Olympic super combined. "I was actually pretty suprised with where I was in the first run. I didn't think I skied that great. The second run I felt more comfortable and pushed it a little bit more on the pitch. Good things were going to come without that straddle, but I've just got to keep pushing it."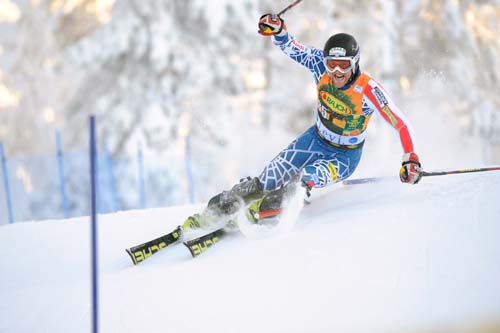 "Will absolutely showed he's got world class speed," said men's technical Head Coach Mike Day. "He'll make his way into the 30 and into the 15. He was on a good line and skiing solid, it was just an unfortunate straddle and that happens in slalom.
Brandenburg credits the extra time in the Center of Excellence this summer to progressing his skiing. Fitness, he said, has been the key to maximizing his training and translating that success onto the race hill.
"The hard work in the gym is definitely the biggest step I made this summer," said Brandenburg, who will return to Park City for a week before flying to Lake Louise, Canada for the opening speed races. "I'm stronger and I'm 10 pounds lighter, which makes me a little bit quicker down the hill for sure."
A tricky top section in the first run played havoc on the field as 30 of the 80 starters when out in the first run, including Olympic champion Bode Miller (Franconia, NH), Nolan Kasper (Warren, VT) and Tim Jitloff (Reno, NV). World Cup rookie Colby Granstrom (Lake Stevens, WA) showed promise on the top before hiking after missing a gate down the pitch.
"You could see there was a lot going on at the top of that first run," added Day. "Our guys fell into the same traps as the majority of the guys going out there. It was challenging, especially for the first race of the year. In training all of our guys have been right in there with Will, unfortunately we didn't execute tactically today."
The Vancouver slalom podium did an Olympic shuffle as slalom bronze medalist Andre Myhrer of Sweden put the second run pedal down to finish second ahead of Croatian silver medalist Ivica Kostelic. Grange won the 2009 World Cup slalom title, but was sidelined for most of season after tearing his ACL during a giant slalom in Beaver Creek, CO.
"Ted did a better job in the second run," Day said. "He knows he has a ton more speed and can do a better job. It'll just take some more time and he'll be right in there. It was a solid result and didn't do any damage.
"Neither run was spectacular, but I tied my best at Levi, which is very mediocre," said Ligety. "The skis are getting better, it just takes time to fully adjust especially in slalom. With things being as quick as they are, even with a little mistake, you can lose a lot of time fast."
Ligety will. return to Colorado for a few days of downhill training before the World Cup speed season opens in Lake Louise, Canada on Thanksgiving weekend followed by the storied Birds of Prey race week in Beaver Creek.
OFFICIAL RESULTS
2011 Audi FIS Alpine World Cup
Levi, Finland – Nov. 14, 2011
Men's Slalom
1. Jean-Baptiste Grange, France, 1:46.64
2. Andre Myhrer, Sweden, 1:46.97
3. Ivica Kostelic, Croatia, 1:47.61
4. Cristian Deville, Italy, 1:47.89
5. Manfred Pranger, Austria, 1:47.99
-
18. Ted Ligety, Park City, UT, 1:49.89
-
DQ 2nd Run: Will Brandenburg, Spokane, WA
-
DNQ 2nd Run: Colby Granstrom, Lake Stevens, WA
-
DNF 1st Run: Bode Miller, Franconia, NH; Nolan Kasper, Warren, VT; Tim Jitloff, Reno, NV
---

308 Comments on "USA's Brandenburg just misses top 10 in Levi slalom; Ligety top American in 18th"