Vail's Vonn sixth in World Cup opening slalom in Levi, Finland
Vail's Schleper stumbles on steep, misses second run
All that training on Vail's Golden Peak this week paid off to some degree for Vail's Lindsey Vonn, who finished a respectable sixth in the World Cup opening slalom race today 80 miles north of the Arctic Circle in Levi, Finland.
Traditionally a speed event (downhill, super-G) terror, Vonn has worked hard on her slalom in recent seasons, winning Levi two years ago and coming in second last year – so sixth likely comes as a bit of a disappointment for the three-time defending overall World Cup champion.
According to Ski Racing Magazine
, Vonn, who was sixth after the first run under the lights on the Levi Black course (.92 seconds back), made a mistake on the first steep section of the second run, took a gate wide and barely made the next gate. That error consigned her to sixth place, .95 seconds back of winner Marlies Schild, of Austria, with a two-run time of 1 minute, 53.79 seconds.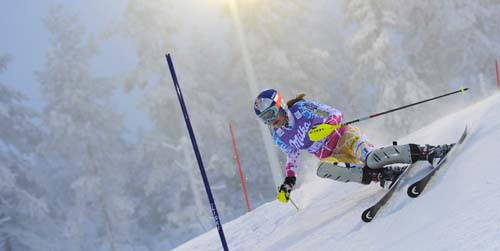 Schild, the 2010 Vancouver Winter Olympic silver medalist, won with a two-run time of 1:52.84. Gold medalist Maria Riesch of Germany traded places with Schild in this race, claiming second in 1:52.87, and local favorite Tanja Poutiainen, of Finland, was third (1:53.79).
Vonn hammered the top portion of the slope on her second run before her skis slid wide and enganged hard on a right hand turn midway down the Levi Black steeps, dropping the Olympic gold medalist to her hip and sending her rocketing across the slope. The countless hours of off-season strength training paid off as she made a strong recovery to stay on course, regain her balance and continue to charge.
"I'd say that mistake cost me eight tenths to a full second," said Vonn. "I've never made a recovery move like I made today and that is directly attributed to the fitness training that I did this summer and the different exercises I've been doing. Just my overall agility is better and I'm happy I was able to stick with it and get some important points toward the overall."
Her coach agreed.
"Lindsey came out of that hairpin with a huge amount of speed and just got a little out of balance," added women's tech Head Coach Trevor Wagner. "That snow was so grippy that if you enganged the ski at all, you'd get shot out on your tails and that's what happened to her. That was an amazing recovery. She was so far off line and pulled it back together. Without that mistake, she would have been right in there. It was an incredible performance."
After finishing 18th in the World Cup opening giant slalom last month in Soelden, Austria, Vonn is eighth in the overall standings and looks to improve dramatically on that placing in the next women's World Cup Nov. 27-28 in Aspen – the only race this season on American snow. Vonn is going for her U.S. record fourth straight overall title, surpassing the mark she shares with Phil Mahre (three straight overalls in the 1980s).
Vonn was the only American to make the top 30 and therefore get a second run in Levi. Vail's Sarah Schleper and fellow American Megan McJames finished tied for 47th after having difficulties under the lights in the first run.
"About 30 seconds or so into the set, there's a pretty significant rhythm change as the slope dives onto the steep," U.S. Ski Team spokesman Doug Haney said of Schleper's run. "It grabbed Schlep and pulled her out of the flip."
Haney said Schleper was one of the fastest American women during slalom training this past week on Vail's Golden Peak, so the result was obviously a disappointment.
Video of her run
can be found on Universal Sports.
The grippy snow caused havoc for later starters including Schleper, McJames and Hailey Duke, as all three other American starters finished outside the first run top 30.
"Sarah definitely had a good opportunity, but just skied impatient and too direct on the steeps," said Wagner. "She could have popped one in there easily with the way she was skiing up top. The snow was really grippy and kind of chattery. If you tried to cut the turn off at all, you paid the price for it."
Vonn said the snow was OK.
"The snow was actually great, it was just a little bit more aggressive than we anticipated," added Vonn. "I think everyone's skis where a little bit too sharp, which is a good problem to have. We've got a final training block in Vail for the next couple of weeks and then we head over to Aspen for Thanksgiving and onto Lake Louise. It's going to be an exciting couple of weeks in North America."
The American men, including Olympic gold medalists Ted Ligety and Bode Miller, go for it Sunday in Levi. Their runs can be viewed live at
www.UniversalSports.com
.
The men then return to North America for World Cup speed events in Lake Louise, Canada, Thanksgiving weekend while the women are in Aspen, and then the men come to the Vail Valley for the annual Birds of Prey World Cup at Beaver Creek Dec. 3-5.
OFFICIAL RESULTS
2011 Audi FIS Alpine World Cup
Levi, Finland – Nov. 13, 2011
Women's Slalom
1. Marlies Schild, Austria, 1:52.84
2. Maria Riesch, Germany, 1:52.87
3. Tanja Poutiainen, Finland, 1:53.18
4. Susanne Riesch, Germany, 1:53.58
5. Nicole Hosp, Austria, 1:53.68
-
6. Lindsey Vonn, Vail, CO, 1:53.79
-
DNQ 2nd Run: Sarah Schelper, Vail, CO; Megan McJames, Park City, UT; Hailey Duke, Boise, ID
---

183 Comments on "Vail's Vonn sixth in World Cup opening slalom in Levi, Finland"