U.S. Ski Team primed for victory in Levi World Cup after slalom, GS training in Vail
After a highly successful slalom camp in Vail, the U.S. Ski Team, featuring Olympic gold medalists Bode Miller, Ted Ligety and Lindsey Vonn, of Vail, is locked for the second Audi FIS Alpine World Cup stop of the young season – a pair of slaloms north of the Arctic Circle.

Women's action opens Saturday at 4 a.m. ET with live streaming on www.UniversalSports.com followed by full broadcast package airing later in the day on Universal's 24-hour television network.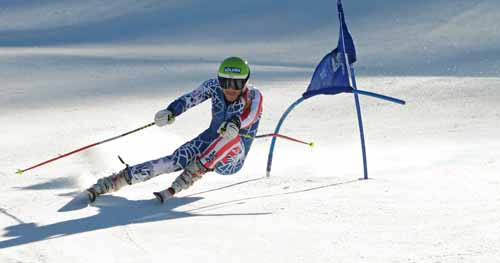 Olympians Sarah Schleper, also of Vail, Hailey Duke and Megan McJames will join Vonn in the start for the Americans. Vonn's slalom resurgence began in Levi two seasons ago when she captured her career first World Cup slalom win. She continued the momentum on the Levi Black piste last season with a second, though it proved to be her only slalom podium of the season.
And thanks to the hard work of Ski and Snowboard Club Vail and Vail Resorts, Vonn and the U.S. Ski Team were able to get in a solid week of slalom training on Golden Peak.
"We were on snow at Vail as early as possible," said Vonn. "The snow was in awesome shape all week and I feel like I'm skiing better at this time of year than I was last year. It's good to have that break after Soelden to spend some more time fine tuning equipment, but I'm ready to get into the race routine."
Levi opens with a steep pitch that piles on speed quickly, then it's a matter of holding that speed through a flat finish. Vonn made an incredible recovery in 2008, nearly stopping midway through the race, to win her first slalom by over half a second.
Light also plays a big factor in Levi as limited hours of sun forces artificial lighting for the second run.
"It's always dark in Levi," added Vonn. "But it's something we've experienced before. It actually reminds me a lot of training in Minnesota as a kid."
In addition to Miller and Ligety, Olympians Tim Jitloff, Will Brandenburg and Nolan Kasper will start in Levi along with 2010 Junior World combined champion Colby Granstrom, who will make his World Cup debut.
"It's always hard to tell where you're at this time of year," said Miller, who was second in Levi two seasons ago. "We all trained pretty hard coming into Soelden and we all felt pretty good, but the conditions when you get into the race and the reality of it is always different than what you train for. Right now I feel pretty good and I have a lot of experience to know how to deal with whatever condition."
"We've had great snow with the injection in Vail and the perfect hill setup for Levi," said Granstrom. "I'm ready to rip and start my first World Cup. All the years of work have been for this, I'm excited to see how it goes."
---

306 Comments on "U.S. Ski Team primed for victory in Levi World Cup after slalom, GS training in Vail"