Conservation groups say election results prove popularity of Colorado's 'New Energy Economy'
But critics counter rising utility prices are slowing economic recovery
Members of Colorado's conservationist community are lauding the election of Democrats John Hickenlooper (governor) and Michael Bennet (U.S. Senate), pointing to their victories last week as a clear sign that the state still supports Gov. Bill Ritter's alternative energy agenda.
"Having a 'green' chief executive in the governor's seat for at least another four years means Colorado has the opportunity to continue to be a national leader in the New Energy Economy," Colorado Conservation Voters executive director Pete Maysmith said in a release.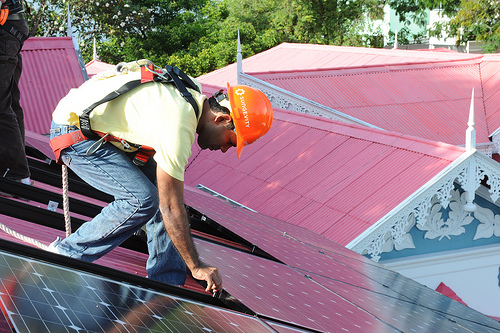 He added that the 832-vote win by state Sen. Gail Schwartz, D-Snowmass, which helped keep the state Senate in the hands of Democrats, was perhaps an even bigger story. A major backer last legislative session of increasing the state's renewable energy standard to 30 percent by the year 2020 (second only to California), Schwartz was targeted by fossil fuel industries. She also backed the Clean Air Clean Jobs Act to convert 900 megawatts of coal-fired power plants on the state's Front Range to cleaner-burning natural gas.
"The bill drew bi-partisan support at the capitol and has been hailed as a boon for clean air in Colorado," Maysmith noted. "The coal industry, however, has waged a multi-million-dollar campaign against Clean Air Clean Jobs and targeted Sen. Schwartz for defeat. [Her] victory in a district in which her party's incumbent congressman, John Salazar, lost, is evidence of how strongly Coloradans support clean energy. Voters in Senate District 5 split their tickets to vote for a clean energy champion."
"This was a difficult race for many Democrats," Schwartz told the Real Aspen website. "We've maintained our majority and I'm happy with that. … I think the voters wanted to see more balance."
Energy interests in the form of the
Western Tradition Partnership
nonprofit political group tried to portray Schwartz as a job-killing slave to green energy and radical environmentalists. Schwartz supporters painted her Republican opponent, Bob Rankin of Aspen, as "Big Oil Bob." Rankin fired back that "Big Coal Bob" was a better moniker since he supports coal miners in the mountainous Senate District 5.
"The renewable energy standard forces utility companies to buy more expensive utilities, so then they have to cut back on hiring and lay people off," said Western Tradition Partnership's Donald Ferguson. Other critics have charged that overall Ritter's New Energy Economy has
led to higher electricity prices
.
The nonprofit conservation group Environment Colorado was equally effusive in its praise for Bennet, the incumbent Democrat appointed by Ritter to fill out the term of former Sen. Ken Salazar, who was appointed Secretary of the Interior by the Obama administration.
"Bennet defied national trends thanks in part to his support of creating clean energy jobs and protecting the environment," Environment Colorado program director Pam Kiely said in a release. "We're pleased that Colorado voters backed a clean energy champ over Big Oil campaign dollars. [Bennet] campaigned hard, and he championed a key issue for Colorado voters, building the New Energy Economy."
Bennet has pushed hard for a national renewable energy standard similar to what Colorado voters first put in place in 2004. His opponent, Republican Weld County District Attorney Ken Buck, questioned the validity of climate change science and sided with infamous global warming skeptic Sen. James Inhofe of Oklahoma.
According to the Center for
American Progress Action Fund (pdf
), the oil and gas industry and other pro-business groups opposed to clean energy spent $69.5 million influencing campaigns nationwide ($330,190 in Colorado).
In down-ballot races in key Colorado energy districts, there was less to celebrate for state environmentalists. Republican Tom Jankovsky, the longtime general manager of Ski Sunlight ski area near Glenwood Springs, defeated incumbent Democrat Trési Houpt for a seat on the three-member board of the Garfield County Commissioners.
The most drilled county in the state now has three pro-industry Republicans. Houpt, appointed by Ritter to serve on the Colorado Oil and Gas Conservation Commission to represent local interests, will now have to step down from the COGCC.
"I think it was about jobs," Jankovsky
told the Glenwood Springs Post Independent
. "That really was the difference." Jankovsky will serve as Sunlight GM through the end of the ski season.
"I think we should be really vigilant," Houpt told Democrats last week. "We've got a lot to lose" in another natural gas drilling boom. "It's going to be important that we are making sure we are holding [the commissioners] accountable."
Houpt helped negotiate and implement amended drilling regulations that went into effect in the spring of 2009. Those new rules provide better environmental, public health and safety and wildlife protections. Hickenlooper's Republican opponents had threatened to roll back the new regulations.
---

545 Comments on "Conservation groups say election results prove popularity of Colorado's 'New Energy Economy'"