GOP heavyweight and friend of Aspen Skiing Company's Crown family pays $31.5 million for Aspen pad
The owner of the $31.5 million stone mansion that recently sold in Aspen is a clandestine Chicago fat cat who works and plays with Jim and Paula Crown, the owners of the Aspen Skiing Company, and bankrolls Republican causes.
J. Christopher Reyes bought the 15,000-square-foot pad Oct. 29, setting a new high for a single-family home sale in Pitkin County this year. It sits on 44 acres near the Buttermilk ski area and includes a guesthouse and horse stable. The property, once owned by the Pfisters, was listed for $47.5 million.
Reyes will now be able to easily participate in the
rising tide of Republican strategizing
in the liberal hotbed of Aspen.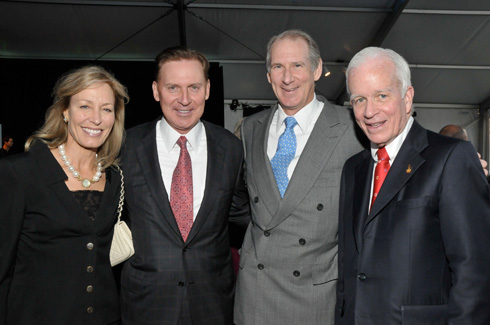 Reyes is the chairman of Reyes Holdings LLC, the largest privately held firm in Chicago and the nation's largest beer distributor, with operations in Los Angeles, Chicago and Washington, D.C. It is also the controlling U.S. distributor to McDonald's Corp. through its ownership of Martin-Brower Co.
Reyes prefers to keep a low profile.
"If no one knew me, I'd be just as happy," he told Crain's Chicago Business in 2005.
But many of America's caviar eaters do know Reyes.
He is on the Forbes list of "The Richest People in America," where he landed the 205th spot with a net worth of $1.9 billion. Reyes serves as chairman of Children's Memorial Hospital in Chicago and on boards for institutions like the Lyric Opera of Chicago, the Museum of Science and Industry and Big Shoulders Fund where he serves alongside Lester Crown, the patriarch of the Aspen Skiing Company.
Reyes was a former director of the Crown-controlled General Dynamics Corp. He chairs the Museum of Science and Industry with Jim Crown and Cindy Pritzker and the United Way of Metropolitan Chicago with Susan Crown. Penny Pritzker serves with him on After School Matters.
"Beer distribution has not been the traditional path for executives rising to this inner sanctum of Chicago's corporate and philanthropic elite," Steven Strahler of Crain's Chicago Business wrote. "But Mr. Reyes has done it, while crafting a new, squeaky-clean image for an industry with a shady past, particularly in this town."
Reyes is also part of Chicago's political machine. He handed out $100,000 to the recently formed Two Party System Inc., which funded mostly Republican candidates for the Illinois General Assembly. He bought his Aspen retreat from Bob Zangrillo, founder of Chicago private-equity firm Z Capital.
Jim Crown is a director at the General Dynamics Corporation and a director at JP Morgan Chase & Co.
---

704 Comments on "GOP heavyweight and friend of Aspen Skiing Company's Crown family pays $31.5 million for Aspen pad"