Ground sloth, bison skull among new discoveries at ancient eco-system unearthed in Snowmass
Scientists in Snowmass on Saturday identified the first Jefferson's ground sloth ever discovered in Colorado and then on Sunday unearthed the skull of an Ice Age bison that left them beaming.

"I'm trying to think of a cooler fossil that I've ever seen in my life," said Dr. Kirk Johnson, the chief curator and vice president of research and collections for the Denver Museum of Art & Science.
"This is the iconic fossil recovered thus far in the excavation," he said of the bison skull.
Big news breaks on a near daily basis at Ziegler Reservoir, where paleontologists are uncovering an ancient ecosystem that so far has yielded at least three mastodons, potentially two Columbian mammoths, a Jefferson's ground sloth, two Ice Age bison and a prehistoric Odocoileus deer.
Dr. Greg McDonald, a sloth expert at the museum, confirmed a bone found Thursday was a humerus of a Jefferson's ground sloth, which on Saturday he said is definitively the first ever found in the state. There have been nine other sloths found in Colorado but they have been a different species, the Harlan's ground sloth.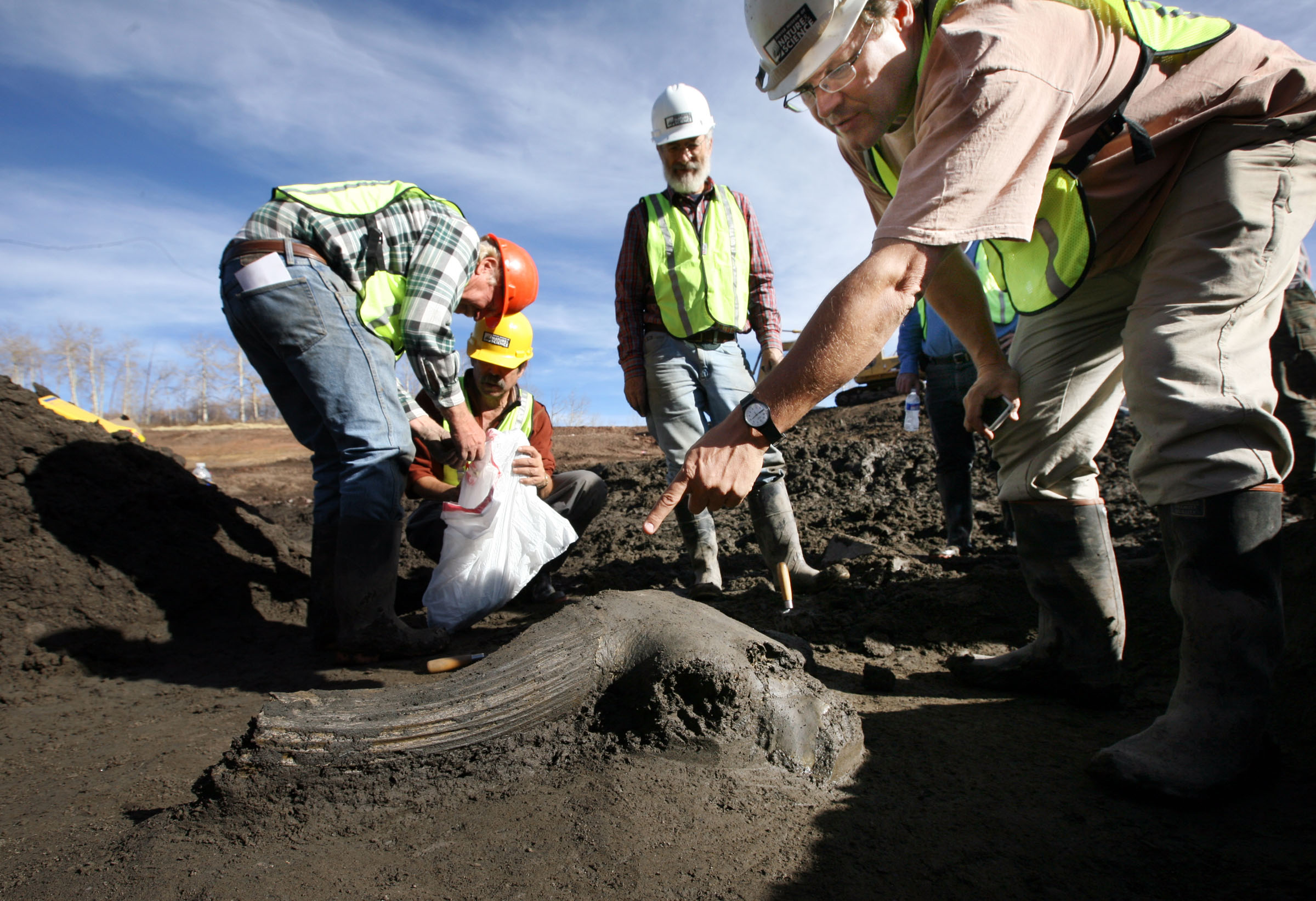 Experts debated the age and identification of the giant skull and horns of the Ice Age bison they dug up Sunday. The length of the horns exceeds six feet and the skull weighs 250 pounds. They believe it could be from an ancient bison, which are typically found in American West sediments as old as 30,000 to 50,000 years old. If that's the case, scientists say the site will be all that more significant because it would confirm that animal fossils from different time periods have been preserved in Snowmass.
The bison skull was put into a plaster of Paris jacket and is en route to the museum where it will be cleaned and washed so scientists can attempt to radiocarbon date it and extract its ancient DNA. Dr. Ian Miller, the museum's curator of paleontology, spotted the bison fossils when a Gould Construction bulldozer driver uncovered two of its horns in the muddy silt at the bottom of Ziegler Reservoir. Another bison found at the dig site earlier is possibly a juvenile of the same species as the new bison.
Dr. Daniel Fisher, a mastodon expert from the University of Michigan who has flown here, told Real Aspen on Friday that scientific analysis and results will ultimately determine the significance of the Snowmass site.
"It's bound to be significant. Any place where you find well-preserved material, you can learn a lot about these animals. But it will only be as important as we make it," Fisher said.
Interpreting the growth rings in mastodon and mammoth tusks will be among Fisher's objectives. On Saturday, he was called over after Denver Museum of Nature & Science CEO George Sparks revealed a large anterior thoracic vertebra that they believe could be from a second mammoth on the site.
Already, the fossil site in Snowmass is one of the most important in Colorado history. It is unique because there are no other known sites in the state, and few in North America, that contain both mammoth and mastodon fossils in one location. Mammoths and mastodons are elephant-like creatures with long tusks that faded into extinction on this continent more than 12,800 years ago. A Columbian mammoth uncovered Oct. 14 by a construction worker digging in the drained reservoir appears to be the most complete mammoth fossil found at high elevation in Colorado. At about 8,870 feet, the site is the highest elevation mastodons and giant grounds sloths have been found in Colorado.

---

324 Comments on "Ground sloth, bison skull among new discoveries at ancient eco-system unearthed in Snowmass"