Eagle County, Minturn give nod to medical marijuana as statewide groups organize for 2012
In a midterm election defined around the country by a resurgence of conservative values,
Colorado voters rejected
the most hard-line Tea Party and Republican ballot measures on taxes, abortion and health care in favor of a more laid-back social agenda.
While a number of Colorado Republicans did ride the GOP wave to victory, Democrats held onto the two biggest statewide prizes – the governor's office and a U.S. Senate seat – and more moderate Colorado voters from both parties and the state's growing independent camp generally shied away from extremist rhetoric.
In the high country, Eagle County voters definitely trended back Republican in down-ballot races after swinging mostly blue in 2008, but they rejected Tea Party favorite Debra Irvine of Breckenridge in favor of incumbent Democrat Christine Scanlan of Dillon by a margin of 6,097 votes to 5,455 in the race for state House District 56.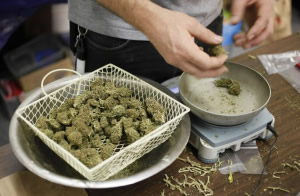 Eagle County also went for Democratic winners John Hickenlooper for governor, Michael Bennet for U.S. Senate and Jared Polis for the U.S. House of Representatives. And perhaps most tellingly, local voters gave a thumbs up to medical marijuana in both unincorporated Eagle County and the town of Minturn.
Ballot measure 1B asked county voters "if medical marijuana businesses should be allowed to continue to operate in unincorporated Eagle County subject to regulations as determined by the board of county commissioners." It passed 7,916 votes to 6,345.
Now the county commissioners, including newly re-elected second-term Democrat Sara Fisher, who beat out Republican Claudia Alexander 7,792 to 6,201,
must figure out
exactly what those regulations – including for possible grow operations -- will look like.
In Minturn, voters were asked if medical marijuana centers and cultivation operations should be banned. They said "no" by a 208 to 134 vote margin.
What all this means is that even as the rest of the state and nation trended back toward more traditional red-state values – or at least shades of purple – Eagle County continues its inexorable move toward a green agenda, both environmentally and medicinally.
Proponents of legalizing marijuana
for recreational purposes lamented the loss of California's Proposition 19, but the day after the election, Colorado marijuana activists launched a
Legalize 2012 campaign
to start raising money for the next election. The event, of course, was held in liberal-leaning Boulder, which happens to be in the same 2nd Congressional District with Vail and the rest of Eagle County.
According to the Colorado Independent, Mason Tvert, executive director of Safer Alternative For Enjoyable Recreation (SAFER) was confident about 2012, saying in a press release, "California started the race toward legalization, but Colorado is going to finish it."
Legalization advocates, including groups like Sensible Colorado, see 2012 and the renewed liberal energy of the next presidential election as the best time to move forward, acknowledging the midterm Tea Party backlash and wave of conservative values they hope will go up in smoke over the next couple of years.
They appear to already have the needed votes in Eagle County.
---

341 Comments on "Eagle County, Minturn give nod to medical marijuana as statewide groups organize for 2012"