Vilar Performing Arts Center in Beaver Creek announces full schedule for 2010-11 winter season
The Vilar Performing Arts Center's (VPAC) 13th season will soon get under way and tickets for the entire winter 2010-11 lineup -- including shows by comedian Lewis Black, songwriter Randy Newman and local favorites Maceo Parker and Keller Williams -- go on sale at 11 a.m., MST, on Monday, Nov. 1.

"Our upcoming winter season features many exciting, well-known artists, but also some incredible hidden gems," said VPAC Executive Director Kris Sabel. "I always say some of the best performances at the venue are the ones where you knew nothing about the artist before seeing them live and then are blown away. These shows are like my 'hidden gems.'"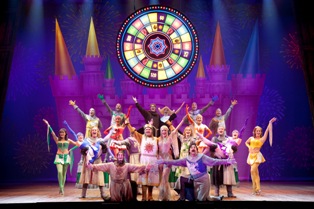 Sabel's "hidden gems" include R&B/Soul artist James Hunter on Feb. 4 as well as Christian McBride & Inside Straight on March 23.
"Hunter's music will appeal to audiences both young and old -- think Robert Cray vocals with Sam Cooke styling. This music is fun and easy to listen to," said Sabel. "Christian McBride is one of the hottest jazz bass players in the world today. You may know him from his tenure as Sting's bass player, but he's played with all the greats. With his band Inside Straight his concert will make even the most uptight among us cool and swinging."
Additional highlights from the VPAC's upcoming winter season include: Grammy and Emmy-winning singer/songwriter Randy Newman on March 12. The Colorado Symphony Orchestra and Chorus performing Mozart's Requiem on Jan. 31. Critically-acclaimed stand-up comedian Lewis Black on March 30. "America's Ballet Company of Firsts," Joffrey Ballet on March 15. One-man instrumental phenom Keller Williams on Jan. 13. The funky soulful sounds of Maceo Parker on Feb. 18 and fun for the whole family with the Flying Karamazov Brothers on Dec. 30.
The complete 2010-11 VPAC winter schedule, detailed show information, videos and music playlists are available online www.vilarpac.org.
Tickets for the entire season are available starting Nov. 1 online at www.vilarpac.org, by calling (888) 920.ARTS (2787) or in person at the box office in Beaver Creek. The box office is open 8 a.m – 5 p.m. MST Monday through Friday, with additional hours on performance days.
The Vilar Performing Arts Center is a project of the Vail Valley Foundation. For more information on the Vail Valley Foundation, visit www.vvf.org.
Winter 2010-11 Season – Vilar Performing Arts Center
Sat and Sun November 20 & 21: VPAA: You Can't Stop the Beat That Thing Called Swing
Sat and Sun December 11 & 12: 'Tis the Season
Tues, December 14: "Click, Clack, Moo"
Tues, December 21: Preservation Hall Jazz Band "Creole Christmas"
Wed, December 22: Eileen Ivers "An Nollaig: An Irish Christmas"
Thurs, December 23: Sister's Christmas Catechism: The Mystery of the Magi's Gold
Sun, December 26: Cirque Le Masque presents "Evolution"
Mon, December 27: Blue Suede Shoes: The Ultimate Elvis Tribute
Tues, December 28: Craig Shoemaker "The Lovemaster"
Wed, December 29: Al Jarreau
Thurs, December 30: The Flying Karamazov Brothers
Tues, January 4: A Chorus Line
Sat, January 8: John Gorka
Sun, January 9: NBC's "Last Comic Standing" Live Tour
Thurs, January 13: Keller Williams
Sat, January 15: Aspen Santa Fe Ballet
Mon, January 17: Spring Awakening
Wed, January 19: Chee-Yun & Friends
Sun, January 23: Celtic Crossroads
Wed, January 26: Popovich Comedy Pet Theater
Mon, January 31: Colorado Symphony Orchestra & Chorus: Mozart's Requiem
Wed, February 2: An Evening of Marvin Hamlisch
Thurs, February 3: Amos Lee
Fri, February 4: James Hunter
Wed, February 9: A Far Cry - Joel Fan, Piano
Thurs, February 10: Monty Python's Spamalot
Sun, February 13: Punch Brothers featuring Chris Thile
Tues, February 15: Puccini's Turandot Teatro Lirico D'Europa
Wed, February 16: "Great Moments in Opera" Teatro Lirico D'Europa
Fri, February 18: Maceo Parker
Tues, February 22: A Gala Evening with Anna Netrebko – Benefit for the VPAC
Wed, February 23: Dailey & Vincent
Fri, February 25: The 5 Browns
Fri, March 4: Kathleen Madigan
Sat, March 5: Chinese Golden Dragon Acrobats
Sat, March 12: Randy Newman
Sun, March 13: Elephant Revival
Tues, March 15: Joffrey Ballet
Sat, March 19: Parsons Dance with East Village Opera Company presents Remember Me
Mon, March 21: Opera Colorado's Hansel & Gretel
Tues, March 22: Classic Albums Live presents L.A. Woman – A Tribute to the Doors
Wed, March 23: Christian McBride & Inside Straight
Sun, March 27: Orla Fallon – Formerly of Celtic Woman
Tues, March 29: Infamous Stringdusters
Wed, March 30: Lewis Black
Thurs, March 31: The Jason Bishop Show – Master Illusionist
---

916 Comments on "Vilar Performing Arts Center in Beaver Creek announces full schedule for 2010-11 winter season"