U.S. Ski Team to name 2010-11 squad at free celebration Saturday at Vail Square in Lionshead
Miller, Vonn, other medalists on hand for autograph session after training all week on Golden Peak
The 2011 U.S. Alpine Ski Team will be officially announced Saturday during a celebration open to the public in Vail, where Olympic gold medalists Lindsey Vonn, of Vail, and Bode Miller, of Franconia, N.H., have been training for an upcoming World Cup slalom race in Levi, Finland, Nov. 13-14.

The event, presented by Vail Resorts, opens to the public Saturday at 4:30 p.m., with music, videos, free hot chocolate and cookies in Vail Square. Other SWAG will be available for fans to help welcome the U.S. Ski Team, and fans are invited to meet Vonn, Miller and the rest of the team during an autograph session.
For those who can't make it to Vail, www.UniversalSports.com will carry a free LIVE webcast of the event from 5-6 p.m. MT.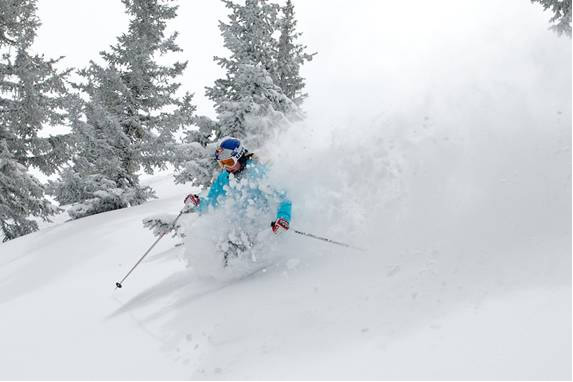 "It's really cool that the U.S. Ski Team and Vail put together such a creative way to present the 2011 team," said Vonn. "I'm looking forward to seeing a packed Vail Square this weekend, but if for some reason you live on the other side of the country and can't make it, fans can still tune in by watching Universal Sports."
The celebration serves as an extension of the area's storied alpine history. The Vail Valley played host to the 1989 and 1999 FIS Alpine World Ski Championships and has successfully courted the return of the premier alpine event in 2015.
"I think it's awesome that we're doing an event like this," said Steven Nyman (Sundance, UT), a two-time podium finisher in the Birds of Prey World Cup downhill at Beaver Creek. "It's going to be a cool way to kick off the ski season with our fans. It allows them to meet our entire team, both Olympic athletes and the guys who will be the future of the U.S. Ski Team. Plus it makes a community event that will build excitement for the Colorado World Cup races and the 2015 World Championships."
Vonn cracked open November with first tracks on Golden Peak Monday. She was joined Tuesday by the U.S. men and the full women's World Cup technical team on Wednesday.
"For the first day of training, it was awesome," added Vonn, who is racking up the slalom miles this week in preparation for the Nov. 13 World Cup stop in Levi, Finland and the Thanksgiving weekend races in Aspen. "It was exactly what I needed. It wasn't too icy. It was just a perfect feel-good day."
In the spring of 2009, the U.S. Forest Service approved the Ski & Snowboard Club Vail-funded installation of automatic snowmaking equipment on Vail Mountain's Golden Peak. The snowmaking upgrade debuted last fall, allowing for a premier early-season training opportunity not only for the club's athletes but also for the U.S. Ski Team and other teams from around the globe.
"It's great to be home and train," said men's Head Coach Sasha Rearick. "Coming here to Vail is fantastic for the guys. It feels like home. It's easy. We walk across the parking lot and we're here at training. There are no lift lines to deal with. It's truly fantastic."
The public is also invited out on Saturday morning to watch from the base area as the U.S. Ski Team trains on Golden Peak during their 7-10:30 a.m. morning session.
"It's going to be a huge day," said Will Gregorak (Longmont, CO), a Ski & Snowboard Club Vail alum, who started his first World Cup race this season in Soelden, Austria. "This is going to be especially cool for the young racers to be a part of something with the top athletes. I hope it's something that starts big, gets bigger and becomes a yearly tradition."
Stage construction is expected to start at Vail Square Friday afternoon and will include sound and a huge video wall.
Vail Mountain opens to the public on Friday, Nov. 19. The annual American World Cup swing for women is set for Thanksgiving weekend with the Aspen Winternational in Aspen, while the men will race Dec. 3-5 in Beaver Creek, featuring the treacherous Birds of Prey downhill.
Logon to www.Vail.com for lodging information, including discounted rates for the weekend.
---

536 Comments on "U.S. Ski Team to name 2010-11 squad at free celebration Saturday at Vail Square in Lionshead"