Quiznos Pro Challenge names Vail as host city
Vail is among 11 cities selected to host the Quiznos Pro Challenge — a new international bike race that former Denver Broncos great Shannon Sharpe declared will be here "for a long, long, long time."
"There is no question in my mind this will be the preeminent cycling race in North America," said Sharpe, a cycling fanatic who isn't afraid to make big, bold statements on all things sports.
But the "Mouth From The South," as he was known in NFL locker rooms, isn't telling a tall tale.
The brainchild of seven-time Tour de France winner Lance Armstrong and Gov. Bill Ritter, the Quiznos Pro Challenge will be a grueling seven-stage, 600-mile race through Colorado's high country.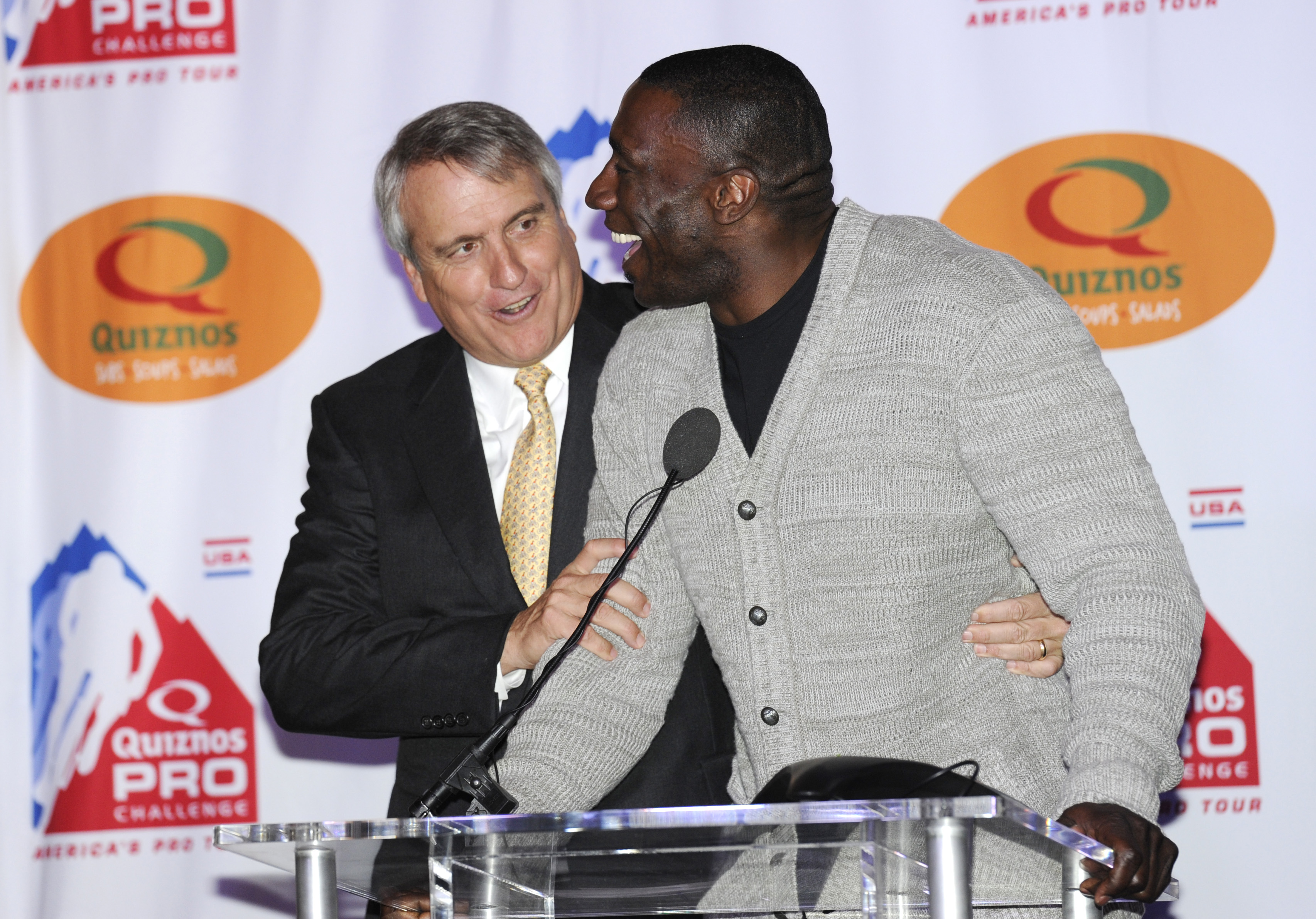 It will feature challenging climbs and a beautiful backdrop for 120 world-class cyclists who will get their bikes rolling in Colorado Springs on Aug. 22, 2011, race to Salida and then Crested Butte before heading from Gunnison to Aspen for the fourth stage, called the "mountain stage." Cyclists will then follow the former Coors Classic course at a time trial in Vail, before zipping from Avon to Steamboat Springs and then to Breckenridge. It will conclude Aug. 28 with a stage from Golden to Denver.
Vail Mayor Dick Cleveland pointed out the resort's long history of hosting world-class sporting events. He noted that Vail hosted the World Alpine ski championships in 1989, 1999 and will again in 2015. Of course, Vail is also steeped in cycling culture too.
Vail served as the site of annual criterium and time trial races for the Coors Classic from 1978-1988. The Coors Classic became the fourth largest cycling event in the world behind the Vuelta de Espana, Giro d'Italia and Tour de France.
"It was an incredible event and we are really excited to be part of that again," Cleveland said of the Red Zinger that later became the Coors Classic. "We anticipate the same people will come to this event."
He added that the race is "really important" to Colorado's ski towns during these hard economic times.
Although professional road cycling left the valley in 1988, the Vail Valley Foundation brought international mountain bike racing to the valley with the 1992 UCI World Cup Finals, while also securing the 1994 and 2001 World Mountain Bike Championships. In between, the Vail Valley also played host to five World Cup Mountain Bike events.
"This is tremendous news for the Vail Valley," said Ceil Folz, president of the Vail Valley Foundation. "We have worked extremely hard over the past four years to help bring a major cycling event back to Colorado and have the Vail Valley included. We thank our partners in this effort, the Town of Vail and the Town of Avon, and look forward to working together with all of our community to host two great stages of the Quiznos Pro Challenge cycling event next summer."
Twenty-three cities submitted bids to host stages of the event. Fewer than half of them were chosen.
"We had so much interest from incredible cities across Colorado that we could hold an event of twice the duration," Quiznos Chief Communications Officer Ellen Kramer said. "We worked diligently throughout the selection process to incorporate cities that provide terrain that is unique to Colorado and delivers one of the most exciting cycling events in the world."
2011 Quiznos Pro Challenge stages
August 22 – Stage 1, Prologue time trial, Colorado Springs
August 23 – Stage 2, Salida to Crested Butte, mountain-top finish
August 24 – Stage 3, Gunnison to Aspen, mountain stage
August 25 – Stage 4, Vail, time trail, former Coors Classic stage
August 26 – Stage 5, Avon to Steamboat Springs
August 27 – Stage 6, Steamboat Springs to Breckenridge
August 28 – Stage 7, Golden to Denver
---

401 Comments on "Quiznos Pro Challenge names Vail as host city"