Why is Charlie Sheen smiling?
Actor's probation ends in Aspen just as he begins bachelorhood anew
While noise about the sordid details of Charlie Sheen's alleged cocaine-charged romp with an adult film star is reaching a fever pitch globally, all is quiet in the one place where the actor's behavior matters most: Aspen.
Probation for the highest paid actor on television ended Tuesday afternoon with hardly a peep out of the 9th Judicial District Attorney's Office in Colorado, which in August convicted Sheen of misdemeanor assault after his wife, Brooke Mueller, claimed he was wielding a knife and threatening her life in Aspen on Christmas Day.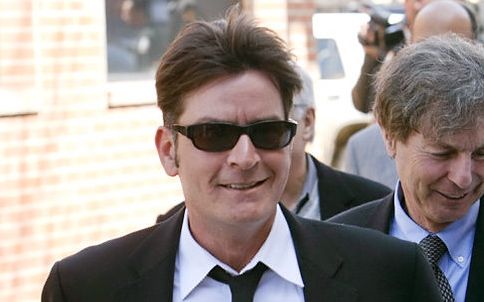 As a condition of probation, Judge James Boyd ordered Sheen not to drink alcohol to excess, use illicit drugs or commit crimes over the three months that followed the actor's guilty plea. Published reports from coast to coast are alleging that Sheen did all three Oct. 26 when police found him drunk and naked in a trashed Plaza Hotel suite in New York City, and his "date" Capri Anderson, aka Christina Walsh, hiding in a locked bathroom fearing for her safety.
Charlie Sheen walks into the Aspen courthouse.
Sheen's publicist blamed it all on an "adverse allergic reaction" to medications the star is taking.
Since police in New York did not arrest Sheen, Chief Deputy District Attorney Arnold Mordkin in Aspen insists his office doesn't have any evidence that Sheen violated conditions of his probation.
The prosecutor declared Sheen's case closed.
"Nobody ever showed up at my office," Mordkin told Real Aspen on Tuesday at 5 p.m. "We haven't filed any violations and under the terms of the probation order, it ended today. As of right now, it's over."
With nothing left to worry about in Aspen, Sheen returned to the set of "Two and a Half Men" on Tuesday where he reportedly was greeted with hugs and fist pumps of encouragement. Ratings for the popular show are up too. The show's telecast Monday night registered 13.6 million viewers.
The Los Angeles Times certifies that "Sheen's rainmaker status" remains intact.
Sheen is also reportedly breathing easier after he and Mueller filed their divorce papers yesterday. In the filing, he lists the couple's date of separation as Dec. 25, 2009 — the day he was arrested in Aspen.
Police reports reveal that the Christmas fight between Sheen and Mueller erupted over the Train song "Drops of Jupiter," which Sheen bonded over with his daughter from his previous marriage to Denise Richards. Police in Aspen reported that Mueller grew jealous of Sheen's relationship with his daughter, and that nasty words flew on Christmas. She threatened to end the marriage, they said, and Sheen began to strangle Mueller with one hand and hold a knife to her neck with the other. Police also claimed that Mueller told them Sheen threw her around "like a rag doll" a couple of months before the Christmas incident after she confronted the actor over his patronage of prostitutes.
According to the divorce papers, Mueller will be paid one lump sum of $760,000, plus another $1 million so that Sheen can keep their Los Angeles home, and she'll get $55,000 a month in child support. The filing also stipulates that Mueller's twin boys with Sheen receive more than the two young daughters Richards has with him.
Reports surfaced that Walsh would show up in Aspen to try to convince the district attorney's office to charge Sheen with violating his probation, but the porn princess never did. There are now reports that Walsh may sue Sheen over his bad behavior in New York. A tabloid also claimed that Sheen continued his partying ways when he returned to Los Angeles. But in an e-mail to publicist Stan Rosenfield that reads like a scene from "Two and a Half Men," Sheen manager Mark Burg wrote how he checked on the "Two and a Half Men" star Sunday at his Los Angeles home:
Stan,
I went over to Charlie's house earlier today because I was worried after reading Radaronline. Complete bull***t fabricated lies!!! Charlie was alone watching Brett Farve getting beat up by New England. He looked at me like I was nuts for coming into his house. "Dude, you could have knocked" he said. Charlie is fine and will be at work on tuesday ... Happy Halloween.
Mark
By all accounts, Sheen plays the role of a sex-crazed playboy to a tee on screen and off.
Now not only has he dodged jail in Aspen, watched ratings for his hit show soar to new heights, and returned to the promise land of bachelorhood, but Sheen has a standing job offer from one of America's wealthiest men.
"I'd hire him in a minute," Donald Trump told People, as he gushed how he'd love to see Sheen as a contestant on "The Celebrity Apprentice." "He's a good man, I know him. He's going through a difficulty. It's sad."
---

407 Comments on "Why is Charlie Sheen smiling?"