Conservatives gaining traction in traditional liberal hotbed Aspen
ASPEN — Aspen isn't just a haven for liberals. Conservatives network, plot and stuff their war chests here too.
A few recent A-list functions, at least two of them deeply shrouded in secrecy, underscore Aspen's importance to the Grand Old Party and the conservative ideologues who pull its purse strings.
Donors paid $7,200 in September to listen to Republican architect Karl Rove in Aspen and receive an autographed copy of his new book. Ex-President George H. W. Bush's second cousin, Walker Stapleton, a GOP candidate for state treasurer, co-hosted the event. Proceeds went to Colorado 3rd Congressional District candidate Scott Tipton, Colorado 4th Congressional District candidate Cory Gardner and Colorado 7th Congressional District candidate Ryan Frazier. Cheaper tickets sold for as little as $75.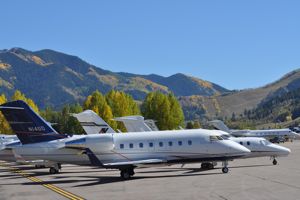 Days later, rows of slick private jets crammed onto the tarmac of the Aspen airport for the Forstmann Little & Company's annual confab, where world leaders and titans of industry rub elbows with a few hand-picked celebrities in the Rockies. This year Lance Armstrong and Monica Seles were on hand. High-powered buyout artist Ted Forstmann, who has bankrolled the Republican Party for decades and once served as co-chair of George H. W. Bush's unsuccessful 1992 re-election campaign, plays host.In front of an elite crowd with the likes of Martha Stewart, David Stern and Alan Greenspan,
Gen. Stanley McChrystal delivered a frank assessment
of the U.S. military and his recent exit from it. It was the first time he discussed his resignation and conversations with President Barack Obama with an audience.
Another clandestine confab came to town in June when billionaire brothers Charles and David Koch rolled out the red carpet for roughly 200 of their closest conservative friends at the St. Regis Aspen. An invitation to the event was leaked to The New York Times, which this week wrote that it consisted of "a confab of hedge fund executives, Republican donors, free-market evangelists and prominent members of the New York social circuit. The participants in Aspen dined under the stars at the top of the gondola run on Aspen Mountain, and listened to Glenn Beck of Fox News in a session titled, 'Is America on the Road to Serfdom?'" Some of America's wealthiest families and biggest names in finance attended.
The Times continued: They "listened to presentations on 'microtargeting' to identify like-minded voters, as well as a discussion about voter mobilization featuring Tim Phillips of Americans for Prosperity, the political action group founded by the Kochs in 2004, which campaigned against the health care legislation passed in March and is helping Tea Party groups set up get-out-the-vote operations. Other sessions discussed the opportunities in the presidential election of 2012 to address threats to free enterprise and 'how supporters of economic freedom might start planning today.'"
Frieda Wallison, who took over as chair of the Republican Party for Pitkin County in 2008, was there.
In an interview Wednesday night, she kept the GOP's fundraising efforts in Aspen close to her vest.
"Obviously there are many individuals in Aspen and the Roaring Fork Valley who support Republican causes and who always have and that hasn't changed," Wallison said.
This year does seem to resemble a few summers ago when a parade of Republican presidential hopefuls came to Aspen with their hands out and walked away with their pockets full. Before the last presidential election, U.S. Sen. John McCain even hobnobbed with the Dalai Lama in the West End.
The lead-up to the last presidential election is when the Republicans' secret soirees landed on the radar of Aspen resident, Camilla Auger, the longtime chairwoman of the Pitkin County Democratic Party.
"The Republicans since 2008 have been more active in the valley than they ever were before," she said. "They have a very energetic and organized chair of the Aspen Republicans and it looks to me that there is an increasing amount of Republican interaction in both Pitkin County and the valley."
So is a political turf war breaking out in Aspen?
"Pitkin County has for a long time been a center for Democratic activity. We are a very politically active place. Republicans have taken an interest in neutralizing the activity in Aspen on behalf of Democrats for a longtime," Auger said. "If you go back a few years, you'll see there were instructions from the Republicans at the national level to redistrict our district to put our county with Boulder."
The money and influential people in Aspen make it rife with fundraising opportunities too, she added.
GOP activity isn't limited to politicians flying into Aspen and taking off with gobs of money.
Many of them live here too.
Republican Bob Rankin of Aspen is challenging Democratic incumbent Gail Schwartz of Snowmass Village for the state's Senate District 5 seat, and pro-business Rustique restaurant owner Rob Ittner is competing with left-leaning Jack Johnson for an open spot on Pitkin County's board of commissioners.
Aspen is heaving with small-town Republican rabble-rousing too.
Elizabeth Milias, a former public relations agent for the Pentagon under Bush-Cheney, and Marilyn Marks, a former manufacturing company CEO, regularly rail against Aspen's status quot. Marks is suing the city over the transparency of the May 2009 election. Milias also launched a website attacking Johnson, the Democrat-endorsed commissioner candidate.
Hittheroadjackj.com — an unflattering compilation of Johnson's video outtakes when he was an Aspen city councilman — isn't the only website. Another (once run by Marks and now by Milias), TheRedAnt.com, regularly bashes Aspen City Hall.
"We now have in Aspen and Pitkin County four active political parties: the Democrats, the Republicans, the Libertarians and The Red Ant," Auger joked.
None of this is to suggest Democrats are losing their footing in Aspen. Not at all. Most elected officials here lean left and the few Republicans that do make noise are routinely tarred and feathered in letters to the editor. And when Bill and Hillary Clinton drop into town, they are treated like supreme royalty.
"This year we have the best slate of candidates I've ever seen," Auger said. "We have John Hickenlooper running for governor, Gail Schwartz running again for legislature, Roger Wilson for state house (and viable candidates in local races), so at every level the Democrats are looking very strong."
But don't look now, Aspen, the conservatives are here.
Correction: The original publication of this story contained an error. Milias is not a party to the election transparency lawsuit that Marks filed against the city of Aspen. She did, however, threaten to sue the city in another matter.
---

491 Comments on "Conservatives gaining traction in traditional liberal hotbed Aspen"