Amanda Boxtel puts her best foot forward
Nearly 18 years ago, a skiing accident at Snowmass rendered Amanda Boxtel paralyzed from the waist down. Last weekend, with the help of crutches and a spotter, she
walked onto a stage
in Texas.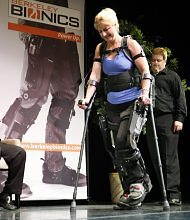 Placing one foot in front of the other, Boxtel gleefully squealed: "I'm doing it!"
Boxtel, a resident of Basalt and co-founder of the Challenge Aspen nonprofit organization, has become a model and spokesperson for an exoskeleton lower extremity gait system that goes by its acronym eLEGS. The system, developed in Berkley, Calif., is a takeoff of a military application called Human Universal Load Carrier (HULC) that allows soldiers to carry heavy equipment over extreme terrain.
A company called
Berkley Bionics
has taken the technology from the HULC robotic system, licensed to Lockheed Martin, and made it available to the 6 million or so U.S. residents who suffer paralysis. The company teamed up with the University of California, Berkley, to build the human augmentation robotics system, which consists of a battery in a backpack, metal leg casings, sensors and a computer.
"To take my first step in the eLEGS was just astounding because I bent my knee for the first time in 18 years," Boxtel says in an eLEGS video. "I placed my heel on the ground, then I transferred my weight, then I took another step and another one. And it was so natural and that's what really gripped me."
Standing 5 feet, 7 inches tall, Boxtel — who also has undergone extensive stem-cell treatments in India because they are illegal in the United States — says she can feel blood flowing through her legs again.
"I'm not meant to be in my wheelchair sitting down and rolling. I want to be tall in my body, to walk on sidewalks, to walk in restaurants but, most importantly, to walk in nature," Boxtel says. "This isn't a wave of the future; eLEGS is happening right now. I don't have to be hopeful. This is reality."
So real, in fact, that Boxtel is walking across stages all over America promoting eLEGS, which are scheduled for clinical trials in 2011 at select locations. They are expected to retail for
around $100,000
. Over time, Berkley Bionics makers say they hope to offer a lighter and less-expensive contraption.
Boxtel adds that the technology is especially exciting for people who are newly injured as they may be able to retain their muscle memory before atrophy begins to occur. It also could prevent digestive and poor circulation problems that can result from spending a prolonged period relying on a wheelchair.
"So many people say the first thing they encounter after an injury or an amputation is the word no. … We are demonstrating here there is no such word as no," Berkley Bionics CEO Eythor Bende said.
One out of every 50 Americans reportedly suffer from paralysis. To use eLEGS, paraplegics must be physically fit, between 5 feet, 2 inches and 6 feet, 4 inches tall and weigh 220 pounds or fewer.
---

886 Comments on "Amanda Boxtel puts her best foot forward"