More snow up high, but still no snowmaking on slopes of Vail, Beaver Creek
Vail just one month away from opening day on Nov. 19
Despite a dusting of snow on the high peaks again overnight Monday into Tuesday, temperatures still have not been quite cold enough to begin snowmaking operations at Vail and Beaver Creek.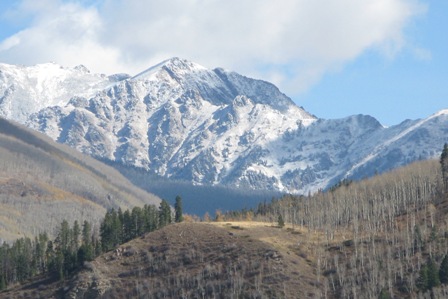 Vail is officially just one month away from opening day on Friday, Nov. 19, and Beaver Creek is a little further out, set to open Wednesday, Nov. 24.
"Not yet," Beaver Creek spokeswoman Jen Brown said when asked about snowmaking, "but we're getting closer on [the Birds of Prey World Cup] course, which starts earlier than the main mountain due to inversion."
That's weather-speak for an air inversion, which traps colder air down lower on the mountain, making it more difficult to make snow up high. And the famed downhill course, where the world's best men's ski racers – including Olympic medalists Bode Miller and Ted Ligety -- will compete Dec. 3-5, needs lots of rock-hard, man-made snow.
"We haven't started yet," Brown said Tuesday. "We're in the typical waiting for temps mode, and the [snowmaking] team is ready when Mother Nature is ready. Hopefully soon!"
Both the men's and women's U.S. Ski Teams, including Vail standouts Lindsey Vonn and Sarah Schleper, will kick off the 2010-11 World Cup season this weekend in Soelden, Austria, then likely return to the States for some on-snow training if conditions permit.
Vail, with its new state-of-the-art training and snowmaking facility at Golden Peak, is reportedly in the mix for some early U.S. Ski Team training, Vail Marketing Director Adam Sutner told a meeting of the Vail Economic Advisory Council last week.
"The shift of the U.S. Ski Team from Copper [Mountain] to Vail is a big deal," Sutner said,
according to the Vail Daily
. "Word has gotten around that this is the place to train. This is clearly a manifestation of our growth and our brand."
Vonn, en route to her U.S. record-tying third straight overall World Cup title and an Olympic downhill gold medal in Whistler last season, credited her early season training at Golden Peak with giving her a competitive advantage.
Sutner also said other national teams will join the U.S. squad at Vail. A Ski Team spokesman did not return and email requesting comment.
Forecasters are predicting a sunny and warm day Wednesday, with more unsettled weather rolling in Thursday and over the weekend.
Loveland and Arapahoe Basin ski areas have already been making snow in their annual race to be the first Colorado resort to open for 2010-11 ski season. This time last year, both were already open for business, albeit with limited terrain.
Overall, though, 2009-10 was a disappointing season for snowfall, and weather watchers are hoping a La Nina pattern will prove more bountiful for snow riders this season.
According to the state ski industry lobbying group Colorado Ski Country USA, the race to be first was won by Loveland for seven consecutive seasons from 1999 to 2005. Arapahoe Basin took the title in 2006 and 2007, and the two resorts tied in 2008. Loveland regained the title for the 2009-10 season.
CSCUSA reports Copper Mountain Resort also has been making heavy use of its snow-making equipment.
Here are projected opening dates for all the CSCUSA resorts. Vail Resorts ski areas -- Vail (Nov. 19), Beaver Creek (Nov. 24), Keystone (Nov. 5) and Breckenridge (Nov. 12) -- are not members.
Arapahoe Basin - October (day TBD)
Aspen Highlands - Dec. 11
Aspen Mountain - Nov. 25
Buttermilk - Dec. 11
Copper Mountain - Nov. 5
Crested Butte - Nov. 24
Echo Mountain - Dec. 1
Eldora - November (day TBD)
Howelsen - December (day TBD)
Loveland - October (day TBD)
Monarch - Nov. 24
Powderhorn - December 16
Purgatory at Durango Mountain Resort - Nov. 25
Silverton - Unguided Season November; Guided Season January
Ski Cooper - Nov. 25-28, Dec. 3-5, Dec. 10-12, open daily after Dec. 17
Snowmass - Nov. 25
SolVista - Dec. 15
Steamboat - Nov. 24
Sunlight - Dec. 3
Telluride - Nov. 25
Winter Park - Nov. 17
Wolf Creek - Nov. 5
Editor's note: An earlier version of this story incorrectly stated that an air inversion traps warmer air down lower on the mountain. In fact, the October inversion traps colder air down low.
---

814 Comments on "More snow up high, but still no snowmaking on slopes of Vail, Beaver Creek"