As Armstrong fades in Tour, Colorado, Vail dream of recapturing cycling glory
Vail Valley Foundation monitoring Armstrong's push for revived 'Coors Classic-style' stage race
With seven-time Tour de France winner Lance Armstrong
declaring himself "finished
" in this year's Tour after a brutal day of crashes Sunday, it's not too early to start thinking about what comes next competitively for the Aspen resident in his adopted home state of Colorado.
Especially since Armstrong earlier this month committed to racing in one of two
Ride 4 Yellow mountain bike races
in Steamboat Springs Aug. 8, and because he's the defending Leadville 100 champion. It was after that win last summer that
Armstrong made headlines in Colorado
for meeting with Gov. Bill Ritter to discuss reviving the old Coors Classic road race.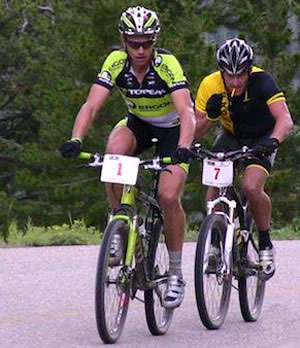 After Thursday's 11th stage of the Tour de France, Armstrong stood a distant 32nd, nearly 18 minutes off the lead. He has declared this will be his final Tour.
Ceil Folz, president of the Vail Valley Foundation, said her organization is closely monitoring developments with Armstrong and working with anyone interested in reviving a major stage race in the state. The VVF, which previously organized two World Mountain Bike Championships in 1994 and 2001, tried unsuccessfully to host a three-stage road event
called the Colorado Stage
in the Vail Valley in 2008.
"We've been keeping up to speed and are big supporters of that concept, and while our initial effort at the Colorado Stage failed from sponsorship issues, we always knew and still know today that Colorado needs and deserves a major cycling event," Folz told RealVail.com
Vail has a rich history of competitive cycling, including strong ties to the old Coors Classic, which ended in 1988 after a long run as arguably the nation's most successful stage race. Favorite local stages included the Vail Pass Time Trial and the Vail Village Criterium. Vail also usually was the start for a road race stage.
"I personally was involved with the Coors Classic and organized for Michael Aisner the Vail stages," Folz said. "Vail has a long and industrious history with major cycling events, and we would hope, and are working toward Vail playing a role if Lance is successful in bringing such an event to our state.
"Should Lance not be successful in reviving the Coors Classic-style event [in 2011], the VVF will go back to the drawing board and find a way for the Colorado Stage to be successful in Vail."
The foundation had planned three events as part of the Colorado Stage - all either starting or ending in Vail or somewhere in the Vail Valley. It would have started with a road race from Breckenridge to Beaver Creek, included a circuit in Vail, as well as the old time trial.
"Because of the VVF's mission ¬- really to do events in our valley - we would not have been able to extend the event much outside of our own community," Folz said. "So in many ways a Lance-led stage race could allow greater access for all of Colorado to pro cycling."
Armstrong last year had initially talked about making the race happen in 2010, but a spokesman for Gov. Ritter's office said 2011 was far more likely.
"They had initially talked about doing it as early as 2010, but it looks like now the earliest would be 2011," Ritter spokesman Evan Dreyer said at the time. "There are a couple of hurdles, obviously - funding and logistics.
"It's a huge undertaking because of the number of jurisdictions that a race of this sort would traverse and go through and so you need state patrol, you need local jurisdictions, and there's a lot of logistical details that would need to be worked out."
Ritter rides his road bike three or four days a week and has a real "passion for riding," Dreyer said. Armstrong in 2008 finished second to mountain biking legend Dave Wiens in the Leadville 100 – a punishing high-altitude mountain bike race – and then won it all in 2009.
"There's no bigger name in cycling right now and there hasn't been for the past 10 or 15 years," Dreyer said, "and to have a cyclist of Lance Armstrong's caliber and the governor trying to figure out a way to make [a staged road race] happen lends instant credibility to the effort."
---

71 Comments on "As Armstrong fades in Tour, Colorado, Vail dream of recapturing cycling glory"