Gas drilling activists look to use 1041 regs made famous by Eagle County in Homestake fight
Garfield County Commissioner Trési Houpt recently told RealVail.com she doesn't have enough information to fully evaluate a proposal by Battlement Mesa residents to use county 1041 powers made famous in an Eagle County water fight to regulate oil and gas drilling. But added she certainly understands their desire to pursue any avenue open to them.
Residents of the unincorporated Western Slope community of more than 5,000 have been working hard to get out ahead of a plan by Denver-based Antero Resources to drill up to 200 new natural gas wells within town boundaries. The county retains special-use permit authority over the project because it approved the original plan for the former Exxon company town.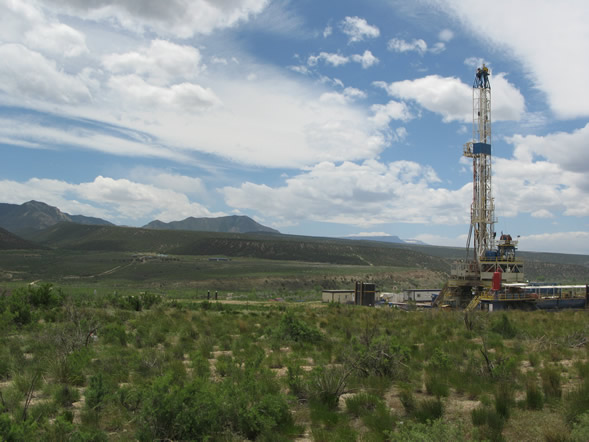 Garfield County officials have agreed to fund a Health Impact Study before drilling occurs, but a lawyer consulted by the Battlement Concerned Citizens questions the ability of the county to fully regulate oil and gas drilling if those health impacts prove too extreme. The state, via the Colorado Oil and Gas Conservation Commission, has the ultimate regulatory authority.
Representatives of the BCC last month presented the findings of their attorney to the Garfield County commissioners and asked that the county consider exercising its 1041 powers granted under HB 1041, the Colorado Land Use Enabling Act of 1974. Those powers in the past have been used to stop major infrastructure projects such as the Homestake II water diversion in Eagle County – although that process took years and a decision by the Colorado Supreme Court.
Ron Galterio, co-chair of the Battlement Concerned Citizens – a subcommittee of the Grand Valley Citizens Alliance – said Antero chose Battlement Mesa primarily because it's unincorporated and doesn't have the regulatory teeth a municipality would have.
"We believe that Garfield County could fill that gap in local regulatory control under the provisions of HB 1041," Galterio said. "In the case of Battlement Mesa, 1041 Powers would allow the authority of the county to rise to state level in its ability to regulate any development or activity, including oil and gas, that could affect the overall growth and development of the community."
According to the
Glenwood Springs Post Independent
, Republican county commissioner John Martin expressed doubts about the challenges of pursuing 1041 regulation of oil and gas drilling, but Houpt, a Democrat, sought more information:
"While commissioner John Martin told Galterio that working with the 1041 powers is 'not a really easy process' and is 'real challenging,' commissioner Trési Houpt directed [county attorney Don] DeFord to look into the matter and report back to the commissioners at a future meeting," the paper reported Tuesday.
Houpt also serves on the COGCC board, and a county exercising 1041 powers over oil and gas drilling would presumably usurp some of the state authority. However, Houpt pointed out that the county already regulates some of the surface impacts of drilling under its own set of regulations, although Garfield doesn't go as far as La Plata County, which can actually approve the location of a well pad.
She acknowledged 1041 powers tend to typically be exercised in areas of rapid development in order to regulate infrastructure projects such as power lines or water diversion and storage facilities. They have not been used to regulate oil and gas drilling.
BCC consultant and water attorney G. Moss Driscoll of Carbondale said the county must declare Battlement Mesa an area of "state interest," important to the county because of its potential for future population growth. Driscoll worked on the landmark Homestake II decision, which gave local governments control over development previously regulated primarily by the state.
"The resulting regulatory system would respect the authority of the Colorado Oil and Gas Conservation Commission over oil and gas drilling, while allowing residents to ensure that the massive scope of Antero's proposed operations does not permanently impair the community's long-term growth and development," Driscoll wrote in an analysis for the BCC.
Dave Devanney, co-chair of BCC, said his group remains confident the county is operating with the best interests of its citizens in mind.
"Of course this confidence — that Garfield County is concerned and being proactive in protecting our health, safety and welfare – is balanced with the extreme concern that we and all citizens of this country feel regarding the unprecedented environmental and economic harm currently happening in the Gulf of Mexico and even not so far away as Salt Lake City, Utah," Devanney said.
"These concerns come at a time when the energy industry continues to try to eliminate or minimize the rules and regulations that regulators and legislators have imposed."
Josh Joswick, a former three-term La Plata County commissioner who's now the oil and gas issues organizer with San Juan Citizens Alliance, said there was some talk of La Plata trying to exercise its 1041 powers when he first came into office in the 1990s but the county decided not to go down that long regulatory road.
Instead it embarked on an equally grueling legal odyssey that resulted in industry and state lawsuits ultimately decided in La Plata's favor by the Colorado Supreme Court. The county is widely regarded as having some of the most stringent local regulations for oil and gas drilling, but Joswick said 1041 could be a very viable new arrow in a county's regulatory quiver.
Using 1041 would establish a precedent along the lines of the 1992 high court ruling in favor of La Plata, which Joswick called a "groundbreaking case because the Supreme Court ruled counties can exercise land-use authority when it comes to oil and gas development, but within certain parameters. The kicker on it is was so long as it doesn't create an 'operational conflict' with the COGCC, but didn't define operational conflict."
La Plata interpreted the decision to mean the county could weigh in on surface activities such as roads and locations of well pads, but the COGCC would continue to dictate subsurface activities such as actual drilling, hydraulic fracturing and extraction of oil and gas.
---

28 Comments on "Gas drilling activists look to use 1041 regs made famous by Eagle County in Homestake fight"