Vail's Johnston named to Time's '40 Under 40' list of 'rising stars of American politics'
Vail native Michael Johnston, a Democratic state Senator and adviser to the Obama administration on education issues, was named to Time Magazine's prestigious "40 Under 40" list of "rising stars of American politics."

The Vail Mountain School graduate who went on to earn degrees from Harvard and Yale is the son of former Vail Mayor Paul Johnston and his wife Sally, the owners of Vail's Christiana Lodge. Michael Johnston rose to prominence as principal of the groundbreaking Mapleton Expeditionary School for the Arts (MESA) in Thornton, Colo.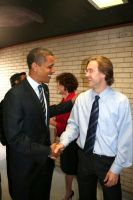 During President Barack Obama's 2008 campaign, the president visited Johnston's school – which boasted a 100-percent graduation rate, with all of its seniors going on to four-year colleges – and told the enthusiastic audience, "We need a Michael Johnston in every school."
Johnston then threw his hat into the ring to replace state Senate President Peter Groff — the first African American to ever hold that position in Colorado – when Groff was tapped by the Obama administration to head the U.S. Department of Education's Faith-based and Community Initiatives Center. Johnston was named to the seat by a Democratic selection committee.
In his first year in the State Legislature, Johnston didn't shy away from controversy or trying to affect meaningful education change. He sponsored a teacher tenure bill that passed despite union opposition and resistance from some Democrats, and he's made it clear he wants to do more to challenge traditional education models.
In Time's "40 Under 40" Q&A format, Johnston alphabetically falls between two Republicans on the list: Louisiana Gov. Bobby Jindal and Illinois state House candidate Adam Kinzinger. But he's joined on the list by another Colorado Democrat, U.S. Rep. Jared Polis, who represents the Vail Valley in the 2nd Congressional District.
Here's Time's Q&A with Johnston:
A former high school principal who advised Barack Obama on education policy, Johnston, 35, of Colorado, sees poor test scores and dropout rates as nothing short of a civil rights issue.
Who is your political hero/inspiration?
Dr. King
What's your go-to political blog?
If you weren't working in politics, what would you be doing?
Principal of an urban high school
What's the most overlooked issue facing America these days?
Ensuring working class Americans access to college
Where do you see yourself professionally in five years?
Hopefully still in the state senate, or head coach of the Denver Broncos

---

385 Comments on "Vail's Johnston named to Time's '40 Under 40' list of 'rising stars of American politics'"