Van Garderen sets Vail Pass Time Trial record, builds on overall USA Pro Challenge lead
Aspen's Tejay van Garderen (BMC Racing) set a new Vail Pass Time Trial course record Friday in winning Stage 5 of the USA Pro Challenge, building a 1 minute, 42 second lead in the overall chase over his nearest rival, Garmin-Sharp's Tom Danielson.
Van Garderen exorcised his past demons on the course where he gave up the overall lead to eventual winner Levi Leipheimer in 2011, winning this year's stage on the newly paved route in 25 minutes, 1 second. Van Garderen barely edged Garmin-Sharp's Andrew Talansky, who was four seconds back in second place.
Danielson took third in 16.1-kilometer (10 mile) individual time trial out of Vail Village, where riders went off in one-minute intervals and raced against the clock. Danielson was 40 seconds behind van Garderen after Thursday's
critical stage
from Steamboat to Beaver Creek, but the veteran Boulder rider lost another 1:02 to van Garderen on Friday.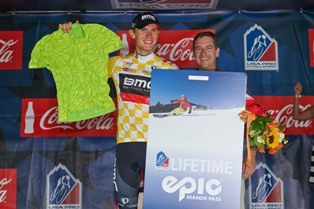 Van Garderen said the last few hundred meters of the course were brutal.
"At this elevation I felt like I was creeping at the end," van Garderen said. "To be honest at the end I was surprised to hear that I won because, man, I just felt like I was dying. But I think everyone felt that way."
The course rises from just over 8,000 feet in elevation in Vail Village to the finish on Vail Pass at 9,622 feet, and Friday's winner said the course ranks among the toughest time trials in any race.
"It was by far the hardest," van Garderen said. "I'm usually good at time trials … because I'm really good at figuring out where you can go easy, where you can soft pedal, where you can hit it, and here it was just one tempo the whole time and it was just hard."
But knowing how brutal Vail Pass can be helped van Garderen the second time around.
"It helped a lot," said the rider who finished fifth in last year's Tour de France and nearly won on the Alp d'Huez this year. "The pacing strategy is so important here, and as you saw in 2011 I got it all wrong, and this time I think I got it right."
Now the man who's finished third and second in the overall chase the first two years of the USA Pro Challenge knows what he has to do to hold Danielson and Garmin at bay into Fort Collins Saturday in Stage 6 and finally in the criterium Sunday in Denver.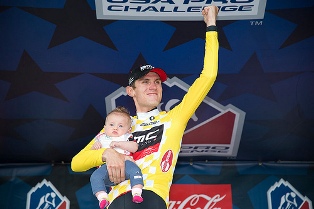 "I definitely like where I'm sitting," van Garderen said. "I know that Tom Danielson and his Garmin boys, they're going to ride aggressively tomorrow. I don't expect them to go down without a fight.
"So from here on out I'm going to have to rely really heavily on my team, but I have total faith in my boys that they're strong and they can get the job done."
Van Garderen's teammate, Mathias Frank of Switzerland, finished 10th on Friday and held onto second in the overall chase, 1:30 behind van Garderen.
Saturday's Stage 6 is the final road race of this year's Pro Challenge, starting in Loveland and traveling 115.2 miles before finishing in Fort Collins. Go to the USA Pro Challenge website for more results and information.
---

0 Comments on "Van Garderen sets Vail Pass Time Trial record, builds on overall USA Pro Challenge lead"
Be the first to comment below.