Vail trails Deer Valley in SKI Magazine rankings, again
Readers of SKI Magazine this year named
Deer Valley
as North America's best ski area.
Thanks in part to its immaculate grooming and top-notch guest services, the Utah resort is basking in the honor for the fourth straight year, the longest streak since the rankings began almost a quarter century ago.
Vail
, which has claimed the magazine's top spot more than any other resort, came in second place, followed by
Whistler/Blackcomb
at No. 3,
Beaver Creek
at No. 4 and
Park City
at the No. 5 spot.
After getting shut out of the top 10 last year,
Aspen Mountain
regained ranking respectability at No. 7. But readers appreciated
Snowmass
just a little more, placing it in the No. 6 spot for the second years in a row.
Aspen Highlands
also surged into the spotlight, landing No. 10, way up from last year's No. 17.
SKI Magazine readers voted
Breckenridge
No. 8 and
Sun Valley
No. 9.
Telluride and Steamboat ranked No. 11 and No. 13, respectively, giving Colorado eight resorts in the top 15.
Here's what Deborah Williams wrote about Vail in SKI Magazine:
"
Vail gives almost everyone almost everything. And it's not just because it's humongous. Sure, Vail has more terrain in its back bowls (2,600 acres) than most mountains have within their permit areas. ('Seems like each time I ski terrain that I didn't notice before.') But quantity is of no consequence without quality or, for that matter, equality. At Vail, every guest is valued; none is favored. That goes for the ones who ski and the ones who don't. On the mountain, hardcores appreciate 31 lifts (No. 6) that make quick work of Vail's seven-mile wingspan. Families and cruisers are pleased to find every type of terrain imaginable (Terrain Variety, No. 4). And everyone loves the back bowls: 'Nothing compares.' ... Vail, like any resort, will always have its Grinches: "It has a Disneyland feel." But then, there are worse comparisons than a fun park dubbed the happiest place on earth
."
And she had this to say about the Beav: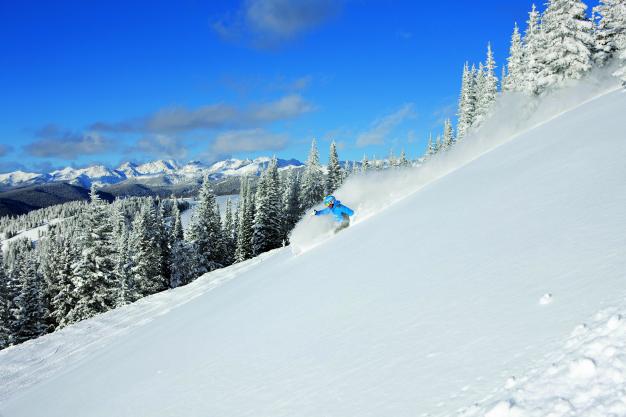 "
Beaver Creek is like the perfect woman: glamorous yet full of gritty substance; nurturing one minute and surprisingly feisty when provoked. Sure, she serves fresh-baked cookies every afternoon, but she also doles out challenge aplenty. That's news to many, as the scores for Challenge attest. And that's just fine with those who know that when 'Vail gets the crowds, the Beav gets the locals.' For example, the Stone Creek Chutes and the Royal Elk Glades have tough tree lines that remain virtually undiscovered. Less hidden but still under-explored, are the 23,000 vertical feet of black and double-black pitches descend from the top of the Grouse Mountain Express. But the resort's bread and butter are all the things that make life easy, including Grooming (No. 2), Service (No. 2), On-Mountain Food (No. 5) and Lodging (No. 4). The Osprey, Westin, Park Hyatt and Ritz-Carlton set the lodging standards high. And the prices: 'Bring your platinum card.' But the Beav is a gracious host, attending to guests' needs and indulging their wants: 'The near-ultimate experience from arrival to departure' says one reader. Among BC's greatest conveniences is the Eagle Airport, 15 minutes away
."
The rankings are the result of a survey of 20,000 readers conducted by an independent research firm.
---

893 Comments on "Vail trails Deer Valley in SKI Magazine rankings, again"