Assailed by mailers: candidates battle nasty attack ads in political races across Colorado
Nasty campaign mailers are starting to show up in mailboxes from Aspen to Adams County, kicking off the 11th-hour sleaze-fest that has marked election cycles for at least the last six years. And in the high country, mud season is in full swing.
"I have never seen anything this dirty," District Attorney Mark Hurlbert said back in 2006 when asked to investigate a postcard attacking Eagle County commissioner
candidate Sara Fisher
– a Democrat who's running again in 2010.
But Hurlbert, a moderate Republican who was blindsided by Tea Party candidate and American Constitution Party Colorado founder Tim Leonard in
his own bid for the state Senate
this summer, could just as easily have been talking about the current campaign cycle.
While things have been relatively quiet locally, other races around the state have turned ugly in a hurry, including a Senate District 5 (Aspen area) mailer by the conservative nonprofit Western Tradition Partnership attacking Democrat Gail Schwartz. There's been bipartisan nastiness against Republicans too, with GOP State Legislature candidates in Colorado Springs and Adams County asking their DAs to investigate mailers.
But it can be difficult for DAs to track down anonymous mailers or prove above-board political groups knowingly used false statements in campaign ads, which was criminalized in Colorado in 2005. In that 2006 Eagle County commissioners race, Hurlbert was unable to trace the mailer, which falsely accused Fisher of alcoholism and an extramarital affair, but she wound up winning big anyway.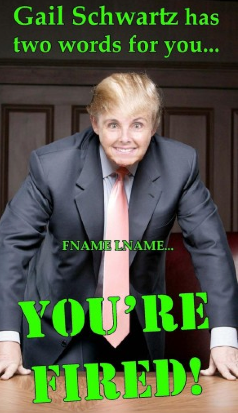 In the current SD5 race,
Western Tradition Partnership
fired off a mailer that started showing up in mailboxes a week or so ago. It had the face of Schwartz, a Snowmass Democrat, superimposed over the body of Donald Trump with the verbiage, "Gail Schwartz has two words for you … YOU'RE FIRED!"
The right-wing group "dedicated to fighting environmental extremism" targeted Schwartz for her co-sponsorship this year of a bill,
backed by Xcel Energy
, that raised Colorado's renewable energy standard to the second highest in the nation behind only California. Western Tradition claims raising renewable energy requirements to 30 percent by 2020 will trigger job losses and higher utility bills.
"My campaign is about what I can offer the people of my district," Schwartz said in a release on Friday. "The deplorable, hate-filled mail that distorts the public record comes from a variety of independent organizations and federal law appears to allow it. I absolutely do not condone such mail. I believe that it undermines the integrity of our political process, offends basic standards of decency, and degrades our ability to engage in civil discourse."
Western Tradition's Donald Ferguson stood by the mailer,
telling Real Vail's sister site Real Aspen
, "The renewable energy standard forces utility companies to buy more expensive utilities, so then they have to cut back on hiring and lay people off."
The executive director of Colorado Conservation Voters said the mailer was in "poor taste. It is an obvious leading candidate for the most tasteless piece of mail so far in the 2010 election cycle," CCV's Pete Maysmith said last week. "It's over the top and in poor taste."
Maysmith
points to research
that estimates the higher renewable energy standard could generate more than 23,000 jobs in the state's solar industry alone over the next 10 years. He noted that he has "not seen one iota of evidence" that Schwartz will be eliminating more jobs than she creates.
U.S. Sen. Michael Bennet, in Denver on Sunday, went after his Republican opponent, Weld County District Attorney Ken Buck, for opposing Colorado's renewable energy standard, which Bennet says has brought nearly 20,000 jobs to the state. He also went after Buck for saying he favors eliminating the U.S. Department of Energy (DOE), which Bennet says "would only deepen our country's dependence on foreign oil."
"Colorado is uniquely positioned to be a world leader in the New Energy Economy and Michael is doing everything he can to make sure those jobs are our jobs," Bennet for Colorado spokesman Trevor Kincaid said in a release Sunday. "On the other hand, Ken Buck's opposition to growing this industry would cost us jobs and urgently needed economic growth."
Western Tradition Partnership (WTP) was famously active – along with a slew of other conservative political groups funded by the oil and gas industry – in the 2008 Garfield County commissioners race, which saw unprecedented amount of outside cash for local race, including from environmental groups targeting Republicans.
According to the
Colorado Secretary of State's office
, WTP was originally registered in Colorado in 2008 by Republican operative Scott Shires of Aurora, who has set up dozens of 501(c)4 and 527 nonprofit political groups during the last several election cycles.
Shires
still hasn't paid more than $8,000
he owes the state after being fined for failing to register another group, the Colorado League of Taxpayers, which sent out mailers attacking Democrats in that same GarCo race.
The two defeated Democrats
complained bitterly about last-minute attack ads
, mailers and fake newspapers in that race, but the Secretary of State's office admitted there's only so much it can do to
enforce campaign violations
.
In the Senate District 5 race, Joyce Rankin, campaign manager and wife of Schwartz's opponent, Bob Rankin of Aspen, said last week she was unaware of the Western Tradition Partnership mailing. She said her husband's Republican campaign will begin sending out its own mailers in the district, but "they'll be positive and stick to the issues."
Even Republicans have complained about the tactics of Western Tradition, including
moderate Montana lawmaker candidate Debra Bonogofsky
, who claims the group targeted her in a GOP primary race this summer with attack mailers after she refused to fill out a candidate survey. She lost the primary and is now running as a write-in candidate.
"These groups, they blackmail you. It's like extortion," said Bonogofsky, a Billings, Mont., businesswoman. "They send you these surveys, and if you don't send them back and fill them out the way they want you to, then they send out these mailings saying you're anti-gun, you're anti-this, anti-that, and they blackmail you."
Colorado's political landscape is rife with mailers espousing "believe-it-or-not gems,"
as the Denver Post put it last week
. The newspaper focused on Kathleen Curry, the state representative for Aspen's House District 61 who broke ranks with Democrats last year and became an independent by her own choosing. Recent mailers insinuate the Democrats rejected her, which Curry told the Post was "almost laughable."
On the other side of the political aisle, District 18 hopeful Karen Cullen is so outraged by an Accountability for Colorado mailer that allegedly misattributed information that she is asking the district attorney to investigate, according to a report last week in the
Colorado Springs Gazette
. And Republican House candidate Tom Janich has reported what he says are misleading campaign fliers about his past criminal record to the Adams County district attorney,
according to the Post
.
Misleading or not, it's not entirely clear how effective campaign mailers are in the first place.
"I think on some level people tune them out," Maysmith said. "Still, when they're that over-the-top, like the Donald Trump thing, they're designed to catch people's attention and they probably do catch their attention. Catching people's attention is fine. But when it's tasteless and wrong, that's not fine."
---

33 Comments on "Assailed by mailers: candidates battle nasty attack ads in political races across Colorado"