More than 3,000 cyclists ride to raise awareness of chronic disease in Newmont Bike MS
Steve Schade of Highlands Ranch hopes sharing his experience can lift others
Steve Schade of Highlands Ranch was an avid softball player in 2005 when he started having problems picking up the flight of the ball in the lights at night. His vision was slowly shifting to what he describes as almost a grayscale, with fading color definition.
Thirty-two at the time, he also noticed a strange pressure sensation in his feet and legs – alternating between feeling like they were asleep or caught in Chinese handcuffs (the kind that won't let you pull your fingers apart). Forced to quit his beloved sport of softball, Schade was diagnosed with multiple sclerosis (MS).
Schade was understandably scared, and he says he suddenly felt very alone and in desperate need of information about a chronic disease that affects more than 2.1 million people worldwide and an estimated 400,000 in the United States.
"When you're in the early stages of, 'What is this, what does it mean for me, am I going to die soon,' it's nice to have people around to say, 'It's not horrible,'" Schade said. "'You have it, you live with it, there are certain things that you have to slow down or kind of avoid maybe at different times of the day or altogether, but it's not the worst thing in the world to have MS.'"
That's how Schade, 40, became involved in Saturday's National Multiple Sclerosis Society (NMSS) Newmont Bike MS 2013 –
an event
in which more than 3,000 cyclists from all over Colorado will participate in various legs of a Westminster to Fort Collins two-day ride.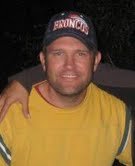 Schade, riding tandem with pro cyclist Olivia Dillon, will ride 30 miles on Saturday as part of the Together in MS tandem cycling team. He said he's doing it to keep active, raise awareness about a very mysterious disease and raise funds to find a cure. But also he really wants to connect with people who may have just been diagnosed and have a lot of the same questions he did eight years ago.
"That's why I'm doing this is that if I can relate some of my experiences to other people or make it a little easier on others, that's what I'm in it for," Schade said. "It's definitely rewarding for me, and if I can kind of soften the blow for someone who yesterday thought they were well and fine and today they now have a disease that is really not defined well – if I can be of help in that situation – that's what I'm really interested in."
Formed in 2011,
Together in MS
is a collaboration between Phil Keoghan, host of "The Amazing Race" and founder of No Opportunity Wasted (NOW), and Novartis Pharmaceuticals. Together in MS tandem cycling teams have ridden approximately 1,000 miles at 15 National MS Society Bike events across the country the last two years.
At Saturday's ride between Westminster (near Denver) and Fort Collins, Schade and Dillon will be joined by another Together in MS tandem team comprised of pro riders Regina Lyalls, a mother living with MS, and Alison Powers.
MS is "a chronic, unpredictable disease of the central nervous system (the brain, optic nerves, and spinal cord)," according to the NMSS, in which a person's system incorrectly attacks healthy tissue – specifically the sheathing around nerves called myelin. In severe cases it can lead to blindness and paralysis.
Schade said he's on his fourth medication to combat the symptoms but that there is no known cure. He used to have to self-administer subcutaneous (beneath the skin) shots on a daily basis, but is now able to take a pill called
Gilenya
.
"Every morning I get up and take a pill and that's it for the day," said Schade, who's married and has a one-year-old son. "So now I'm on the Gilenya and it seems to be doing pretty well. For me, I appreciate it because I'm not poking myself. I wake up and take a pill.
"I remember when I was taking the shots it was constantly on my mind. When it was three days a week I would wake up and think is it today I have to give myself a shot or did I give myself one yesterday so I have the day off? It's really not that pleasant, and it's even that much worse when you're doing it every single day. The pill is a lot a better."
But there still needs to be so much more research in order to find a cure, Schade said, and that's just one of the reasons he'll be taking to the road on Saturday. The NMSS Newmont Bike MS 2013 is still open for registration by clicking
here
.
---

9 Comments on "More than 3,000 cyclists ride to raise awareness of chronic disease in Newmont Bike MS"