Searchers hunt for Chicago hiker missing for more than a week on Mount of the Holy Cross
Search and rescue efforts are under way for a 31-year-old Chicago man missing in Eagle County's Mount of the Holy Cross area since Oct. 3, according to the sheriff's office.
James Nelson has not been seen or heard from since he set out on a 5-day, 25-mile hike of Mount of the Holy Cross, a 14.005-foot peak. Nelson's fiancé reported him missing Friday evening. Vail Mountain Rescue Group began searching for him on Saturday.
Over the last two days more than 28 volunteers from Vail Mountain Rescue Group have covered Nelson's 25-mile proposed route and have found no trace of him.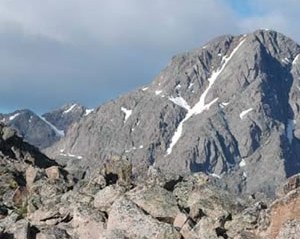 The
Colorado National Guard High Altitude Aviation Training Center (HAATS
), which trains military helicopter pilots out of the Eagle County Regional Airport, has been assisting the Eagle County Sheriff's Office and Vail Mountain Rescue Group by dropping search teams in the field and conducting aerial searches. The Eagle Valley Religious Foundation assisted by providing meals to the searchers in the field.
Nelson has been involved in the Chicago Backpackers Meetup Group since 2006. While he is an experienced hiker, this is his first hike in Eagle County. Nelson is equipped with proper gear and supplies but is not carrying a cell phone.
The weather changed from unseasonably warm to cloudy, much colder and raining on the valley floors over the weekend. There have been several inches of snow above 10,000 feet.
Mount of the Holy Cross is the only one of Colorado's 54 peaks over 14,000 that's located in Eagle County. It's named for the cross of snow that forms on its flanks, and it has a
long history of climbing and hiking mishaps
.
The search wrapped up at 6 p.m. today and will resume Monday morning at 6:30 a.m. Rescue crews will extensively search areas off of the trailhead. A request has been made through the Colorado Search and Rescue Board for additional assistance.
Search and rescue experts in the field discourage individuals from searching on their own. Volunteers from the community will be requested if necessary.
---

19 Comments on "Searchers hunt for Chicago hiker missing for more than a week on Mount of the Holy Cross"