USA Pro Challenge cycling stage race lands top-ranked Sky Procycling team
This year's USA Pro Challenge cycling tour, which features stages in Beaver and Vail, will feature the top-ranked Sky Procycling team, which includes 2012 Tour de France winner Bradley Wiggins and second place finisher Chris Froome.
Taking place August 19-25, the 2013 USA Pro Challenge will feature 16 of the world's top professional cycling teams comprised of UCI Pro, Pro Continental and Continental squads. The race will include some of the top talent in the sport in an eight-day stage race that travels nearly 600 miles from Aspen to Denver. Stage 4 on Aug. 22 ends in Beaver Creek, and Stage 5 on Aug. 23 heads up Vail Pass.
"After featuring an impressive lineup of teams and riders for the first two editions of the USA Pro Challenge, the 2013 race will host the most competitive field yet," said Shawn Hunter, CEO of the Pro Challenge. The full team Sky will bring to Colorado has not yet been confirmed.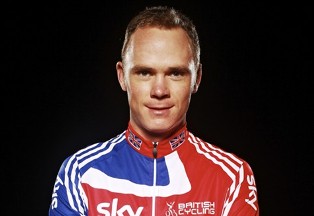 "Interest from teams continues to grow year after year, making the selection of these 16 even more difficult, but we looked at the stats and listened to the fans, and have put together a field that is going to keep things interesting down to the last minute of racing in Denver."
Featuring teams hailing from eight countries, including the top-three ranked teams from the 2012 Tour de France, the USA Pro Challenge will test riders by taking them to unprecedented elevations.
"We're really looking forward to the USA Pro Challenge," said Carsten Jeppesen, head of technical operations for Sky Procycling. "It's a great race that has everything. With climbing, sprints and a time trial, as well as good crowds, it's a mini-Tour – the kind of race we really like.
"We'll certainly bring a strong team and there are some strong young American riders in Joe (Dombrowski) and Ian (Boswell) who would love to be there in front of their home crowd. It's only our second race in the U.S. and we aim to put on a good show."
Following is the complete list of teams that will be competing in the 2013 USA Pro Challenge:
UCI ProTeams
BMC Racing Team (USA) @BMCProTeam
Cannondale Pro Cycling (ITA) @cannondalePro
RadioShack Leopard Trek (LUX) @RSLT
Sky Procycling (GBR) @TeamSky
Team Argos-Shimano (NED) @1t4i
Team Garmin-Sharp (USA) @Ride_Argyle
Team Saxo-Tinkoff (DEN) @TeamSaxoTinkoff
UCI Professional Continental Teams
Champion System Pro Cycling Team (CHN) @TeamChampionSys
UnitedHealthcare Pro Cycling Team (USA) @UHCprocycling
Team Novo Nordisk (USA) @TeamNovoNordisk
COLOMBIA (COL) @Col_Coldeportes
UCI Continental Teams
Bissell Pro Cycling (USA) @BissellCycling
Bontrager Cycling Team (USA) @BontragerCT
Optum Presented by Kelly Benefit Strategies (USA) @OPTUMpbKBS
Jelly Belly p/b Kenda (USA) @JellyBellyTeam
Jamis-Hagens Berman p/b Sutter Home (USA) @TeamJamisHB
**Full team rosters will be announced closer to the race.
In 2012, with a lead change nearly every day, one of the closest professional races in U.S. history came down to the final moments of the Individual Time Trial in Denver. This year's race could be just as exciting with the top-three teams from last year returning, including overall team winner RadioShack Leopard Trek.
Additionally the teams of each of last year's jersey winners are confirmed to compete again – overall winner Christian Vande Velde and Waste Management Sprint Jersey winner Tyler Farrar's team Garmin-Sharp; Nissan King of the Mountains Jersey winner Jens Voigt's team RadioShack Leopard Trek; and Aquadraat Best Young Rider Jersey winner Joe Dombrowski's 2012 team Bontrager (now on Sky Procycling).
The Pro Challenge is welcoming three teams for their first appearance in the race, including Sky Procycling, COLOMBIA and Jamis-Hagens Berman p/b Sutter Home. Additionally seven veteran teams will be returning for a third time in 2013 – BMC Racing Team, Team Garmin-Sharp, Cannondale Pro Cycling, RadioShack Leopard Trek, Team Novo Nordisk (formerly Team Type 1), UnitedHealthcare Pro Cycling and Bissell Pro Cycling.
"We always look forward to racing in the USA Pro Challenge every year," said Jim Ochowicz, team president/general manager of BMC Racing. "It tests our team's resources in the mountains of Colorado, which are famous in the world of cycling for their difficult ascents and descents.
"It comes at a great time in the season when most racers are in peak condition and eager to test their legs. The BMC Racing Team is ready to challenge for the overall race lead each and every day."
More information on each team can be found on the USA Pro Challenge website at http://www.usaprocyclingchallenge.com/teams.
---

27 Comments on "USA Pro Challenge cycling stage race lands top-ranked Sky Procycling team"