Dawson, Wegman repeat as Steep Creek champions at GoPro Mountain Games
The newly minted GoPro Mountain Games got off to a wet start Thursday as nearly 50 kayakers from around the world plunged down Homestake Creek, racing for the fastest time in the Bud Light Steep Creek Championships.
Mike Dawson from New Zealand claimed his third straight victory in the men's race, while Martina Wegman of the Netherlands defended her title against a strong field of women.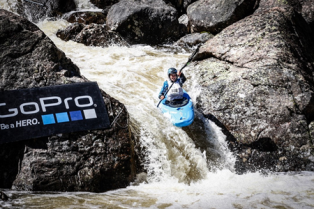 Dawson, a 2012 Olympic slalom kayaker, demonstrated his precise paddling skills and navigated the highly technical creek with the three fastest times of the day, finishing his third and fastest run in 1:45.82. Bryan Kirk of Charlottesville, Virginia, finished in second place and Nick Troutman of Rock Island, Tennessee took third in the finals.
In the women's race, returning champion Martina Wegman from Schoorl, Netherlands, had a tough first run, but then dialed in her lines and scored the fastest women's run of the day, 1.58.91, on her second time down the creek.
In the finals, Wegman's time of 2:00.11 beat out Natalie Anderson of Fort Collins, Colorado, who finished in second, and third-place finisher Adrienne Levknecht of Greenville, South Carolina.
For complete result, click here (pdf). For more information on the GoPro Mountain Games go to www.gopromountaingames.com.
---

0 Comments on "Dawson, Wegman repeat as Steep Creek champions at GoPro Mountain Games"
Be the first to comment below.