Hickenlooper signs bill to double renewable energy in rural areas
Governor also issues executive order to review effectiveness of SB 252
Colorado's largest rural electric associations (REA) and the utility that supplies virtually all of the co-ops with power will have to get 20 percent of their energy from renewable sources by 2020 after Gov. John Hickenlooper on Wednesday signed bitterly contested Senate Bill 252.
Predictably, Republicans were quick to bash the Democratic governor for caving to environmentalists and some "extremist" lawmakers in his party, who were equally quick to sing Hickenlooper's praises.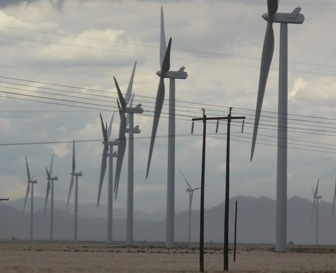 Senate Minority Leader Bill Cadman, R-Colorado Springs, said in prepared statement: "Senate President John Morse initiated the urban attack on rural Colorado when he sponsored SB 13-252. With his signature, Gov. Hickenlooper joins Morse in perhaps the largest unfunded government mandate in Colorado history."
But state Rep. Diane Mitsch Bush, a Steamboat Democrat who represents Eagle and Routt counties, said: ""SB 252 will help the private sector develop new green jobs and maintain the more than 19,000 clean energy jobs in Colorado. SB 252 will increase local renewable installation and new, retrofit construction jobs and help a number of existing businesses in Routt and Eagle counties. Both may spur investments in local, rural biomass plants that use the beetle kill timber in our forests."
Critics of the bill claimed it will lead to runaway electric bills for rural consumers, even though prices for wind, solar and other forms of renewable power have been steadily decreasing. Coal and natural gas remain the lowest cost forms of power.
SB 252 contains a provision calling for a 2-percent retail cap, but opponents – including Tri State Generation and Transmission, which supplies power to most of the state's co-ops – argued the provision was flawed and prices for rural consumers will skyrocket. A massive advertising
campaign
has been under way to get Hickenlooper to veto the bill, which doubles the amount of renewable power the state's co-ops must supply (from the current 10-percent level).
Publicly owned Xcel Energy, the state's largest utility, is on track to generate 30 percent of its power from renewable resources by 2020. And Holy Cross Energy, the co-op that supplies electricity to Vail and Aspen and gets most of its power from Xcel, is already
on track
to meet the 20 percent threshold.
Hickenlooper on Wednesday also signed an executive order calling for the formation of an advisory committee to the director of the Colorado Energy Office on the effectiveness of SB 252.
"The reasons for signing the legislation outweigh the reasons for vetoing the bill, but this bill is imperfect," the order reads. "Some of the concerns raised during the legislative process were not given due consideration. Top among these concerns are the feasibility of the implementation timetable and consumer protections. The advisory committee will work to fully address these concerns, culminating in proposals for the 2014 legislative session."
Regardless, state renewable energy advocacy groups hailed the governor's decision.
"A year ago, the market outlook for renewable energy in Colorado was bleak," said Sarah Propst, executive director of the Interwest Energy Alliance. "Implementation of SB 252, combined with Xcel's recent announcement that it will buy 550 [megawatts] of wind based on low price alone, means a complete turnaround for the Colorado market. Now we expect roughly 1,000 [megawatts] of market opportunity for clean energy over the next decade."
---

277 Comments on "Hickenlooper signs bill to double renewable energy in rural areas"