State lawmaker for Vail, Eagle County lauded for bipartisan oil and gas 'spill bill'
Slew of other Democrat-sponsored drilling bills died during recent legislative session
A bill floated by a a state lawmaker who represents the Vail area is being hailed as the only successful Democrat-sponsored oil and gas regulatory legislation this past session.
In all, Democrats trotted out 10 environmentally friendly bills aimed at mitigating the impacts of the ongoing oil and gas boom that's being felt most acutely along the state's northern Front Range. The so-called "spill bill," sponsored with bipartisan support by freshman state Rep. Diane Mitsch Bush, was the only one that made it through.
Mitsch Bush, a Steamboat Democrat who represents both Eagle and Routt counties, managed to get bipartisan support for House Bill 1278, which was signed into law by Gov. John Hickenlooper last weekend in Steamboat.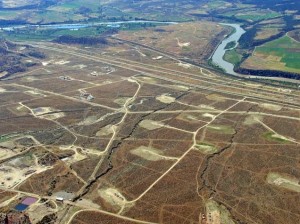 HB 1278 (pdf) lowers the threshold for mandatory reporting of any oil spill from five barrels (210 gallons) to one barrel (42 gallons). The spill must be reported within 24 hours to the Colorado Oil and Gas Conservation Commission (COGCC) -- the state agency in charge of drilling regulation -- and to the lead local emergency response jurisdiction.
Democrats argued in a release that if the bill had been enacted earlier, it might have reduced the impacts of a spill that contaminated Parachute Creek -- a tributary of the Colorado River near the town of Parachute on the Western Slope.
The Colorado Oil and Gas Association (COGA), the Colorado Petroleum Association and several environmental groups provided input for the bill and supported the final result. Republican Reps. Don Coram, R-Montrose, Spencer Swalm, R-Centennial, and Jared Wright, R-Fruita, voted for the bill.
"I worked with all stakeholders on this bill, so it's wonderful to see some bipartisanship behind this common-sense piece of legislation," Mitsch Bush said.
COGA President and CEO Tisha Schuller cited the bill as one of the few legislative success stories involving her industry this session.
"Confrontation is easy," Schuller said in a release. "However, successful collaboration takes effort and diligence. We look forward to a continuing dialogue with our legislators."
Schuller lamented the failure of a bill that would have increased mandatory maximum fines for spills and other violations by drilling companies. Sponsors pulled the legislation when a mandatory minimum fine was stripped out.
"Despite multiple offers to find common ground, all offers were rejected by the sponsors," COGA said in a release. "The Senate bill had bipartisan support to pass the House but was killed by the bill's sponsor – which give the impression of more interest in a punitive message than results."
However, it's unclear how much Hickenlooper, who's been dubbed pro-industry by some environmentalists and members of his own Democratic party, worked to defeat much of the legislation before he was required to use his veto powers.
Hickenlooper did issue an executive order requiring the COGCC to re-evaluate its fine structure, but critics called that move purely symbolic and a means of providing himself with political cover.
Hickenlooper two years ago went on the record saying fines should be increased. However, no water-pollution fines have reportedly been levied so far by the Colorado Department of Public Health and Environment (CDPHE) against Williams for the Parachute Creek spill or against Suncor for a refinery spill north of Denver in 2011.
"Water polluters should be held accountable, fined, and forced to clean up their toxic messes," said Gary Wockner of Clean Water Action. "CDPHE has the authority to fine these toxic polluters; CDPHE should use it."
While COGA attributes the lack of successful regulatory legislation to the "vilification" of the industry by some lawmakers and an unwillingness to engage all the stakeholders, environmental groups said they were simply outgunned.
"A number of oil and gas bills were introduced to increase transparency and accountability over heavy industrial oil and gas development," Conservation Colorado officials said in a prepared statement. "The multi-billion dollar oil and gas industry launched a large-scale lobby effort against these common-sense solutions and, at the end of the day, prevented the legislature's efforts to protect citizens and communities."
COGA's Schuller countered: "We hope that we'll have a better conversation next year. COGA recognizes that the public is interested in an ongoing dialogue about responsible energy development, at the legislature, at the COGCC, and at CDPHE and we are committed to continuing this engagement."
---

350 Comments on "State lawmaker for Vail, Eagle County lauded for bipartisan oil and gas 'spill bill'"